2016 Donruss Football Goes Back to 1987, a Galaxy Far, Far Away and All Points in Between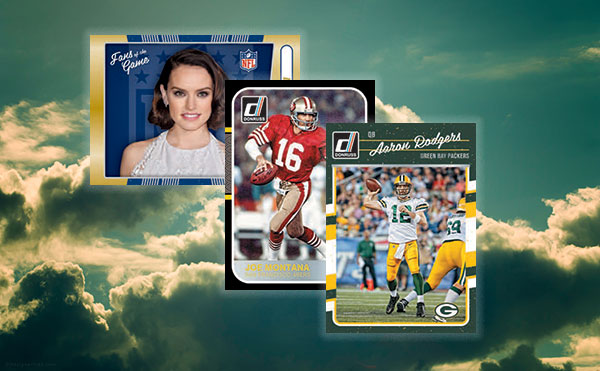 By Ryan Cracknell | Hobby Editor
Nostalgia runs deep in 2016 Donruss Football. Like other recent Donruss sets, it has a foot firmly in the past — even in areas where Donruss hasn't necessarily gone in football. Dominators, Fans of the Game and The Rookies are just some of the names from the brand's past making a comeback. The base set is large and the inserts plentiful. Each hobby box comes with both an autograph and a memorabilia card.
The base design is similar to the ones used in 2016 Donruss Baseball and 2015-16 Donruss Basketball mixed with elements of the brand's early days. It looks like something that might have sprung up if the 1980s never ended, which is aimed to appeal to the modern-throwback crowd. The base set's checklist features a total of 400 cards including brand staples Rated Rookies and Gridiron Kings. In the case of the rookies, there's one per hobby pack.
Stat Line cards are among the parallels in 2016 Donruss Football. Parallels combine to land 1:4 packs.
The celebrity-minded Fans of the Game line returns for the first time since 2014 Panini Prizm World Cup. However, that was even a bit of a departure for the line as it highlighted Andrew Luck and Kobe Bryant. 2013-14 Crown Royale Hockey was the last time it was seen with actors and other pop culture figures. For 2016 Donruss Football, Panini is including Daisy Ridley, Megan Fox, Al Pacino and others. Besides regular insert versions that are one per hobby box, there are randomly inserted autographed versions as well.
Panini continues to give a little added attention to the recently retired Peyton Manning. First it was the Peyton Manning Collection autographs and memorabilia cards in 2016 Panini Certified Football. Here there are a pair of additional insert themes, Peyton Manning Tribute (1:6 packs) and Peyton Manning Top Targets (1:12) featuring some of the receivers he worked with over the course of his career. Both of these have signed versions as well.
Rookie Phenom is a set of autographed memorabilia cards highlighting such key draft picks as Carson Wentz, Ezekiel Elliott and Jared Goff.
Among the notable memorabilia inserts is Passing the Torch. Normally the line is known for double-sided autographs featuring two generations of players. Here, it's the same idea but with swatches. Prime parallels have as few as 25 copies.
1987 Donruss Classics is exclusive to hobby packs. The cards take on the same general design as 1987 Donruss Baseball, which was notable for its black borders. These fall three per box.
When you combine all the inserts, including autographs and memorabilia cards, there are three per pack. Some of the other basic insert lines are Elite Series, Elite Series Rookies, The Rookies and Legends of the Fall. Many of these come with autographed versions as well. Other signed cards come in the form of Signature Marks and Super Bowl Signatures.
2016 Donruss Football at a glance:
Packs per box: 24
Cards per pack: 10
Boxes per case: 18
Set size: 400 cards
Release date: August 3, 2016
What to expect in a hobby box:
• Autographs – 1
• Memorabilia Cards – 1
• 1987 Classics Inserts – 3
• All-Pros Inserts – 3
• All-Time Gridiron Kings Inserts – 4
• Dominators Inserts – 2
• Elite Series Inserts – 1
• Elite Series Rookies Inserts – 1
• Enshrined Inserts – 1
• Fans of the Game Inserts – 1
• League Leaders Inserts – 3
• Legends of the Fall Inserts – 3
• Peyton Manning Top Targets Inserts – 2
• Peyton Manning Tribute Inserts – 4
• Production Line Hits Inserts – 2
• Production Line Touchdowns Inserts – 3
• Production Line Yardage Inserts – 3
• The Rookies Inserts – 2
• Gridiron Kings – 3
• Additional Inserts – 3
• Parallels – 6
Comments? Questions? Contact Ryan Cracknell on Twitter @tradercracks.