2016 Donruss Baseball Variations Gallery, Checklist
The 2016 Donruss Baseball variations aren't very large in scope. They also appear to be somewhat unassuming in appearance. A total of 12 players have variations in the base set. Three players (Josh Donaldson, Mike Trout and Ken Griffey Jr.) have two different variations making for 15 total on the checklist.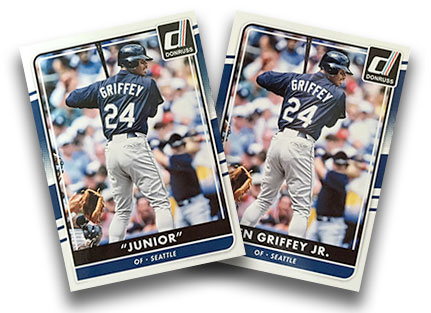 Based on the first 2016 Donruss Baseball variations to surface, they don't appear to be very hard to spot. Just look to the nameplate. Nicknames replace some players' names. So Donaldson becomes "Bringer of Rain" and Omar Vizquel is "Little O." Award winners are also highlighted on some cards with their honor replacing the city name and position on the front.
2016 Donruss Baseball Variations Gallery
The checklist of players is complete according to a list from Panini. We'll be adding images and further details as they're confirmed.
47 Josh Donaldson, Toronto Blue Jays
Has two variations.
57 Bryce Harper, Washington Nationals
59 Carlos Correa, Houston Astros
60 Kris Bryant, Chicago Cubs
83 Mike Trout, Los Angeles Angels
178 Kirby Puckett, Minnesota Twins
179 Ken Griffey Jr, Seattle Mariners
181 Cal Ripken Jr, Baltimore Orioles
182 George Brett, Kansas City Royals
186 Don Mattingly, New York Yankees
187 Pete Rose, Cincinnati Reds
191 Omar Vizquel, Cleveland Indians
Comments? Questions? Contact Ryan Cracknell on Twitter @tradercracks.