2016 Donruss Baseball has a feeling of familiarity and a side of San Diego Chicken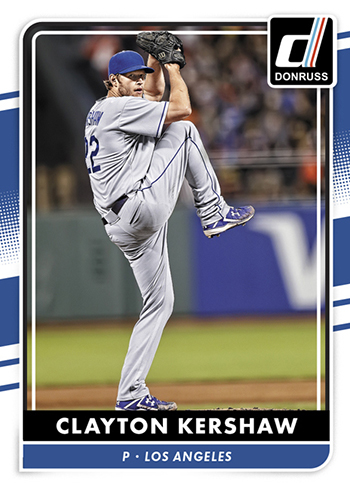 By Ryan Cracknell | Hobby Editor
A lot of the designs may be different and the players are definitely current, but there's still a feeling of familiarity to 2016 Donruss Baseball. It has a broad checklist that includes a lot of insert and subset names that come from Donruss' roots and recent history.
Although not a high-end release, 2016 Donruss Baseball hobby boxes still come with three total autographs and memorabilia cards.
The main part of the set has 150 cards. They all have several parallel versions including Stat Line, Pink, Test Proofs (/49) and Printing Plates. Hobby boxes have five parallels including at least one Stat Line and one Pink. Although not parallels, several players have variations as well.
Rated Rookies and Diamond Kings, both Donruss staples, are back. Rated Rookies highlight young players. A top player on each team is enshrined with a Diamond Kings card.
Last year's set featured a subset based on the 1981 Donruss Baseball design. It's 1982's turn in 2016 Donruss Baseball. These cards, which have a retro look, average out to about one per hobby pack. Players are a mix of current and retired stars. Parallels include Holometric and Holoflow.
There's no shortage of inserts. Elite Series and Elite Dominators, both hobby exclusives, each fall one per box. Power Alley (1:12 packs) highlight the game's best hitters. Other inserts include Masters of the Game (1:12), The Prospects (1:12) and The Rookies (1:12). Members of the USA Collegiate National Team are part of their own insert set.
Autographs and memorabilia cards share the same variety as the rest of 2016 Donruss Baseball. Signature Series returns with the bulk of the autographs. These include six parallels that are capped off by one-of-one Black versions.
Preferred Pairings cards come with autographs from two players. Red versions are numbered to 25 or less while Gold cards have no more than ten copies. Black are one-of-a-kind.
Other signed inserts in 2016 Donruss Baseball include New Breed Autographs and Significant Signatures. Autographed buybacks of original Donruss cards are are available. Among them? The 1982 Donruss Cal Ripken rookie card.
Promising Pros is a memorabilia insert featuring rookies, prospects and over-sized swatches. Corey Seager and Kyle Schwarber are among those in the set. Gold parallels come with premium swatches. Signed versions can also be found.
Back to the Future uses swatches from jerseys of a player's previous team. The 25-card checklist includes Miguel Cabrera and Jake Arietta.
For some, the most intriguing inclusion in 2016 Donruss Baseball features a baseball icon who wasn't a player. The San Diego Chicken gets a special Silhouette Material insert.
2016 Donruss Baseball at a glance:
Packs per box: 24
Cards per pack: 8
Boxes per case: 16
Set size: 150 cards
Release date: March 2, 2016
What to expect in a hobby box:
Autographs and Memorabilia Cards – 3 Total
Pink Parallels – 1
Stat Line Parallels – 1
Additional Parallels – 3
Elite Dominators Inserts – 1
Elite Series Inserts – 1
Masters of the Game Inserts – 2
Power Alley Inserts – 2
The Prospects Inserts -2
The Rookies Inserts – 4
USA Collegiate National Team Inserts – 4
Diamond Kings – 4
Rated Rookies 4
1982 Base Cards – 24
Comments? Questions? Contact Ryan Cracknell on Twitter @tradercracks.