2016 Breygent Dexter Seasons 7 and 8 trading cards include a couple of major first-time signers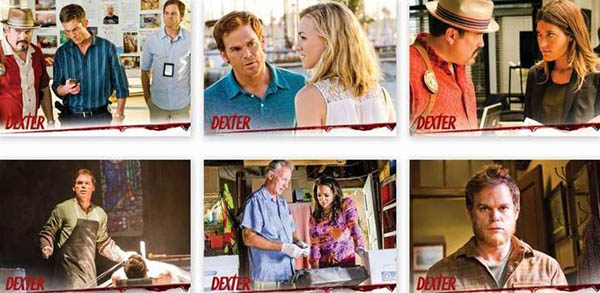 By Ryan Cracknell | Hobby Editor
It has been a while since that last episode of Dexter aired and the titular killer of serial killers made his final kill. But that hasn't stopped Breygent from plugging away and pulling together one more set of cards to send the show off. As it turns out, that long play has resulted in 2016 Breygent Dexter Seasons 7 and 8 having a couple of significant signers appearing on autographs for the first time.
Rather than a traditional pack configuration, 2016 Breygent Dexter Seasons 7 and 8 trading cards come as a premium factory set. Each has a full base set, six total autographs and memorabilia cards plus inserts.
The base set pulls together the final 24 episodes that aired between September, 2012 and September, 2013. Major events, characters and more are all covered in the set, which charts Dexter's experiences with death, love and all places in between.
The premium inserts include a mix of autographs and costume cards. Some of the memorabilia cards are signed while others have multiple wardrobe swatches.
Lead star, Michael C. Hall (Dexter), continues to be an accessible signer for Breygent. He's had autographs in all of their Dexter releases, including this one. Headlining the list of new signers is Yvonne Strahovski (Hannah McKay). Her other roles include one of the leads in Chuck. Another notable first-time autograph is Charlotte Rampling. Working in the industry for more than 50 years, she is one of Britain's most respected actresses.
Here's what's confirmed for the 2016 Breygent Dexter Seasons 7 and 8 autographs checklist:
Aimee Garcia as Jamie Batista
Matt Gerald as Ray Speltzer
Michael C. Hall as Dexter Morgan
Geoff Pierson as Tom Matthews
Charlotte Rampling as Dr. Evelyn Vogel
Yvonne Strahovski as Hannah McKay
Sam Underwood as Zach Hamilton
Jadon Wells as Harrison Morgan
In addition to regular signed cards, autographed costume cards are also randomly inserted.
With 26 different, the Costume cards checklist is large. In addition to these are five Dual Costume cards and one Triple Costume card.
2016 Breygent Dexter Seasons 7 and 8 has three different basic insert sets: Quotes, Dexter's Justice and Friend or Foe. All three have nine cards with two of each per premium factory set.
Every ten-set case has a couple of rare cards — a one-of-one and a card numbered to 5.
Available separately, a binder comes with a pair of exclusive promo cards.
The production run for the product is limited to 70 cases, which works out to 700 total sets.
2016 Breygent Dexter Seasons 7 and 8 at a glance:
Cards per set: 84
Sets per case: 10
Set size: 72 cards
Release date: January, 2016
What to expect in a hobby box:
Autographs and Costume Cards – 6 Total
Dexter's Justice Inserts – 2
Friend or Foe Inserts – 2
Quotes Inserts – 2
72-Card Base Set