2016 Bowman Chrome Yoan Moncada, Anderson Espinoza Prospect Autographs Signed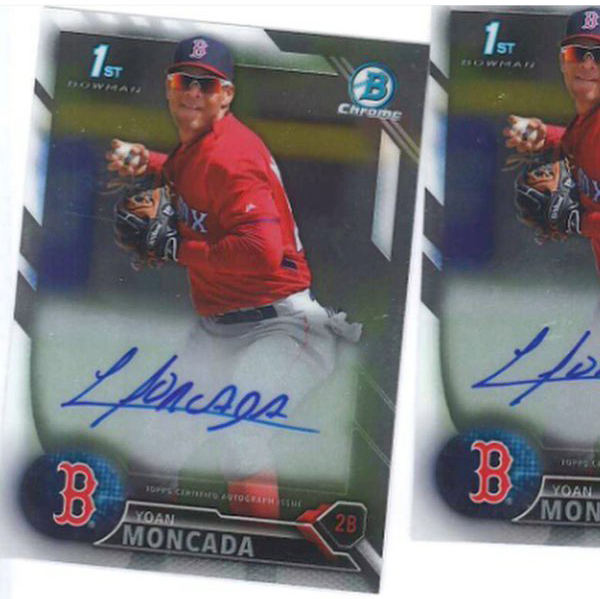 By Ryan Cracknell | Hobby Editor
If you're a Boston Red Sox fan, things are looking pretty strong right now as far as 2016 Bowman Chrome Prospect Autographs go. Prospects Yoan Moncada and Anderson Espinoza have both signed cards. While it's not yet confirmed as to whether or not they'll make the final checklist for 2016 Bowman Baseball, the appearance of actual signed cards online suggest they should be on the way at some point.
Topps teased the Moncada autographs themselves via Instagram. The caption and hashtags suggest they might be in 2016 Bowman but seeing as how the set isn't out yet, that could still change.
A similar image of Espinoza's cards have been floating around Twitter.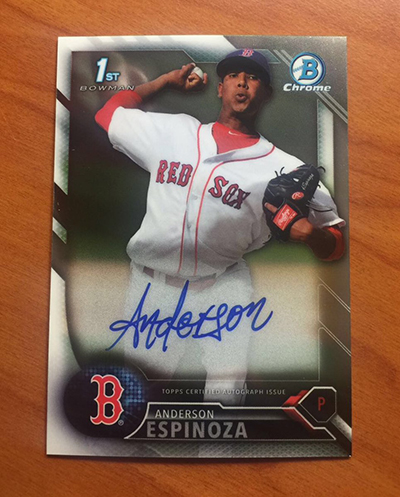 Moncada is a high-profile Cuban signing of the Red Sox. The infielder will be 20-years old when the 2016 season kicks off. Moncada has autographs already from 2015 Panini and Leaf products but these are the first to show him in a Boston uniform.
Espinoza is another international free agent snatched up by Boston. He'll have just celebrated his 18th birthday on Opening Day. The pitcher is already considered on the of top prospects in the Red Sox system.
It's unlikely either will make their MLB debuts in 2016 but Moncada and Espinoza are the types of prospects many are watching closely.
Comments? Questions? Contact Ryan Cracknell on Twitter @tradercracks.