2016 Bowman Chrome Fernando Tatis Jr. Red Refractor Autograph Fetches Over $222,000
In a weekend that saw a Mike Trout card top the Honus Wagner as a most ever paid for a baseball card and a 2003-04 Upper Deck Exquisite LeBron James Rookie Card top $1 million, it's a something that went for a lot less (but still a lot) that might actually be the most shocking. A 2016 Bowman Chrome Fernando Tatis Jr. Red Refractor Autograph sold for $222,630 (with buyer's premium) in the second night of Goldin Auctions' Goldin Elite sale.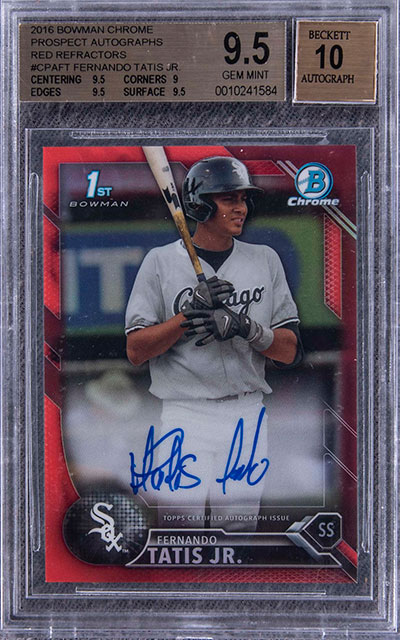 The card is one of the rarest versions of Tatis' first autograph card in a MLB uniform. With five copies, only the one-of-one Superfractor has less. The card is graded Gem Mint 9.5 by Beckett Grading. Subgrades include 9.5 for centering, edges and surface, and 9 for corners. The signature rates a 10. So there's no question that it's one of the very best of Tatis' cards.
It wasn't the only big Tatis Jr. sale during the auction. An 2016 Bowman Chrome Orange Refractor Autograph numbered to 25 reached $47,970. A Blue Twitter Refractor, which has just three copies, went for $29,520. A Blue Refractor out of 150 almost hit the $10,000 mark, closing at $9,840.
While the 2009 Bowman Chrome Draft Mike Trout Superfractor Autograph reaching almost $4 million is a massive number, the market for his top cards were trending in that direction. A Red Refractor had just sold for more than $900,000 a couple of months earlier. Trout has also firmly established himself as one of the greats of his generation.
In the case of LeBron James, he's an all-time great. His cards are also some of the most influential on the modern hobby. So the $1,107,000 a BGS 9.5 copy of his landmark 2003-04 Upper Deck Exquisite went for in the same Goldin Elite sale follows a somewhat predictable trajectory. It was just one month after a parallel version of the card numbered to 23 topped $1.8 million.
That shouldn't downplay the significance of a million-dollar modern Rookie Card but it didn't come out of nowhere. There's a been a build for the of James' cards. The same can be said for Trout.
By comparison, a month ago, the one-of-one 2013 Bowman Chrome Draft Aaron Judge Superfractor autograph sold for $161,300. In May, similar Superfractors for Christian Yelich (2013) and Francisco Lindor (2010) went for $111,000 and $102,000 respectively.
Tatis Jr. is just 21-years old. The 2016 Bowman Chrome Red Refractor autograph sale came less than 125 games into his MLB career. It has been exciting thus far, particularly in the first month of the delayed 2020 season. He's quickly emerging as the game's next superstar. And there's a good chance that the Padres shortstop is just getting started. But the idea of "plenty of time left" can go both ways.
Let's see what the story is ten or 20 years down the road.