2016 Bowman Baseball Superfractor Tracker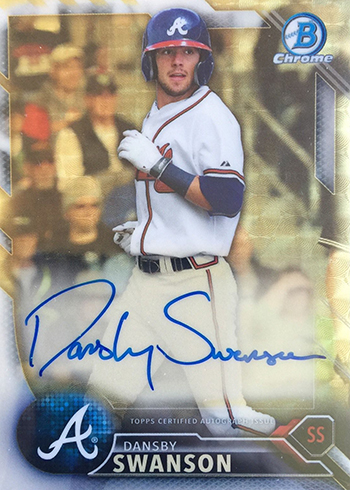 By Ryan Cracknell | Hobby Editor
The Superfractor has emerged as the pinnacle of modern baseball cards, particularly when it comes to a player's first autograph. The 2016 Bowman Baseball Superfractors are topped by several new prospects. But some of the other inserts offer new Superfractors of established names and autographs of key 2016 rookies.
For those not familiar with Superfractors, they've been established as the top parallels in Topps products that use chromium stock. While this can carry over to Topps Chrome, Finest and others, it's in Bowman and Bowman Chrome that it's tops with baseball collectors. Today, Superfractors are one-of-ones. Design-wise, they look like they have gold spirals tiling in the background.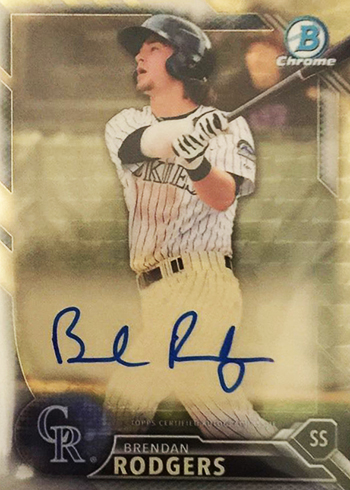 With only one copy of each, keeping tabs on them can be tricky. With that in mind, here's a running tally of the 2016 Bowman Baseball Superfractors we've spotted in the wild.
See Also: 2016 Bowman Baseball Checklist
The plan is to update the list regularly but if you see one pulled at a shop, in a group break, on eBay or elsewhere, please let us know in the comments and we'll add it to the list.
2016 Bowman Baseball Superfractor Tracker
Last Updated: June 9, 2016
Here's a list of 2016 Bowman Superfractors that have been confirmed as pulled. Where applicable, known sale prices are noted.
Chrome Prospect Autographs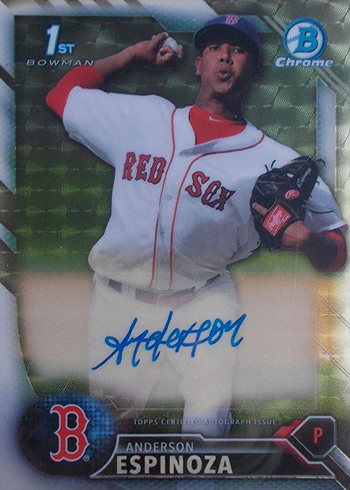 CPA-AE Anderson Espinoza – $2,200 (eBay) -> $3,201.77 (eBay)
CPA-AJ Ariel Jurado – $510 (eBay)
CPA-BR Brendan Rodgers
CPA-DAS Dansby Swanson – $4,550 (eBay)
CPA-DC Daz Cameron
CPA-DD David Denson
CPA-DJ Drew Jackson
CPA-FM Francis Martes – Sold originally for $799.99 (eBay)
CPA-IA Iolana Akau – $245 (eBay)
CPA-JO Jhailyn Ortiz (BGS 9.5)
CPA-JY Juan Yepez
CPA-KK Kevin Kramer
CPA-KM Kenta Maeda – $7,000 (eBay)
CPA-LF Lucius Fox
CPA-MD Mauricio Dubon
CPA-MZ Mark Zagunis
CPA-NS Nate Smith – $170 (eBay)
CPA-RB Rafael Bautista
CPA-RG Ruddy Giron – $340 (eBay)
CPA-SC Samuel Coonrod – $323 (eBay)
CPA-SG Stone Garrett – $1,199.99 (eBay)
CPA-SR Sal Romano – $170.50 (eBay)
CPA-TO Tyler O'Neill (BGS 9.5)
CPA-WC Willson Contreras
CPA-YM Yoan Moncada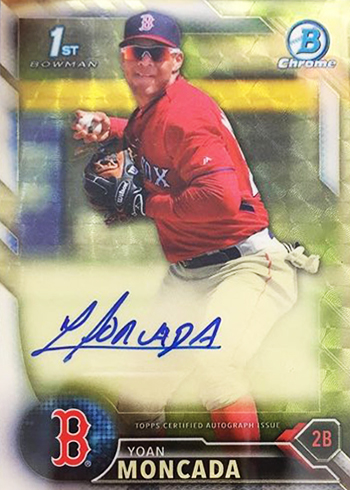 Chrome Prospects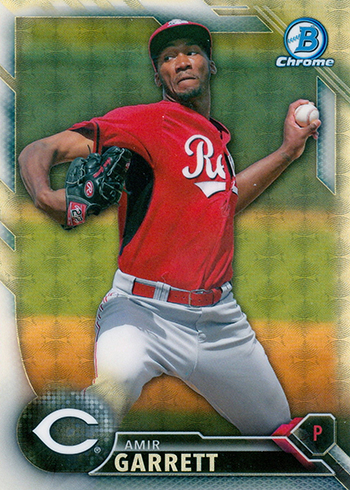 BCP3 Domingo Leyba – $85 (eBay)
BCP5 Yadier Alvarez – $330 (eBay)
BCP7 Brady Aiken – $500 (eBay)
BCP13 Lucius Fox
BCP14 Samuel Coonrod – $200 (eBay)
BCP15 Seuly Matias – Originally sold for $300 (eBay)
BCP16 Willson Contreras
BCP19 Drew Jackson – $141 (eBay)
BCP20 Ruddy Giron – $110.50 (eBay)
BCP21 Anfernee Seymour – $59  (eBay)
BCP24 Brady Lail
BCP25 Dillon Tate – $87 (eBay)
BCP27 John Norwood – $55 (eBay)
BCP28 Manny Sanchez – $99 (eBay)
BCP31 Jhailyn Ortiz
BCP34 Francis Martes – $265
BCP39 Corey Black – $82 (eBay)
BCP44 Mikey White
BCP45 Andrew Suarez
BCP48 Ariel Jurado
BCP50 Dansby Swanson
BCP51 Anthony Banda – $175 (eBay)
BCP53 Daniel Poncedeleon – $47 (eBay)
BCP58 Omar Carrizales
BCP63 Carson Fulmer
BCP64 Ian Happ
BCP68 Garrett Whitley – $82 (eBay)
BCP71 James Kaprielian
BCP72 Phil Bickford – $150 (eBay)
BCP73 Kevin Newman – $197.01 (eBay)
BCP78 Walker Buehler – $149.99 (eBay)
BCP81 Mike Nikorak
BCP82 Michael Soroka – $85 (eBay)
BCP83 Kyle Holder – $250 (eBay)
BCP86 Nolan Watson – $72 (eBay)
BCP89 Jack Flaherty – $100 (eBay)
BCP95 Amed Rosario
BCP96 Daniel Robertson – $125 (eBay)
BCP99 Amir Garrett – $81 (eBay)
BCP100 Brendan Rodgers
BCP101 Duane Underwood – $56.01 (eBay)
BCP102 Alen Hanson
BCP104 Grant Holmes
BCP108 Alex Reyes – $350 (eBay)
BCP114 Chance Cisco – $299.99 (eBay)
BCP119 Alex Blandino – $125 (eBay)
BCP125 Derek Fisher – $150 (eBay)
BCP135 Adam Brett Walker II
BCP146 Austin Dean
BCP148 Yoan Moncada (BGS 9.5)
BCP150 Lucas Giolito – $285 (eBay)
Chrome Rookie Autographs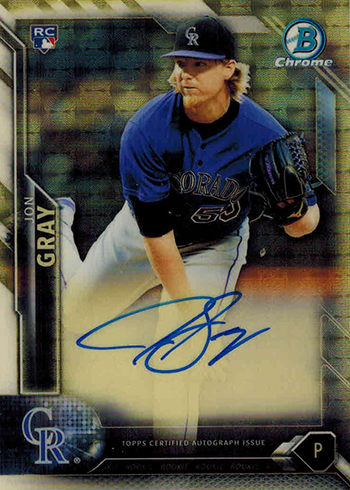 CRA-GB Greg Bird
CRA-JG Jon Gray – $350 (eBay)
CRA-KS Kyle Schwarber
CRA-SP Stephen Piscotty
Bowman Scouts' Top 100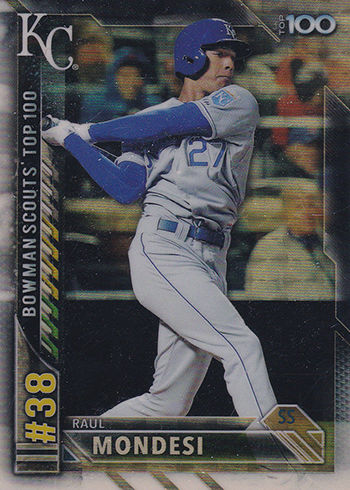 BTP-1 Corey Seager – $351 (eBay)
BTP-5 Alex Reyes
BTP-8 Tyler Glasnow – $200 (eBay)
BTP-15 Gleyber Torres
BTP-16 Dansby Swanson – $300 (eBay)
BTP-17 Alex Bregman
BTP-23 Victor Robles – $161.26
BTP-27 Jorge Lopez – $28
BTP-29 Max Kepler – $150 (eBay)
BTP-32 Archie Bradley – $39.99 (eBay)
BTP-38 Raul Mondesi – $87 (eBay)
BTP-41 Anthony Alford – $78.80 (eBay)
BTP-43 Jon Gray – $85 (eBay)
BTP-45 Mark Appel
BTP-50 Clint Frazier
BTP-51 Francis Martes
BTP-53 David Dahl – $87.79
BTP-58 Brent Honeywell – $124.50 (eBay)
BTP-60 Jesse Winker
BTP-62 Trent Clark
BTP-68 Willson Contreras – $168.81 (eBay)
BTP-71 Marco Gonzales – $145 (eBay)
BTP-73 Gary Sanchez – $39 (eBay)
BTP-78 Nick Gordon
BTP-86 Gavin Cecchini – $100 (eBay)
BTP-87 Tim Anderson – $50 (eBay)
BTP-88 Christian Arroyo – $72 (eBay)
BTP-92 Sean Reid-Foley
BTP-93 Rob Kaminsky – $75 (eBay)
BTP-96 Ke'Bryan Hayes – $75 (eBay)
BTP-97 Beau Burrows
BTP-98 Josh Naylor – $100 (eBay)
Bowman Scouts' Top 100 Autographs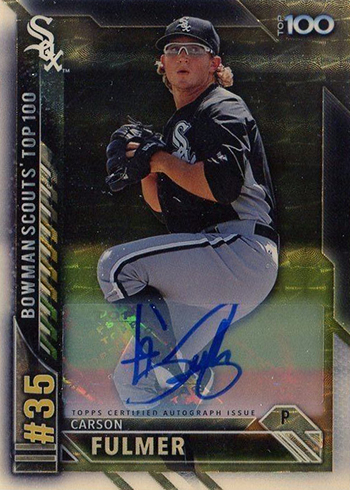 BTP-5 Alex Reyes
BTP-10 Brendan Rodgers
BTP-16 Dansby Swanson – $960
BTP-17 Alex Bregman
BTP-21 Andrew Benintendi
BTP-31 Aaron Judge
BTP-35 Carson Fulmer – $600 (eBay)
BTP-48 Willy Adames
Rookie Recollections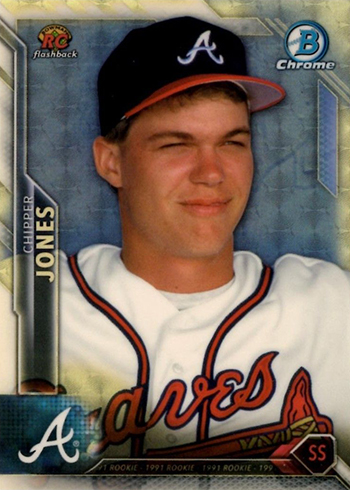 RR-BB Bret Boone
RRA-CJ Chipper Jones
RR-JB Jeff Bagwell
RR-RK Ryan Klesko
Rookie Recollections Autographs
RRA-CE Carl Everett – $103.50 (eBay)
RRA-PH Pat Hentgen (Redemption) – $123.50 (eBay)
RRA-RK Ryan Klesko – $198.50 (eBay)
Sophomore Standouts Autographs
SSA-BS Blake Swihart – $245 (eBay)
SSA-CC Carlos Correa (BGS 9.5)
SSA-FL Francisco Lindor (BGS 9.5)
SSA-JP Joc Pederson
SSA-JS Jorge Soler
SSA-SM Steven Matz – $395 (eBay)
Turn Two
TT-BB Tyler Beede/Phil Bickford – $153.50
TT-BJ Tyler Jay/Jose Berrios
TT-BO Franklin Barreto/Matt Olson – $39.76 (eBay)
TT-CT J.P. Crawford/Jake Thompson – $94.92 (eBay)
TT-DM Rafael Devers/Andrew Benintendi – $214.30 (eBay)
TT-GL Reynaldo Lopez/Lucas Giolito
TT-HS Hunter Harvey/D.J. Stewart – $125 (eBay)
TT-PC Trent Clark/Brett Phillips – $150 (eBay)
TT-RR Hunter Renfroe/Manuel Margot – $65 (eBay)
TT-SS Tyler Stephenson/Robert Stephenson – $103 (eBay)
TT-UD Julio Urias/Jose De Leon – $221.50 (eBay)
TT-ZF Bradley Zimmer/Clint Frazier
Turn Two Autographs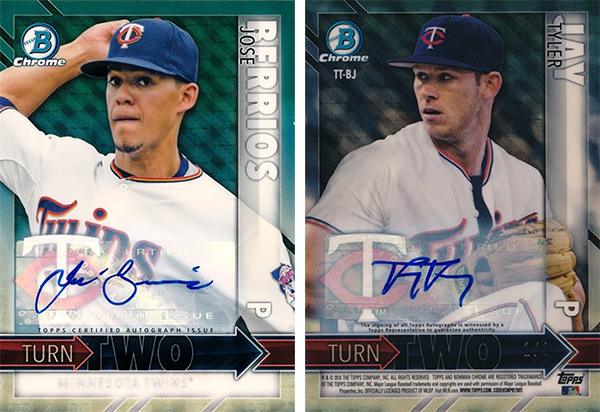 TT-BJ Jose Berrios/Tyler Jay
TT-FH Michael Fulmer/Derek Hill – $230 (eBay)
TT-SN Dansby Swanson/Sean Newcomb
TT-SS Tyler Stephenson/Robert Stephenson
TT-TB Dillon Tate/Lewis Brinson – $229.50 (eBay)
Comments? Questions? Contact Ryan Cracknell on Twitter @tradercracks.