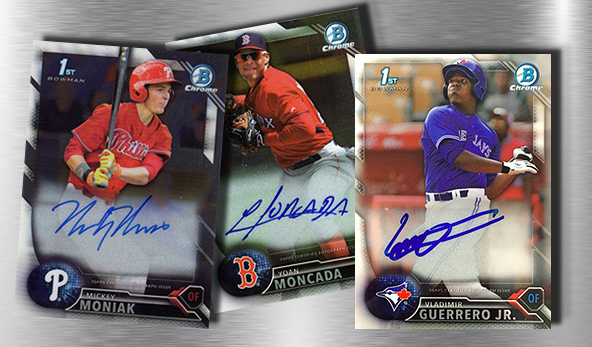 By Ryan Cracknell | Hobby Editor
Over the past decade or so, the Bowman Chrome Prospect Autograph has become the go-to card for most major leaguers. They may not fit the traditional definition of a rookie card but a lot of collectors today treat them as such. And the 2016 Bowman Chrome Prospect Autographs are no different.
As is the norm for several, these are spread across three releases. They started with 2016 Bowman Baseball. An even bigger chunk was added with 2016 Bowman Chrome Baseball. 2016 Bowman Draft wraps things up with autographs from more than 50 different 2016 draft picks.
For 2016 Bowman, the Bowman Chrome Prospect Autographs checklist includes more than 30 players. Among the notables are Alex Bregman, the second overall pick in the 2015 MLB Draft. He's joined by the first pick, Dansby Swanson, who was also in 2015 Bowman Draft. In an odd twist of hobby fate, Dansby Swanson was traded from Arizona to Atlanta the day before his MLB autograph debut came in the set. So Topps is doing a rare thing and giving him a second Bowman Chrome Prospect Autograph. His 2016 Bowman Baseball card features him in an Atlanta Braves uniform.
Other key 2016 Bowman Chrome Prospect Autographs from the early crop include Yoan Moncada and Brendan Rodgers.
Over 50 players are in the ensuing 2016 Bowman Chrome. But with two per hobby box instead of Bowman's one, things shouldn't be any tougher overall barring any unannounced major short prints. This release is heavy on international players such as Vladimir Guerrero Jr.
2016 Bowman Draft adds 56 more autographs to the master checklist. All feature players taken in the 2016 MLB Draft with a strong focus on first rounders. Among them are first overall selection, Mickey Moniak and Ian Anderson, who was taken third.
Over time, things can get a little confusing as to which players come in which product, especially since Topps has abandoned regular numbers for letters on the card backs. It also doesn't help that Bowman, Bowman Chrome and Bowman Draft are kind of like the hobby's equivalent of The Lord of the Rings or Star Wars — they all go together and, essentially, make one greater whole. So in the massive 2016 Bowman Chrome Prospect Autographs checklist and gallery below, we've noted which series individual cards can be found.
Comprehensive 2016 Bowman Chrome Prospect Autographs Checklist
Here's a full checklist of all the Chrome Prospect Autographs found in both 2016 Bowman, 2016 Bowman Chrome Baseball and Bowman Draft Baseball complete with player vitals, links to stats that might make prospecting a little easier, gallery and places to buy the cards you're looking for. If you want to hunt for specific cards in packs, and help alleviate confusion over time, we've also noted which product the cards are found in.
Players are listed alphabetically by last name.
Comments? Questions? Contact Ryan Cracknell on Twitter @tradercracks.