2016-17 Upper Deck EuroLeague Basketball Checklist and Details
When you click on links to various merchants on this site, like eBay, and make a purchase, this can result in this site earning a commission.
Basketball is truly a global game and while the biggest talent always seems to end up in the NBA, there are still hundreds of pro players around the world who play hard and have yet to give up on their hoop dreams.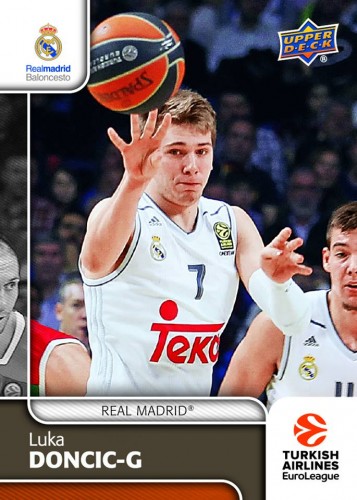 Upper Deck has yet to give up on its hoop dreams, either, as the company has released a product exclusive to its e-Pack platform which looks at some of the game's best from overseas. Last week, collectors were surprised to see the arrival of 2016-17 Upper Deck EuroLeague Basketball and it provides an affordable break with a decent shot at autographs as well.

Base Set and Parallels
The 2016-17 Upper Deck EuroLeague Basketball set is a relatively simple 100-card affair featuring a solid mix of players from the Turkish Airlines EuroLeague, including Aleksandar Vezenkov – a second round pick by the Brooklyn Nets in the 2017 NBA Draft. The base cards will not have a physical version, but every other pack is expected to contain a Rainbow foil parallel. A Patterned Rainbow foil will also exist for those melding specific cards on the e-Pack website.

Autographs and Inserts
There are Autograph parallel cards for 23 different EuroLeague players in 2016-17 Upper Deck EuroLeague Basketball to discover and they are seeded once in every 12 packs. Some of the top performers to pull include assists-per-game leader Milos Teodosic, Nando de Colo, Georgios Printezis, and Brad Wannamaker. They may not be household names in North America, but they were among the best in the EuroLeague this season.
The only traditional insert to be found in packs are the High Risers cards that depict the best dunkers in the EuroLeague.
Achievement cards will be available for those that complete the Autograph or High Risers sets. Those getting all 23 Autographs will actually receive two cards – Anthony Randolph and Furkan Korkmaz while the High Risers achievement is of Rakim Sanders.
2016-17 Upper Deck EuroLeague Basketball at a glance:
Packs per box: 24
Cards per pack: 5
Boxes per case: 12
Set size: 100 cards
Release date: June, 2017
What to expect in a hobby box:
– 12 Rainbow parallels
– 2 High Risers inserts
– 2 Autographs
2016-17 Upper Deck EuroLeague Basketball Checklist
Base
Base Set Checklist
100 cards.
Base cards are digital-only, not physical. Parallels can be found with physical copies.
Parallels:
• Rainbow – 1:2 e-Packs
• Patterned Rainbow – combine 10 copies of same digital card
1 Victor Claver
2 Furkan Korkmaz
3 Milos Teodosic
4 Jan Vesely
5 Adam Hanga
6 Gustavo Ayon
7 Rudy Fernandez
8 Vassilis Spanoulis
9 Kyle Hines
10 Felipe Reyes
11 Bogdan Bogdanovic
12 Thomas Heurtel
13 Andrey Vorontsevich
14 Kostas Sloukas
15 Stefan Jovic
16 Nikola Kalinic
17 Luka Mitrovic
18 Jamel McLean
19 Tornike Shengelia
20 Charles Jenkins
21 Alessandro Gentile
22 Nick Calathes
23 Luka Doncic
24 Marko Guduric
25 Bobby Dixon
26 Victor Rudd
27 Luigi Datome
28 Milan Macvan
29 Ekpe Udoh
30 Edgaras Ulanovas
31 Stratos Perperoglou
32 Aleksandar Vezenkov
33 Pero Antic
34 Daniel Hackett
35 Georgios Printezis
36 Daniel Theis
37 Jaka Blazic
38 Nikos Zisis
39 Darius Miller
40 Latavious Williams
41 James Gist
42 Artsiom ParakHouski
43 James Feldeine
44 Blake Schilb
45 Sinan Guler
46 Will Clyburn
47 Jon Diebler
48 Matt Lojeski
49 James Augustine
50 Juan Navarro
51 Jaycee Carroll
52 Sergio Llull
53 Derrick Brown
54 Jayson Granger
55 Nikos Pappas
56 Ante Tomic
57 Brad Wanamaker
58 Andres Nocioni
59 Nicolo Melli
60 Fabien Causeur
61 Shane Larkin
62 Joe Alexander
63 Cory Higgins
64 Justin Dentmon
65 Cedi Osman
66 Vladimir Micov
67 Sonny Weems
68 Krunoslav Simon
69 Devin Smith
70 Justin Doellman
71 Brad Oleson
72 Quino Colom
73 Sylven Landesberg
74 Brock Motum
75 Renaldas Seibutis
76 Vangelis Mantzaris
77 Mehmet Yagmur
78 Patric Young
79 Furkan Aldemir
80 Keith Langford
81 Kim Tillie
82 Vitaly Fridzon
83 Marko Simonovic
84 James Nunnally
85 Andrew Goudelock
86 Miroslav Raduljica
87 Ioannis Bourousis
88 Andrea Bargnani
89 Chris Singleton
90 Ricky Hickman
91 K.C. Rivers
92 Maik Zirbes
93 James Anderson
94 Rodrigue Beaubois
95 Tyrese Rice
96 Anthony Randolph
97 Paulius Jankunas
98 Deon Thompson
99 Kevin Pangos
100 Nando De Colo
Autographs
Base Autograph Parallels Checklist
25 cards.
1:12 e-Packs.
#27 and 28 available only as achievement rewards.
3 Milos Teodosic
5 Adam Hanga
8 Vassilis Spanoulis
9 Kyle Hines
12 Thomas Heurtel
15 Stefan Jovic
21 Alessandro Gentile
27 Anthony Randolph – Achievement Card
28 Furkan Korkmaz – Achievement Card
35 Georgios Printezis
41 James Gist
46 Will Clyburn
50 Juan Navarro
53 Derrick Brown
57 Brad Wanamaker
60 Fabien Causeur
64 Justin Dentmon
67 Sonny Weems
70 Justin Doellman
75 Renaldas Seibutis
87 Ioannis Bourousis
90 Ricky Hickman
94 Rodrigue Beaubois
97 Paulius Jankunas
100 Nando De Colo
Inserts
High Risers Checklists
15 cards.
1:12 e-Packs.
#15 available only as achievement rewards.
HR1 Alex Tyus
HR2 Bryant Dunston
HR3 James Gist
HR4 Patric Young
HR5 Sonny Weems
HR6 Marcus Slaughter
HR7 Brock Motum
HR8 Rudy Fernandez
HR9 Latavious Williams
HR10 Daniel Theis
HR11 Joey Dorsey
HR12 Nemanja Dangubic
HR13 Kyle Hines
HR14 Adam Hanga
HR15 Rakim Sanders – Achievement Card
Stephen Laroche can be found on Twitter @Stephen_Laroche.