2016-17 Upper Deck Artifacts Hockey Details
The NHL is in full playoff mode at the moment, but collectors have been getting a sneak peek at next year's early products as of late. The road leading up to Upper Deck's flagship release in November continues with 2016-17 Upper Deck Artifacts Hockey and it has the traditional selection of autographs and memorabilia along with a broad selection of parallels and Rookie Redemption cards.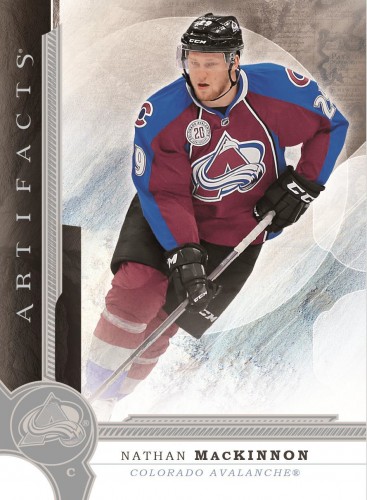 Releasing just before the start of the 2016-17 season, each eight-pack box has a hit per pack on average and the set will have many members of a strong carryover rookie class. It should also be noted that this release will be eligible for the first wave of 2016-17 Upper Deck Overtime cards, so check with your local card shop to confirm that you will receive some packs with purchase.

Base Set and Parallels
2016-17 Upper Deck Artifacts Hockey begins with a 100-card regular set that will be augmented with the brand's traditional Stars (/499), Legends (/499), and Rookies (/999) subsets. The latter grouping features the previously mentioned carryovers which includes announced future stars like William Nylander and Anthony Mantha in
addition to potential cards of late debuts such as Hudson Fasching, Pavel Zacha, and Josh Morrissey.
Artifacts has always had a vast rainbow of numbered parallels and this time, there are up to six different types to collect for each card. All cards, including subsets, will have Ruby (/299), Emerald (/99), Orange (/55), Gold Spectrum (/25), and Black (/5) versions. There will also be a Black Autograph version of some players as well, and it will be numbered to five.
As expected, 2016-17 Upper Deck Artifacts Hockey will have a strong Rookie Redemption program and there is once again a standard version (1:9) which gives collectors a rookie card for a player that will debut next season. All 30 teams will be represented and there will be several wild cards featuring players from teams which have had more than one strong freshman hit the ice. There are 20 different Autographed Rookie Redemptions (1:88) plus five different Rookie Relic Redemptions that come with Silver Jersey (1:119), Emerald Patch (1:478), Gold Spectrum Patch (1:1,353), or Black Patch Tag (1:9,472) varieties. Each of those also have a signed version which will be even tougher to get (Silver 1:478, Emerald 1:967, Gold 1,3,517, and Black 1:47,360).
Some of the regular and subset cards are going to have both Material and Autograph parallels as well. These will
consist of Material Silver, Autograph Material Silver, Material Emerald, Autograph Material Emerald, Material Gold Spectrum, Autograph Material Gold Spectrum, Material Black, and Autograph Material Black. Quantities produced will range from as high as 399 copies all the way down to one-of-ones.

Inserts
Aurum makes its debut in 2016-17 Upper Deck Artifacts Hockey and the "set within a set" features a striking golden look. Made up of 50 different players, they fall once in every 21 packs, or roughly eight times per inner case. A Gold Spectrum parallel is also being produced and will be a tough pull (1:473).

Autographs and Memorabilia
The Artifacts brand has long been regarded as one which delivers a large amount of limited autograph and memorabilia hits and the 2016-17 edition does not plan to disappoint.
After a well-received debut last year, Honored Members is continuing its multi-year run which gives collectors either a relic or autograph (/27) or cut signatures (varied numbering) from a member of the Hockey Hall of Fame. Top 12 Rookie Signatures also returns after a year's absence and the regular version (1:480) is joined by a 2015-16 Update collection (1:480).
Frozen Artifacts are the most common memorabilia cards to pull (1:24) and they have three additional parallels in Patch (/15), Premium Materials (/5), and Tag (one-of-one). Lord Stanley's Legacy pays tribute to players which have hoisted the Stanley Cup and come in both Relic (1:140) and Signature (1:800) editions that have parallels which are very limited. For the Relics, look for Premiums limited to 5 and 15 copies along with a one-of-one tag. The Signatures parallels are numbered to 10 copies or less.
The 2015-16 freshman crop was a rather impressive one and many of the top talents are part of the Year One Rookies set (1:80). These cards will have scarce Premium Materials (/15), Strap (/5), and Tag (one-of-one) versions. Piece de Resistance (1:32) is a new feature in Artifacts and it will also have Premium (25), Strap (/5) and Tags (one-of-one).
Finally, Tundra Teammates are multi-player memorabilia cards and will come with either two or four pieces. Duos (/199) have the expected Premium (/15), Strap (/5), and Tag (one-of-one) parallels while Quads (/99) have the same enhancements that will be harder to get since they are numbered to 10 copies or less.
2016-17 Upper Deck Artifacts Hockey at a glance:
Packs per box: 8
Cards per pack: 4
Boxes per case: 10 per inner
Set size: 100 base set cards plus subsets
Release date: September 28, 2016
What to expect in a hobby box:
– Three autograph, memorabilia, or Aurum cards
– Four serial-numbered cards
– One Rookie Redemption
Stephen Laroche can be found on Twitter @Stephen_Laroche.