2016-17 President's Choice Blue & White Centennial Hockey Details
When it was recently announced that Dr. Brian Price was coming back to the hockey card industry with President's Choice Trading Cards, there was mention of a themed set of cards being created. Naturally, some speculated that it was to be based around the 100th anniversary of the Toronto Maple Leafs. Those predictions rang true with 2016-17 President's Choice Blue & White Centennial.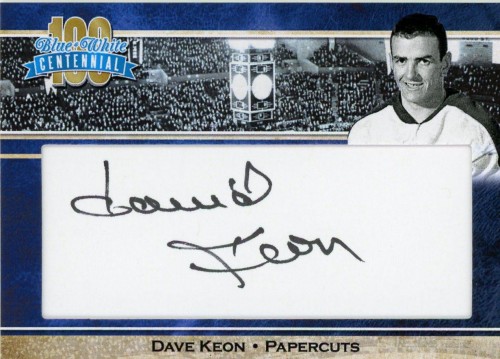 With 20 cards per box that includes seven autographs and three game-used memorabilia, this product will be limited to just 500 total packs.
Base Cards
There are 10 base cards in each box of 2016-17 President's Choice Blue & White Centennial and each one features a legendary member of the Toronto Maple Leafs. Drawing from the team's rich history, each one is serial-numbered and limited to just 100 copies.
As an interesting bonus to compel collectors to purchase a sealed case, there will be a full set that can be built out of the five packs inside. Not only that, the cards from that specific case will share the same serial number.

Autograph Cards
Loaded up with plenty of autographs, 2016-17 President's Choice Blue & White Centennial offers up something a bit different than the usual signed card with a collection of Papercuts. A staple from Price's days of running In The Game, the checklist will have a mix of active and retired players, but there are some deceased legends that will be part of the set as well. The vintage Papercuts also have a piece of glass placed over the cut, which give the card some added heft and an interesting look.
Lumbergraphs are one-of-one cards which feature a piece of a vintage stick that has been signed by an old-time player and should be coveted.
One of the most intriguing concepts for this released is Assigned Seat. A roster of 25 different Maple Leafs legends signed pieces of seats from Maple Leaf Gardens and there is one of these cards per pack. The cards with Green and Grey pieces are limited to just five copies each. For the Blues, just four copies have been produced and there are three each of the Reds and Golds.

Memorabilia Cards
Drawing from a pool of memorabilia that spans the history of the franchise, the game-used cards in 2016-17 President's Choice Blue & White Centennial are extremely limited and no more than 10 copies of each will be made. There will be three of them per pack and some collections were previewed in a sales sheet.
Stick Rack, which contains six pieces, is expected to be a solid hit and Cup Winner is a look back at some of the men that brought Lord Stanley's Mug to Toronto. Lace 'Em Up brings collectors rarely-used pieces of laces from game-used skates. Enshrined is similar to a plaque one would see at the Hockey Hall of Fame and utilizes glass to help create that effect. Finally, Decadence has a jaw-dropping 10 pieces of memorabilia on the front and the combinations could be impressive.
2016-17 President's Choice Blue & White Centennial at a glance:
Packs per box: 1
Cards per pack: 20
Boxes per case: 5 (100 total cases produced)
Set size: 50 cards
Release date: Mid-January, 2017
What to expect in a hobby box:
– 10 base cards
– 6 autograph cards
– 3 memorabilia cards
– 1 Assigned Seat autograph card
Stephen Laroche can be found on Twitter @Stephen_Laroche.