2016-17 Panini Impeccable Basketball Checklist, Team Set Lists
2016-17 Panini Impeccable Basketball is a premium product with a hefty price tag in the $500-per-box range, 2016-17 Panini Impeccable Basketball has five hard-signed autographs per box on average along with two base cards and a parallel. However, there is one box in each case that is expected to sub out one of those parallels for a precious metal card which will house a generous piece of gold or silver.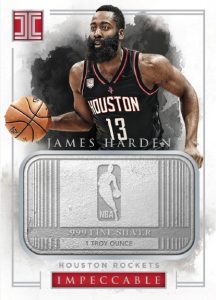 These case hits will contain either half of a Troy oz of gold or a Troy oz of silver. The gold cards will be limited to 10 copies each while the silvers are numbered out of 16.

Base Set and Parallels
The 2016-17 Panini Impeccable Basketball base set has 100 veteran stars or retired greats (/99), which come at a rate of two cards per box. Every box is also slated to contain one of more than 30 different Rookie Autographs (/99) and many of the freshmen that made a big impression during their first year are expected to be on the checklist. The complete set is rounded out by over 20 Elegance Rookie Jersey Autographs (/99).
Additional parallel versions of the base set will also be seeded into two out of every three packs.

Autographs and Autographed Memorabilia Cards
The Elegance Jersey Autographs continue beyond the base set as well. The checklist will be loaded with veterans, retired greats, and rookies along with various parallels like Platinum, Holo Silver, and Holo Gold. Naturally, Panini will make Prime version for these cards and they are numbered to 25 or less.
Stats Autographs are all about something significant the player depicted on the card has achieved thus far in their career – such as Kobe Bryant's legendary 81-point game. Collectors should keep their eyes peeled for cards limited to a player's jersey number or years spent in the NBA as well.
The final autograph concept revealed in promotional literature for 2016-17 Panini Impeccable Basketball is called Indelible Ink and it has a sharp design. Other autograph sets could feature interesting elements such as unique print technology and even precious metals.
2016-17 Panini Impeccable Basketball at a glance:
Packs per box: 1
Cards per pack: 8
Boxes per case: 3
Set size: 158 cards
Release date: September 20, 2017
What to expect in a hobby box:
– Five autographs (some packs may have a Precious Metals card instead of an autograph)
– Two base cards
– One parallel or Precious Metal card
2016-17 Panini Impeccable Basketball Checklist
Base
Autographs
Metal Cards
Team Sets
Stephen Laroche is the editor of Beckett Hockey, Beckett Basketball, and Beckett Sports Card Monthly magazines. Have a comment, question or idea? Send an e-mail to him at slaroche@beckett.com or follow him on Twitter @Stephen_Laroche.