Shedding Light on the 2016-17 O-Pee-Chee Glo-Pee-Chee Short Prints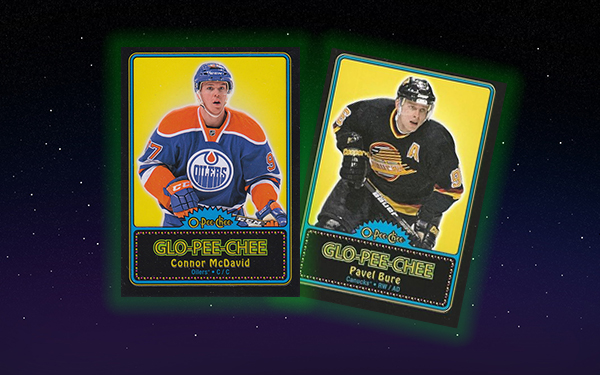 By Ryan Cracknell | Hobby Editor
2016-17 O-Pee-Chee Hockey is taking a page from past years with some surprise inserts. 2016-17 O-Pee-Chee Glo-Pee-Chee play off the brand name to deliver some short prints that come alive when the lights go out.
Consisting primarily of current players, details on the set are still a little sketchy. As with other unannounced inserts from Upper Deck, they're not saying much. Barring a skip-number configuration, the Glo-Pee-Chee checklist looks to top 25 cards.
Insertion rates have not been announced either.
The design of the cards fit right in with 2016-17 O-Pee-Chee's retro feel. Black borders give way to a bright yellow background and a nameplate that's reminiscent of a lit up marquee.
Of course, there's more to the name than just the word play. Parts of the cards do glow. For the best results, hold it up to a light for a few seconds before making it dark and getting the full effect.
2016-17 O-Pee-Chee Glo-Pee-Chee Checklist
Looking to add cards to buy 2016-17 O-Pee-Chee Glo-Pee-Chee cards? Here's what's currently listed on eBay.
If you're able to help us fill in any gaps, please leave a comment below and we'll update ASAP.
GLO-1 Connor McDavid, Edmonton Oilers
GLO-2 Bobby Orr, Boston Bruins
GLO-3 Carey Price, Montreal Canadiens
GLO-4 Nathan MacKinnon, Colorado Avalanche
GLO-5 William Nylander, Toronto Maple Leafs
GLO-6 Jack Eichel, Buffalo Sabres
GLO-7 Sidney Crosby, Pittsburgh Penguins
GLO-8 Cory Schneider, New Jersey Devils
GLO-9 Ryan Getzlaf, Anaheim Ducks
GLO-10 Anthony Mantha, Detroit Red Wings
GLO-11 Pavel Bure, Vancouver Canucks
GLO-12 Zach Parise, Minnesota Wild
GLO-13 Vladimir Tarasenko, St. Louis Blues
GLO-14 Mark Scheifele, Winnipeg Jets
GLO-15 Jonathan Toews, Chicago Blackhawks
GLO-16 Erik Karlsson, Ottawa Senators
GLO-17 Tyler Seguin, Dallas Stars
GLO-18 Roman Josi, Nashville Predators
GLO-19 Max Domi, Arizona Coyotes
GLO-20 Alex Ovechkin, Washington Capitals
GLO-21 John Tavares, New York Islanders
GLO-22 Ben Bishop, Tampa Bay Lightning
GLO-23 Aleksander Barkov, Florida Panthers
GLO-24 Noah Hanifin, Carolina Hurricanes
GLO-25
GLO-26 Henrik Lundqvist, New York Rangers
GLO-27 Seth Jones, Columbus Blue Jackets
GLO-28 Johnny Gaudreau, Calgary Flames
GLO-29 Claude Giroux, Philadelphia Flyers
GLO-30 Wayne Gretzky, Los Angeles Kings
Comments? Questions? Contact Ryan Cracknell on Twitter @tradercracks.