2016-17 Leaf Ultimate Hockey Details
The brand that revolutionized the premium trading card market over 15 years ago is back and 2016-17 Leaf Ultimate Hockey has a few new twists in addition to being more limited than ever.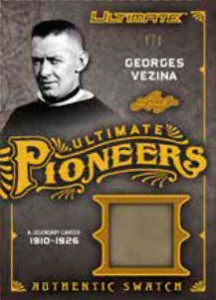 Released this November at the Fall 2016 Sportcard & Memorabilia Expo in Toronto, those busting boxes at the show will likely be able to participate in a redemption program at the Leaf Trading Cards booth. Just 175 six-box cases are being produced and Leaf Trading Cards has noted that there will be no unsigned single-swatch jerseys in this product along with new signers and more jumbo patch cards than before – including the company's first double-sided versions.

Memorabilia
One of Leaf's strengths with 2016-17 Leaf Ultimate Hockey is the incredible inventory of vintage game-used memorabilia that is available at its fingertips.
The action starts in a wild fashion with both Ultimate Triple Memorabilia and Ultimate Quad Memorabilia bringing together some memorable names on the same card. Collectors can look for an even more desirable Prime variation that is certain to generate some excitement. Ultimate Equipment is a four-piece effort similar to the old Complete Package the product was known for and Ultimate Pioneers has historical pieces of memorabilia plus a Quad edition featuring four of the game's greatest legends.
A brand staple returns with Ultimate Decades and there will be six swatches per card with some dating back a century. Ultimate Journey is back, too, which shows the path a player traveled during their career through their memorabilia. Big pieces are coming in the One-Timer collection, which has either one or two jaw-dropping swatches taking up some serious real estate on the card. The double-swatch version marks a first for Leaf as well.
Rounding out the memorabilia portion of this product is something that has been dubbed The Ultimate Card. Containing eight swatches of prime memorabilia that includes items such as fight straps and tags, it also has a potentially strong checklist as well with names like Jacques Plante and Jean Beliveau being teased in sales materials.

Autographs
The basic autograph collection in 2016-17 Leaf Ultimate Hockey is simply dubbed Ultimate Signatures and the roster is expected to include legends such as Mario Lemieux and Martin Brodeur along with new Leaf signee Don Cherry.
Classic combinations are the main thrust behind Ultimate Dual Signatures, Ultimate Triple Signatures, and Ultimate Quad Signatures, but it gets even crazier with Ultimate Signatures 6 which puts ink from half a dozen greats together on the same card. A new addition to the autograph lineup is Ultimate Goals, which pays tribute to a milestone goal scored by a legendary player such as Gordie Howe or Bobby Hull. There are also plenty of options for fans of cards featuring both memorabilia and autographs in this release.
Ultimate Signatures Memorabilia draws from a variety of game-used pieces from big names and also has a prime parallel. Even more appealing are the Ultimate Signatures Relics which combine a signature with four pieces of memorabilia.
2016-17 Leaf Ultimate Hockey at a glance:
Packs per box: 1
Cards per pack: 3
Boxes per case: 6
Release date: November 11, 2016
Stephen Laroche can be found on Twitter @Stephen_Laroche.