2016-17 In The Game Heroes & Prospects Hockey Details
Sometimes, it is better to go out with a bang instead of a mere whimper.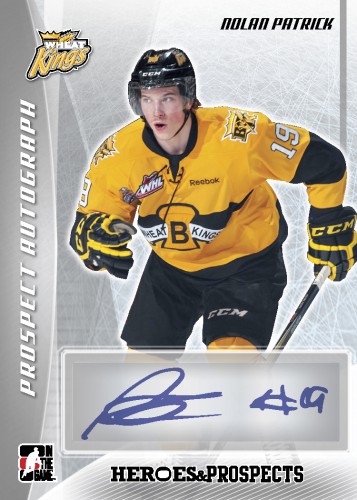 At least, that is the approach Leaf Trading Cards is taking with its final product featuring a full slate of future stars from the Canadian Hockey League. It was recently revealed that the company would no longer be a CHL licensee, but that does not mean that quality is going to suffer one iota as 2016-17 In The Game Heroes & Prospects Hockey is loaded up with a jaw-dropping 15 autograph or memorabilia hits per box.
With a release date of May 31, 2017, it will hit hobby shops just after the Memorial Cup tournament and weeks before the 2017 NHL Entry Draft.

Autographs
While there is no base set in 2016-17 In The Game Heroes & Prospects Hockey, there is expected to be a strong selection of basic Prospect Signatures to collect. Leaf exclusive Nolan Patrick leads the way here as the Brandon Wheat Kings star is expected by many to go first overall on draft day. Like previous years, collectors should expect even the most common versions of these cards to only be produced in small quantities as a maximum of 150 cases (containing 12 boxes each) will be released.
International Ice is a collection which goes beyond Canada's borders to seek out ink from some of the best prospects from other hockey nations. The marquee prospect of the bunch is sure to be Nico Hischier of the Halifax Mooseheads, who could potentially slide into the top spot as well. A triple signature collection is also being produced. Dubbed Stars of OHL, WHL, and QMJHL, a trio of prospects from each league are put together on a single card.
The final autograph collection in Heroes & Prospects looks at another player whose signature is exclusive to Leaf. Eichel Tower has four different cards and serves as a tribute to Jack Eichel, the young star that had an excellent sophomore season in 2016-17.

Game-Used Memorabilia Cards
The past and the future come together in fine fashion for the memorabilia program in 2016-17 In The Game Heroes & Prospects Hockey. While the only Prospect-themed memorabilia collection shown in sales materials were the coveted Complete Logo cards, there are plenty of vintage concepts to consider. Heroes Memorabilia kicks that area off with single swatches and are joined by Old Time Hockey Heroes. Reflections is a dual-swatch card which takes two players with comparable aspects and puts them together with their respective memorabilia pieces. Finally, Heroes 8 brings legends together on an octuple-swatch card which is bound to be very limited.
2016-17 In The Game Heroes & Prospects Hockey at a glance:
Packs per box: 1
Cards per pack: 15
Boxes per case: 12
Set size: n/a
Release date: May 31, 2017
What to expect in a hobby box:
– 15 autograph or memorabilia cards
Stephen Laroche is the editor of Beckett Hockey, Beckett Basketball, and Beckett Sports Card Monthly magazines. Have a comment, question or idea? Send an e-mail to him at slaroche@beckett.com or follow him on Twitter @Stephen_Laroche.