2015 Upper Deck Marvel Dossier is kind of like a trading card product with a surprise inside every pack. Think a box of Cracker Jacks or an old-school box of cereal.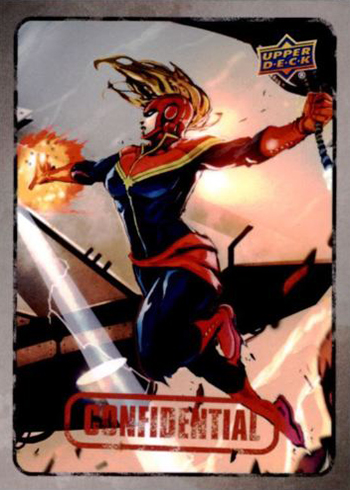 Every pack is going to give you a trio of cards as well as a collectible dog tag.
2015 Upper Deck Marvel Dossier doesn't have a lot of complexity to it. There is a 55-card base set highlighting key heroes and villains residing in the Marvel Universe. Packs come with a pair of base cards.
Foil parallels land one per pack, adding a slight chase element.
Fifty-five is the number of dog tags (or tag necklaces) in the product. Forty of them are considered common while the remaining 15 tags are short prints.
If you're looking for premium chase elements like sketch cards and high-end inserts, 2015 Upper Deck Marvel Dossier isn't the place to find them.
2015 Upper Deck Marvel Dossier trading cards at a glance:
Cards per pack: 3 + 1 dog tag
Set size: 55 cards
Release date: February, 2016
2015 Upper Deck Marvel Dossier Checklist