2015 Upper Deck Firefly: The Verse autographs checklist runs deep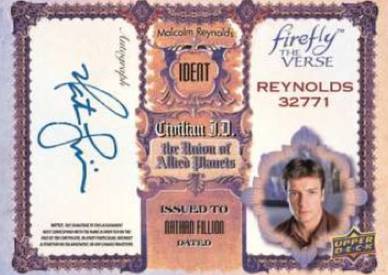 By Ryan Cracknell | Hobby Editor
Most current trading card sets based on TV shows usually have about ten to 15 different autographs. And that's for current shows that are still on the air and actors are likely to be a little more available and happy to promote. The 2015 Upper Deck Firefly: The Verse autographs checklist has 30 different actors.
And this is for a show that lasted just 14 episodes and aired its final episode more than a decade before.
If you're familiar with Firefly, you know the drill. The Joss Whedon-helmed show didn't find much of an audience at first after it was mishandled by FOX. And like most every show that doesn't get good ratings, it was cancelled. But the passionate fanbase grew thanks to reruns, DVD and online streaming.
That led to Serenity, a theatrical film based on the show. And with Serenity came a set of trading cards from Inkworks. After that set did well, Inkworks went back and did another for Firefly. That was also popular. But with only 14 episodes to draw from and a formula by which the now-defunct manufacturer worked with, there wasn't much more Inkworks could do.
Fast forward a decade and the Browncoat movement is as strong as ever. Upper Deck has brought the show back to the hobby with an all-art approach. And an incredibly deep autograph checklist.
A good chunk, but not all, of the main cast appear on 2015 Upper Deck Firefly: The Verse autographs. These include Nathan Fillion (Captain Mal), Jewel Staite (Kaylee Frye), Adam Baldwin (Jayne Cobb) and Morena Baccarin (Inara Serra).
Missing from the list are Alan Tudyk (Wash), Gina Torres (Zoe Washburne) and Summer Glau (River Tam). All three of them do have autographs in the Inkworks Serenity set. Torres also signed for the first Firefly release.
In addition to the main cast, there are lots of guest stars. Because the show's run was so short, there isn't much in the way of recurring characters. Outside of the leads, only a handful of actors appeared in more than one episode. Needless to say, it's a checklist that's likely to be greatly appreciated by Firefly's bigger fans for its scope and expansion on the existing releases. However, those looking in from the outside might wonder who some of these actors are.
If you look at other popular entertainment trading card lines, you see a similar pattern though. Star Trek, Star Wars and James Bond have all had dozens of sets and plenty of bit roles covered with autographs. But because the core audience is so into them, there's a market. Granted, some are much more coveted than others but the same formula continues to be used, which would indicate general acceptance.
It is worth noting that Christina Hendricks, likely the biggest Firefly alumni to go on from the show, does not have an autograph in 2015 Upper Deck Firefly: The Verse. She is in the Inkworks Firefly set, though. Ironically, when that set first came out, she was considered one of the less desirable cards. And then along came Mad Men and everything changed.
The 2015 Upper Deck Firefly: The Verse autographs follow a similar pattern as many of their Marvel movie sets. In addition to the single-signed cards, there are dual and triple autographs that bring in lots of different combinations. The main cast that signed for the set also have Original Art Autographs that come with a different design. Collectors can also find autographs from artists who worked on the set.
In case you're wondering which characters have signed cards, here are the checklists for the ActorAutographs.
2015 Upper Deck Firefly: The Verse Autographs Checklist
Single
AB Adam Baldwin as Jayne Cobb
AD Eddie Adams as Bendis
AN Andrew Bryniarski as Crow
AU Andy Umberger as Dortmunder Captain
BB Bonnie Bartlett as Patience
BR Blake Robbins as Agent McGuinness
BU Richard Burgi as Lieutenant Womack
CJ Carlos Jacott as Lawrence Dobson
DC Dennis Cockrum as Blue Glove Man #2
DS Doug Savant as Commander Harken
EA Edward Atterton as Atherton Wing
FL Fredric Lehne as Ranse Burgess
FR Franc Ross as Monty Reynolds
GH Gregg Henry as Sheriff Bourne
GI Gregory Itzin as Magistrate Higgins
IH Isabella Hofmann as Regan Tam
JR Jeff Ricketts as Blue Glove Man #1
JS Jewel Staite as Kaylee Frye
KG Kevin Gage as Stitch Hessian
LD Larry Drake as Sir Warwick Harrow
MB Morena Baccarin as Inara Serra
MC Melinda Clarke as Nandi
MF Michael Fairman as Adelai Niska
MS Mark Sheppard as Badger
NF Nathan Fillion as Captain Malcolm Reynolds
RB Richard Brooks as Jubal Early
RG Ron Glass as Shepherd Book
SM Sean Maher as Dr. Simon Tam
WC William Converse-Roberts as Gabriel Tam
WO Jonathan Woodward as Tracey
Dual
BA Edward Atterton, Morena Baccarin
BG Adam Baldwin, Kevin Gage
FB Andrew Bryniarski, Michael Fairman
FM Nathan Fillion, Morena Baccarin
FT Nathan Fillion, Sean Maher
GM Sean Maher, Adam Baldwin
GS Adam Baldwin, Ron Glass
HB Ron Glass, Morena Baccarin
HC Isabella Hofmann, William Converse-Roberts
HF Adam Baldwin, Nathan Fillion
LC Melinda Clarke, Fredric Lehne
RC Jeff Ricketts, Dennis Cockrum
SD Mark Sheppard, Larry Drake
WB Jonathan Woodward, Richard Burgi
Triple
BJR Blake Robbins, Richard Brooks, Carlos Jacott
FBT Sean Maher, Nathan Fillion, Adam Baldwin
FSF Nathan Fillion, Michael Fairman, Mark Sheppard
GBM Sean Maher, Ron Glass, Adam Baldwin
GRC Sean Maher, Jeff Ricketts, Dennis Cockrum
HFB Ron Glass, Nathan Fillion, Morena Baccarin
RWA Jonathan Woodward, Eddie Adams, Franc Ross
SFD Nathan Fillion, Mark Sheppard, Larry Drake
Original Art Autograph
OA-DB Ron Glass as Derrial Book
OA-IS Morena Baccarin as Inara Serra
OA-JC Adam Baldwin as Jayne Cobb
OA-KF Jewel Staite as Kaylee Frye
OA-MR Nathan Fillion as Malcolm Reynolds
OA-ST Sean Maher as Simon Tam
2015 Upper Deck Firefly: The Verse releases on Wednesday, October 21.