2015 Topps WWE Undisputed transformed into limited edition metal signs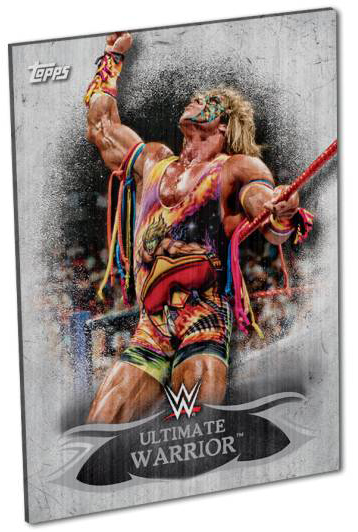 By Ryan Cracknell | Hobby Editor
2015 Topps WWE Undisputed will probably best best known as the first WWE product to have an autograph per pack. Although the hits get most of the attention, a given for almost every product that comes with a higher price tag, WWE Undisputed also came with one of the more distinct base sets in a while. Those base cards (and a couple basic insert sets) have been released as over-sized metal signs.
The WWE Undisputed Metal Signs are exclusive to the Topps website. Each measures 10″ x 14″ and are done on sign-grade aluminum.
Each of the 100 base card plus the 24 of the 25 NXT Prospects and 30 Famous Finishers have metal signs. The only one of the original cards to be left out is Solomon Crowe. He was a part of NXT but left the company in November.
The WWE Undisputed Metal Signs all have two versions. The basic one is numbered to 99 and costs $59.99. Gold parallels are one-of-a-kind and run $99.99. Each of the signs is sold individually.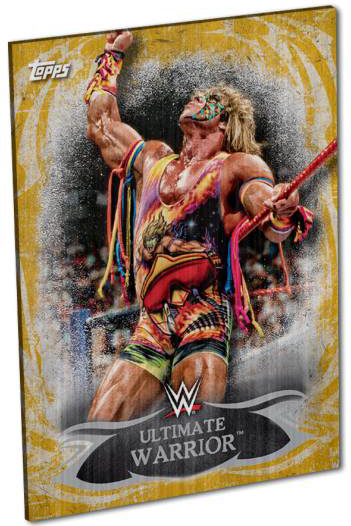 Topps WWE Undiputed Metal Signs Checklist
Each sign has a base (/99) and Gold (1/1) version.
Undertaker
Rosa Mendes
Lita
Kofi Kingston
George "The Animal" Steele
Titus O'Neil
Stardust
"The American Dream" Dusty Rhodes
Alicia Fox
Brock Lesnar
Zack Ryder
Summer Rae
The Miz
Roman Reigns
Natalya
Rob Van Dam
Lana
Shawn Michaels
R-Truth
"Nature Boy" Ric Flair
Jey Uso
"Hacksaw" Jim Duggan
Booker T
Randy Orton
John Cena
Big Show
Cesaro
Kevin Nash
Honky Tonk Man
Bret "Hit Man" Hart
Paige
Dolph Ziggler
Christian
Ricky "The Dragon" Steamboat
Chris Jericho
Jerry "The King" Lawler
Kane
Bo Dallas
Darren Young
Daniel Bryan
Paul Heyman
Big E
Sin Cara
Doink The Clown
Naomi
Paul Bearer
Rusev
Mark Henry
Erick Rowan
Triple H
Diamond Dallas Page
Tyson Kidd
The British Bulldog
Razor Ramon
"Million Dollar Man" Ted DiBiase
King Barrett
Seth Rollins
Rowdy Roddy Piper
Ultimate Warrior
Trish Stratus
Eve Torres
Adam Rose
Bruno Sammartino
JBL
The Iron Sheik
Emma
Jack Swagger
Luke Harper
Konnor
Sting
Bray Wyatt
Bob Backlund
Eva Marie
Jake "The Snake" Roberts
Yokozuna
Nikki Bella
Sheamus
Jimmy Uso
Fandango
Neville
Viktor
"Cowboy" Bob Orton
Arn Anderson
Damien Sandow
Edge
"Classy" Freddie Blassie
Dean Ambrose
Stephanie McMahon
Sgt. Slaughter
"Mr. Perfect" Curt Hennig
Ryback
Big Boss Man
Bam Bam Bigelow
Pat Patterson
Brie Bella
Cameron
Kalisto
The Rock
Goldust
"Ravishing" Rick Rude
NXT Prospects
Angelo Dawkins
Sasha Banks
Finn Bálor
Sami Zayn
Charlotte
Blake
Murphy
Carmella
Enzo Amore
Baron Corbin
Hideo Itami
Tyler Breeze
Becky Lynch
Bayley
Bull Dempsey
Alexa Bliss
Tye Dillinger
Jason Jordan
Colin Cassady
Aiden English
Simon Gotch
Mojo Rawley
Marcus Louis
Samoa Joe
Famous Finishers
Shawn Michaels
Triple H
Trish Stratus
Dolph Ziggler
Undertaker
Ric Flair
Randy Orton"
"Ravishing" Rick Rude
Chris Jericho
Sheamus
Bret "Hit Man" Hart
John Cena
"Million Dollar Man" Ted DiBiase
Big Show
Bray Wyatt
Brock Lesnar
Daniel Bryan
The Iron Sheik
Dean Malenko
Mark Henry
Razor Ramon
Yokozuna"
Jack Swagger
Edge
"Mr. Perfect" Curt Hennig
Jake "The Snake" Roberts
Finn Bálor
Charlotte
The Miz
Neville"