2015 Topps Update Series Baseball no-foil cards not intentional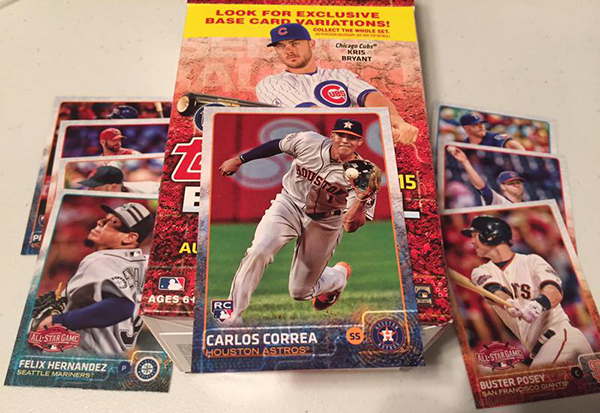 By Ryan Cracknell | Hobby Editor
Correction: We originally reported that it appeared that the foil-less No Logo cards were an official parallel based on reports from several collectors. Topps has confirmed these were not intentional. However, that does not change the fact there are many out there.
It's not uncommon to find flagship Topps baseball cards without the foil. From time to time, sheets stick together and a step in the production chain is missed resulting in cards that are missing something. It's not intentional. That's the case once again with 2015 Topps Update Baseball.
There have been many early reports of these cards popping up regularly in packs found in Walmart blaster packs, usually two per pack. It was so widespread that it looked like they were an intentional parallel.
The 2015 Topps Baseball design doesn't use a lot of foil to begin with. While recent years have use it for names, logos and design accents, it's pretty much only the company logo this year. The Future Stars subset is also missing its banner. The result is one of the more subtle printing errors you're likely to ever find.
Because they're not intentional, these can be categorized like other printing errors. They can draw some interest on the secondary market, particularly with player collectors. However, they're not generally recognized as an official parallel.