2015 Topps Tribute Baseball Special Edition sees return of recalled product with new additions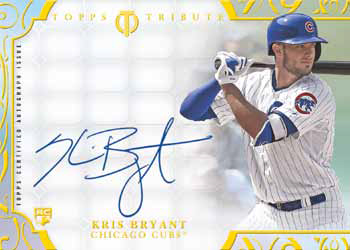 By Ryan Cracknell | Hobby Editor
When 2015 Topps Tribute Baseball released early in the year, there were widespread issues with autographs. This led to an unprecedented recall and much of the product disappeared. It's coming back in the form of 2015 Topps Tribute Baseball Special Edition with a configuration aimed at case breaks.
To remedy the earlier issue with the autographs, they've been inspected, treated and resigned. They've also been put into slabs. These cards come from returned stock so it won't interfere with the original print runs.
Besides the original cards, new Kris Bryant and Carlos Correa autographs have been added to the checklist.
Every pack of 2015 Topps Tribute Baseball Special Edition has two autographs and at least two relic cards. With 12 packs in a box, that translates into 24 autographs. There are actually 30 memorabilia cards per box as some packs have more than the promised two. Hot boxes come with as many as 36 relics.
Base Set
For those looking for a refresher on the original product, the base set has 100 cards. Most of the focus is on veterans and retired stars. Because it was intended for an early-season release, there is only a handful of rookies. They include Joc Pederson and Javier Baez.
Boxes have as many as six parallels from the following: Green (/99), Black (/50), Purple (/10), Printing Plates and Red (1/1).
Autographs
Not all of the original autographs from 2015 Topps Tribute have been included in Special Edition boxes.
Each box of 2015 Topps Tribute Baseball Special Edition has one To the Victors Autograph. These are done with a die-cut design and use acetate.
Foundations of Greatness and Rightful Recognition Autographs can be paired up to look at players early in their career and much later.
A limited number of Eccentric Eye Black Autographs have also found their way into packs with signatures from the likes of Mike Trout, Bryce Harper and more.
Base autographs also return. These have on-card signatures and eight levels of parallels numbered to 99 or less.
The signed Bryant and Correa cards that have been added are hard-signed as well.
Relic Cards
Basic memorabilia cards start with Tribute Relics and Diamond Cuts, which have an over-sized swatch cut in the shape of a baseball diamond. Both have several parallels.
Prime Patches (/45) have a checklist that's limited to stars and retired greats.
Finally, there are Milestone Relics (/10) that have a piece of a baseball used in an important game during the featured player's career. Red Autograph parallels are one-of-ones.
2015 Topps Tribute Baseball Special Edition at a glance:
Packs per box: 12
Cards per pack: 8
Boxes per case: 1
Release date: December 16, 2015
What to expect in a hobby box:
To the Victors Die-Cut Autographs – 1
Additional Autographs – 23
Relic Cards – 30