2015 Topps Strata football card details and checklist
When you click on links to various merchants on this site, like eBay, and make a purchase, this can result in this site earning a commission.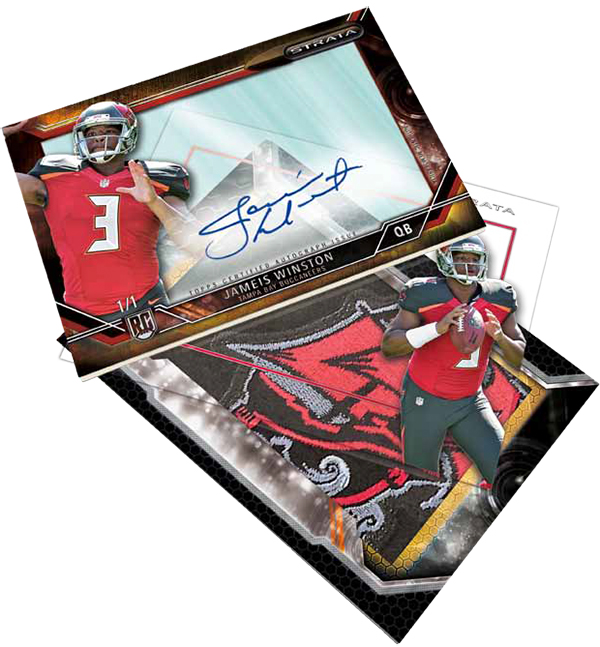 By Ryan Cracknell | Hobby Editor
2015 Topps Strata Football brings with it some fairly radical changes. After three years as a lower-tier product focused largely on a cool box hit, it's taking a more streamlined approach. Gone are the base cards, basic relics and insert cards. What's left? Autographs.
Boxes of the hobby exclusive product now have just two cards. The first is the return of the distinct Clear Cut Autographed Relic Rookie cards. There's also an additional autograph.
Clear Cut Autographed Relic Rookie cards cover more than 30 first-year players. These cards start with a jumbo swatch of a player-worn relic. A piece of acetate is layered over top of it with the player's image and signature. A small die-cut window is left open so the memorabilia can be touched. No stickers were used in the making of these cards. All autographs are done directly on the acetate.
Each has several parallels, all of which are serial numbered. These include Blue, Green, Black and Gold (/25). Five different Red versions (each 1/1) come with distinct pieces of memorabilia like a glove logo, laundry tag, football piece, Nike Swoosh or team logo.
Clear Cut Dual Autograph Patch Book cards (1/1) take the concept and double everything up in a booklet format.
Inserted one per 2015 Topps Strata Football 12-box case, Strata Signature Patch cards take the same general concept of the Clear Cut Autographs with a couple of changes. These have an added acetate layer with another player image. The result is more of a floating shadowbox look. Also, there is no window to touch the memorabilia. Parallels include Red (/25) and Rivet (1/1), which can be fanned open to see each of the layers that make up the card.
Strata Autographs also come with on-card signatures. The checklist, which has more than 40 players, is a mix of rookies and veterans. Serial-numbered parallels come in five colors: Blue, Green, Black, Gold (/25) and Red (1/1).
Strata Signatures are a second case hit. These have a similar design to the Strata Signature Patch cards only without the patch. What remains is a shadowbox look for the checklist of more than 40 players. Basic versions come numbered as do the Gold (/25) and Red (1/1) parallels.
2015 Topps Strata Football at a glance:
Packs per box: 1
Cards per pack: 2
Release date: February 24, 2016
What to expect in a box:
Clear Cut Autographed Relic Rookie – 1
Additional Autographs – 1
2015 Topps Strata Football Checklist
Autographs
Strata Autographs
SA-AA Ameer Abdullah, Detroit Lions
SA-AC Amari Cooper, Oakland Raiders
SA-AL Andrew Luck, Indianapolis Colts
SA-BH Brett Hundley, Green Bay Packers
SA-BP Breshad Perriman, Baltimore Ravens
SA-BPE Bryce Petty, New York Jets
SA-CA C.J. Anderson, Denver Broncos
SA-DF Devin Funchess, Carolina Panthers
SA-DFJ Dante Fowler Jr., Jacksonville Jaguars
SA-DG Dorial Green-Beckham, Tennessee Titans
SA-DJ Duke Johnson, Cleveland Browns
SA-DJO David Johnson, Arizona Cardinals
SA-DM Donte Moncrief, Indianapolis Colts
SA-DS Devin Smith, New York Jets
SA-ES Emmanuel Sanders, Denver Broncos
SA-JA Jay Ajayi, Miami Dolphins
SA-JAL Javorius Allen, Baltimore Ravens
SA-JC Jamaal Charles, Kansas City Chiefs
SA-JM Jordan Matthews, Philadelphia Eagles
SA-JW Jameis Winston, Tampa Bay Buccaneers
SA-KW Kevin White, Chicago Bears
SA-LC Landon Collins, New York Giants
SA-MB Martavis Bryant, Pittsburgh Steelers
SA-MG Melvin Gordon, San Diego Chargers
SA-MM Marcus Mariota, Tennessee Titans
SA-PD Phillip Dorsett, Indianapolis Colts
SA-RC Roger Craig, San Francisco 49ers
SA-RGR Rashad Greene, Jacksonville Jaguars
SA-SC Sammie Coates, Pittsburgh Steelers
SA-ST Shaq Thompson, Carolina Panthers
SA-TC Tevin Coleman, Atlanta Falcons
SA-TD Titus Davis, San Diego Chargers
SA-TG Todd Gurley, St. Louis Rams
SA-TK Travis Kelce, Kansas City Chiefs
SA-TL Tyler Lockett, Seattle Seahawks
SA-TLI Tony Lippett, Miami Dolphins
SA-TM Tre McBride, Tennessee Titans
SA-TMO Ty Montgomery, Green Bay Packers
SA-TW Trae Waynes, Minnesota Vikings
SA-TY T.J. Yeldon, Jacksonville Jaguars
SA-VB Vic Beasley, Atlanta Falcons
Strata Signatures
SS-AA Ameer Abdullah, Detroit Lions
SS-AC Amari Cooper, Oakland Raiders
SS-BJ Bo Jackson, Oakland Raiders
SS-BP Breshad Perriman, Baltimore Ravens
SS-BPE Bryce Petty, New York Jets
SS-CC Chris Conley, Kansas City Chiefs
SS-DC David Cobb, Tennessee Titans
SS-DG Dorial Green-Beckham, Tennessee Titans
SS-DJ Duke Johnson, Cleveland Browns
SS-DJO David Johnson, Arizona Cardinals
SS-DP DeVante Parker, Miami Dolphins
SS-DS Devin Smith, New York Jets
SS-EL Eddie Lacy, Green Bay Packers
SS-JA Jay Ajayi, Miami Dolphins
SS-JAL Javorius, Allen Baltimore Ravens
SS-JC Jamaal Charles, Kansas City Chiefs
SS-JH Jeremy Hill, Cincinnati Bengals
SS-JL Jeremy Langford, Chicago Bears
SS-JW Jameis Winston, Tampa Bay Buccaneers
SS-KB Kelvin Benjamin, Carolina Panthers
SS-KW Kevin White, Chicago Bears
SS-KWI Karlos Williams, Buffalo Bills
SS-LW Leonard Williams, New York Jets
SS-MD Mike Davis, San Francisco 49ers
SS-ME Mike Evans, Tampa Bay Buccaneers
SS-MG Melvin Gordon, San Diego Chargers
SS-MM Marcus Mariota, Tennessee Titans
SS-MS Matthew Stafford, Detroit Lions
SS-MW Maxx Williams, Baltimore Ravens
SS-PD Phillip Dorsett, Indianapolis Colts
SS-RGR Rashad Greene, Jacksonville Jaguars
SS-RS Roger Staubach, Dallas Cowboys
SS-SC Sammie Coates, Pittsburgh Steelers
SS-SW Sammy Watkins, Buffalo Bills
SS-TC Tevin Coleman, Atlanta Falcons
SS-TG Todd Gurley, St. Louis Rams
SS-TL Tyler Lockett, Seattle Seahawks
SS-TM Ty Montgomery, Green Bay Packers
SS-TY T.J. Yeldon, Jacksonville Jaguars
SS-VM Vince Mayle, Cleveland Browns
Autographed Memorabilia Cards
Clear Cut Autograph Patch Rookie Cards
CCAP-AA Ameer Abdullah, Detroit Lions
CCAP-AC Amari Cooper, Oakland Raiders
CCAP-BH Brett Hundley, Green Bay Packers
CCAP-BP Breshad Perriman, Baltimore Ravens
CCAP-BPE Bryce Petty, New York Jets
CCAP-CA Cameron Artis-Payne, Carolina Panthers
CCAP-CC Chris Conley, Kansas City Chiefs
CCAP-DC David Cobb, Tennessee Titans
CCAP-DF Devin Funchess, Carolina Panthers
CCAP-DG Dorial Green-Beckham, Tennessee Titans
CCAP-DJ Duke Johnson, Cleveland Browns
CCAP-DJO David Johnson, Arizona Cardinals
CCAP-DP DeVante Parker, Miami Dolphins
CCAP-DS Devin Smith, New York Jets
CCAP-JA Jay Ajayi, Miami Dolphins
CCAP-JC Jamison Crowder, Washington Redskins
CCAP-JHA Justin Hardy, Atlanta Falcons
CCAP-JL Jeremy Langford, Chicago Bears
CCAP-JS Jaelen Strong, Houston Texans
CCAP-JW Jameis Winston, Tampa Bay Buccaneers
CCAP-KW Kevin White, Chicago Bears
CCAP-KWI Karlos Williams, Buffalo Bills
CCAP-LW Leonard Williams, New York Jets
CCAP-MD Mike Davis, San Francisco 49ers
CCAP-MG Melvin Gordon, San Diego Chargers
CCAP-MJ Matt Jones, Washington Redskins
CCAP-MM Marcus Mariota, Tennessee Titans
CCAP-MW Maxx Williams, Baltimore Ravens
CCAP-NA Nelson Agholor, Philadelphia Eagles
CCAP-PD Phillip Dorsett, Indianapolis Colts
CCAP-RG Rashad Greene, Jacksonville Jaguars
CCAP-SC Sammie Coates, Pittsburgh Steelers
CCAP-SM Sean Mannion, St. Louis Rams
CCAP-TC Tevin Coleman, Atlanta Falcons
CCAP-TG Todd Gurley, St. Louis Rams
CCAP-TL Tyler Lockett, Seattle Seahawks
CCAP-TMO Ty Montgomery, Green Bay Packers
CCAP-TY T.J. Yeldon, Jacksonville Jaguars
CCAP-VM Vince Mayle, Cleveland Browns
Strata Signature Patch Cards
SSAR-AA Ameer Abdullah, Detroit Lions
SSAR-AC Amari Cooper, Oakland Raiders
SSAR-AL Javorius Allen, Baltimore Ravens
SSAR-BP Breshad Perriman, Baltimore Ravens
SSAR-CC Chris Conley, Kansas City Chiefs
SSAR-DA Davante Adams, Green Bay Packers
SSAR-DC David Cobb, Tennessee Titans
SSAR-DF Devin Funchess, Carolina Panthers
SSAR-DG Dorial Green-Beckham, Tennessee Titans
SSAR-DJ Duke Johnson, Cleveland Browns
SSAR-DP DeVante Parker, Miami Dolphins
SSAR-DS Devin Smith, New York Jets
SSAR-EL Eddie Lacy, Green Bay Packers
SSAR-JA Jay Ajayi, Miami Dolphins
SSAR-JC Jamaal Charles, Kansas City Chiefs
SSAR-JH Jeremy Hill, Cincinnati Bengals
SSAR-JL Jeremy Langford, Chicago Bears
SSAR-JM Jordan Matthews, Philadelphia Eagles
SSAR-JO David Johnson, Arizona Cardinals
SSAR-JS Jaelen Strong, Houston Texans
SSAR-JW Jameis Winston, Tampa Bay Buccaneers
SSAR-KB Kelvin Benjamin, Carolina Panthers
SSAR-KW Kevin White, Chicago Bears
SSAR-LW Leonard Williams, New York Jets
SSAR-MD Mike Davis, San Francisco 49ers
SSAR-ME Mike Evans, Tampa Bay Buccaneers
SSAR-MG Melvin Gordon, San Diego Chargers
SSAR-MM Marcus Mariota, Tennessee Titans
SSAR-MS Matthew Stafford, Detroit Lions
SSAR-MW Maxx Williams, Baltimore Ravens
SSAR-NA Nelson Agholor, Philadelphia Eagles
SSAR-PD Phillip Dorsett, Indianapolis Colts
SSAR-PE Bryce Petty, New York Jets
SSAR-RG Rashad Greene, Jacksonville Jaguars
SSAR-RT Ryan Tannehill, Miami Dolphins
SSAR-SC Sammie Coates, Pittsburgh Steelers
SSAR-SD Stefon Diggs, Minnesota Vikings
SSAR-SM Sean Mannion, St. Louis Rams
SSAR-SW Sammy Watkins, Buffalo Bills
SSAR-TC Tevin Coleman, Atlanta Falcons
SSAR-TG Todd Gurley, St. Louis Rams
SSAR-TL Tyler Lockett, Seattle Seahawks
SSAR-TM Ty Montgomery, Green Bay Packers
SSAR-TY T.J. Yeldon, Jacksonville Jaguars
SSAR-WI Karlos Williams, Buffalo Bills