2015 Topps Star Wars: The Force Awakens Series 1 trading cards details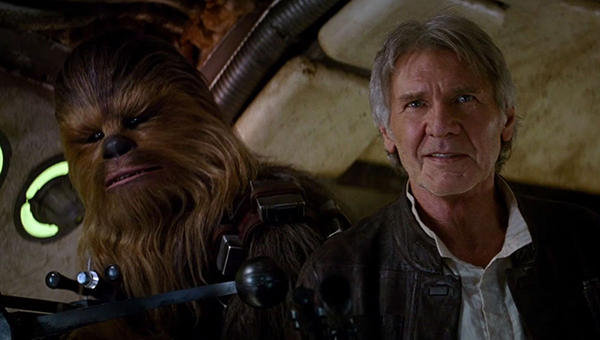 By Ryan Cracknell | Hobby Editor
Of course there are going to be trading cards for the new Star Wars movie. Probably lots of them. 2015 Topps Star Wars: The Force Awakens Series 1 is the first to delve exclusively into the film. Journey to the Force Awakens has some new content, but it also covers the other films as well. Series 2 follows in March.
Every pack has at least two inserts including a character sticker that will make a lot vintage Star Wars card collectors think, "We're home." Hobby boxes have a pair of premium inserts like autographs, sketch cards, Medallion cards and Printing Plates.
Looking for a 2015 Topps Star Wars: The Force Awakens Series 1 checklist?
Base Set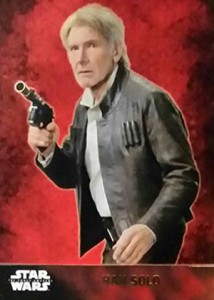 The base set has 100 cards. Centering largely on the characters, it also touches on some of the key plot points. Don't expect a full synopsis, though. Topps announced at the 2015 Industry Summit in Las Vegas that a second set was planned for further down the road that would go deeper into the story elements. The design uses full-bleed photos.
Every pack of 2015 Topps Star Wars: The Force Awakens Series 1 has at least one parallel that are color-base. Lightsaber Green, Blue (1:2), Purple (1:4), Gold (/100) and Platinum (1/1) make up the rainbow available in hobby packs. The numbered Gold and Platinum Lightsaber cards are hobby exclusives. In additional to these are Printing Plates. Each base card (and basic insert) has four different one-of-one plates based on the commercial printing process.
Autographs and Premium Inserts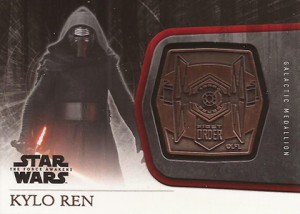 Autographs are likely to be the most popular chase element in the product. Most of the signers are actors from earlier films. But most of them are biggies — Carrie Fisher, Harrison Ford and Anthony Daniels are among them. However, John Boyega (Finn) and Daisy Ridley (Rey) are bound to make impressions as they're not only keys in the new film, but the only new signers as well. Hobby-only parallels include Lighsaber Purple (/25), Gold (/10), Printing Plates and Red Imperial Guard (1/1).
Taking it even further are three different Dual Autographs and a pair of Triple Autographs. Each is limited to just three copies each so there's not much to go around.
Medallion cards are manufactured relics with a metal piece embedded in them. The set has 66 different cards. And within that, all have three types: Bronze, Silver and Gold.
Sketch cards, a staple in modern Star Wars sets, are also included counting towards each box's hit count. These have original artwork drawn directly on the card by professional artists.
Basic Inserts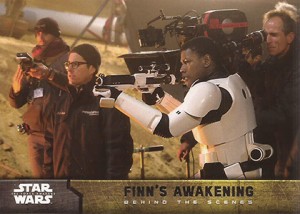 In a nod to the original Star Wars trading cards dating back to 1977, each pack of The Force Awakens Series 1 has a Character Sticker. With 18 cards in the set, it won't be difficult to complete.
These aren't the only basic inserts in the product. Character Montages have images of multiple heroes and villains. The First Order offers a deeper look at the movie's antagonists, their ships and their weapons. Aliens and Creatures looks at some of the creative new beings from the movie that are likely to spawn a million action figures. Hobby-exclusive Blue Prints show the schematics of not only spaceships from the film but droids as well.
2015 Topps Star Wars: The Force Awakens Series 1 at a glance:
Packs per hobby box: 24
Cards per pack: 8
Set size: 100 cards
Tentative release date: December 18, 2015
What to expect in a hobby box:
Autographs, Sketch Cards, Medallion Cards, Printing Plates – 2 total
Stickers – 24
Additional Inserts – 24
Parallels – 24