2015 Topps Star Wars: The Force Awakens base set grows with three Target promo cards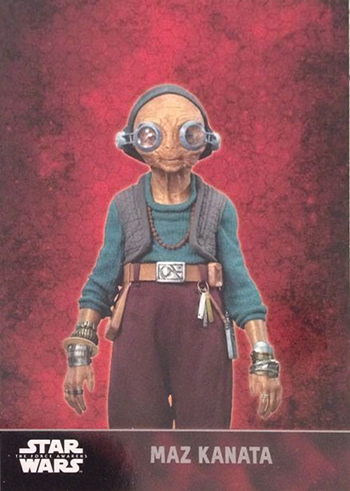 By Ryan Cracknell | Hobby Editor
Thought the 2015 Topps Star Wars: The Force Awakens Series 1 base set stopped at 100 cards? Think again.
Three promo cards, which essentially expand the main part of the set, were handed out at select Target stores.
The cards aren't in packs. Rather, they were a giveaway. It's possible some stores may still have some lying around. It's also possible you might get a look if the staff member you ask has no idea what you're talking about.
Numbering 101 through 103, all three of the Star Wars: The Force Awakens Target promos are characters cards featuring some of the more interesting aliens the blockbuster has to offer: Maz Kanata, Wollivan and Grummgar. None of the characters appear on the main checklist.
Cards backs are like you'd find in the base set.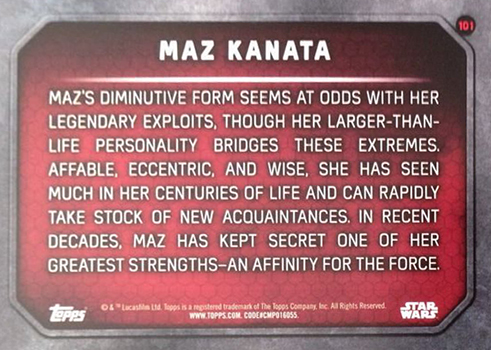 It's unknown how many of the cards were produced. Going strictly by production numbers, they're probably not incredibly rare. However, the distribution might make them relatively tough to find, especially when the initial supply runs out.
For most, this likely won't impact their base sets. It's still a 100-card set and these three, although numbered as part of the main set, are still closer to special giveaways or promo cards. That said, they're something completists likely track down.
2015 Topps Star Wars: The Force Awakens Series 1 Target Promos Checklist
Comments? Questions? Contact Ryan Cracknell on Twitter @tradercracks.