5 Shades of Rey: 2015 Topps Star Wars High Tek Pattern Variations Gallery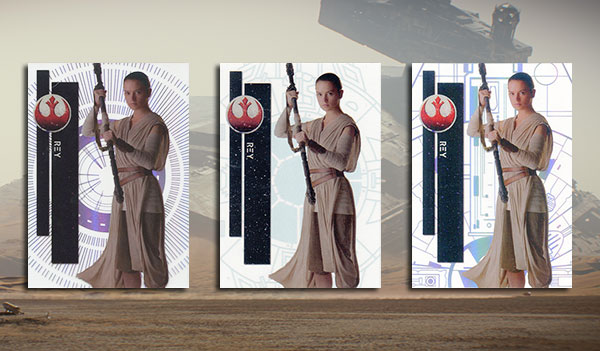 By Ryan Cracknell | Hobby Editor
Not to anyone's surprise, 2015 Topps Star Wars High Tek is very similar to the brand's baseball and football counterparts in the last couple of months. At least in overall look, feel and configuration. But instead of athletes, there's heroes, villains and scum from all corners of a galaxy far, far away. The cornerstone combination of acetate and foil remain but the 2015 Topps Star Wars High Tek pattern variations are very different.
Gone are the spirals, dots, circuit boards and other abstract designs. They're replaced with almost equally abstract patterns taken directly from the Star Wars universe. There's close ups on ships and overhead views of other places. With the fictional world filled with technology, it makes perfect sense. The only problem is, matching them up with the names Topps provided on the checklist isn't so easy.
We've done much of the decoding for all ten patterns available in the product as well as determined what we believe to be the rarity of each design (like baseball and football, not all patterns were made in the same quantities).
The base set checklist is divided into two halves. Topps refers to the first half (#1-56) as Form 1. The second half (#57-112) is Form 2. Each form has its own set of five different patterns. The first pattern for each is the easiest to pull while the fifth is the toughest.
And once you've got the patterns down, ten cards also have variation short prints — some have two.
We've outlined the 2015 Topps Star Wars High Tek patterns below, named the ones we know based on Topps' checklist. Finally, we've arranged them based on what we believe to be their rarity starting with the commons.
2015 Topps Star Wars High Tek Pattern Variations Gallery
Pattern 1 (Most Common)
Pattern 2
Pattern 3
Pattern 4
Pattern 5 (Most Rare)