2015 Topps Star Wars High Tek brings acetate to a galaxy far, far away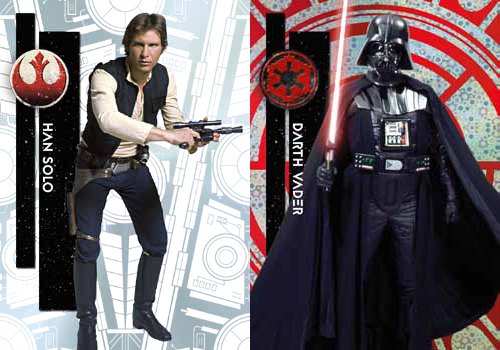 By Ryan Cracknell | Hobby Editor
Star Wars and technology go hand-in-hand. So for a franchise that has seen its share of trading cards, it seems natural that it gravitate towards a brand that also focuses on technology. That brings us to 2015 Topps Star Wars High Tek trading cards. Keeping with the same elements that Tek has used in baseball, the product is all acetate, foil and a futuristic feel.
Get the full 2015 Topps Star Wars High Tek checklist and price guide access.
Base Set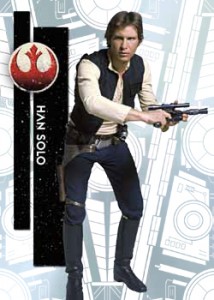 The base set has 112 cards covering every corner of the Star Wars Universe. All are done on acetate card stock, which gives the background a clear appearance. Behinds the characters are foil patterns for added pop. But it's also Tek, so it's not that simple.
Those who have followed the brand in sports know that the foil patterns come in many different variations, creating a large number of variations. Some collectors opt for one version per card while others chase master runs of their favorites.
The most common pattern in 2015 Topps Star Wars High Tek has five serial-numbered parallels: Tidal Diffractor (/99), Gold Rainbow (/50), Red Orbit Diffractor (/5), Printing Proofs (1/1) and Black Galactic Diffractor (1/1). Select pattern variations also come with Red Orbit (/5) and Black Galactic (1/1) Diffractors.
Ten cards also have variation short prints that come with different photos. Five of these have a pair of variations, bringing the total number to 15.
Autographs and Sketch Cards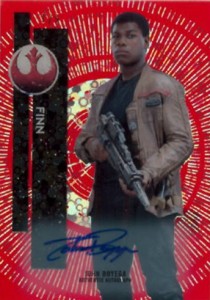 2015 Topps Star Wars High Tek ventures into the realm of high-end. Each box has just one pack of nine cards. One of those is guaranteed to be either an autograph or sketch card.
Autographs are all signed on-card with the same sort of plastic stock as the base set. Parallels for these are Gold Rainbow (/50), Clouds Diffractor (/25), Red Orbit Diffractor (/5), Printing Proofs (1/1) and Black Galactic Diffractors (1/1).
The autographs checklist has more than 50 signers including Harrison Ford, Mark Hamill and Carrie Fisher. There's also John Boyega from The Force Awakens.
For sketch cards, they will also come in different rarities.
Inserts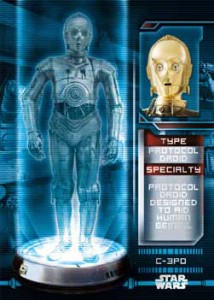 Three basic inserts keep up with the acetate theme. Armor Tek uses a simple design to showcase iconic armor from the films. Living Tek is all about droids and other characters who rely on technology to make them tick. Finally, there's Moments of Power, which highlight important moments for important characters.
2015 Topps Star Wars High Tek at a glance:
Packs per box: 1
Cards per pack: 9
Boxes per case: 12
Set size: 112 cards
Release date: December 18, 2015
What to expect in a hobby box:
Autographs or Sketch Cards – 1