2015 Topps Star Wars High Tek Autographs checklist announced
When you click on links to various merchants on this site, like eBay, and make a purchase, this can result in this site earning a commission.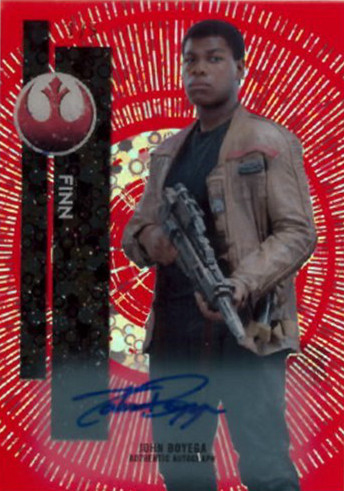 By Ryan Cracknell | Hobby Editor
The full 2015 Topps Star Wars High Tek Autographs checklist has been unveiled. And it's a big one.
The names cover the original saga, prequels and the recent spinoff cartoons. And a biggie from The Force Awakens.
As far as classic stars go, leading the way are the three keys to the franchise: Harrison Ford (Han Solo), Carrie Fisher (Princess Leia) and Mark Hamill (Luke Skywalker). John Boyega, who plays Finn in The Force Awakens gets his first autograph card in the set as well.
Keisha Castle-Hughes (Queen Apailana) might not be a household name, but she has had prominent roles in the past in the indie hit Whale Rider and The Nativity Story. This is her autograph card debut. Other first-time Star Wars signers non-fans may recognize are George Takei (best known for Star Trek) and Deep Roy, who played the Oompa Loompas in Charlie and the Chocolate Factory. Rounding out the list of debut signers are Michael Carter (Bib Fortuna) and Brian Blessed (Boss Nass).
In total, more than 50 signers are in the set. All 2015 Topps Star Wars High Tek Autographs are signed on-card. Cards are printed on acetate, giving them a unique look.
In addition to base versions, there are multiple levels of parallels:: Tidal Diffractor (/75), Gold Rainbow (/50), Clouds Diffractor (/25), Red Orbit (/5), and Black Galactic (1/1). Some signers, however, may not have autographs for all base and parallel versions.
This is a more high-end release than most Star Wars products with just one pack per box. Each box has either an autograph or a sketch card.
2015 Topps Star Wars High Tek releases on December 18, which just happens to be opening day for The Force Awakens.
2015 Topps Star Wars High Tek Autographs Checklist
Amy Allen as Aayla Secura
Dickey Beer as Barada
Dickey Beer as Stormtrooper
Paul Blake as Greedo
Jerome Blake as Rune Haako
Caroline Blakiston as Mon Mothma
Brian Blessed as Boss Nass
Steve Blum as Zeb Orrelios
Michonne Bourriague as Aurra Sing
John Boyega as Finn
Dee Bradley Baker as Captain Rex
Paul Brooke as Malakili
Jeremy Bulloch as Boba Fett
Silas Carson as Ki-Adi-Mundi
Silas Carson as Nute Gunray
Michael Carter as Bib Fortuna
Keisha Castle-Hughes as Queen Apailana
Kenneth Colley as Admiral Piett
Michaela Cottrell as Even Piell
Dermot Crowley as General Madine
Anthony Daniels as C-3PO
Warwick Davis as Wicket
Phil Eason as Yaddle
Ashley Eckstein as Ahsoka Tano
Carrie Fisher as Princess Leia Organa
Harrison Ford as Han Solo
Oliver Ford Davies as Sio Bibble
Nika Futterman as Asajj Ventress
Julian Glover as General Veers
Mark Hamill as Luke Skywalker
Alan Harris as Bossk
Gerald Home as Tessek
Zac Jensen as Kit Fisto
Nalini Krishan as Barriss Offee
Bai Ling as Bana Breemu
Daniel Logan as Boba Fett
Angus MacInnes as Jon "Dutch" Vander
Lewis Macleod as Sebulba
Vanessa Marshall as Hera Syndulla
Peter Mayhew as Chewbacca
Rohan Nichol as Captain Antilles
Ray Park as Darth Maul
Bonnie Piesse as Beru Whitesun
David Prowse as Darth Vader
Wayne Pygram as Grand Moff Tarkin
John Ratzenberger as Bren Derlin
Pam Rose as Leesub Sirln
Tim Rose as Admiral Ackbar
Deep Roy as Yoda
Andy Secombe as Watto
Hassani Shapi as Eeth Koth
Orli Shoshan as Shaak Ti
Tiya Sircar as Sabine Wren
Bruce Spence as Tion Medon
George Takei as Lok Durd
Femi Taylor as Oola
Billy Dee Williams as Lando Calrissian
Matthew Wood as General Grievous
Taylor Gray as Ezra Bridger