2015 Topps Star Wars Galactic Connexions Checklist and Details
2015 Topps Star Wars Galactic Connexions pack several elements into one. They're definitely not trading cards, but they're certainly structured that way with blind packaging, a set to build and plenty of chase elements. To that end, it brings them in line with Topps' Chipz line. But they don't look anything like poker chips. Galactic Connexions is also a game requiring strategy.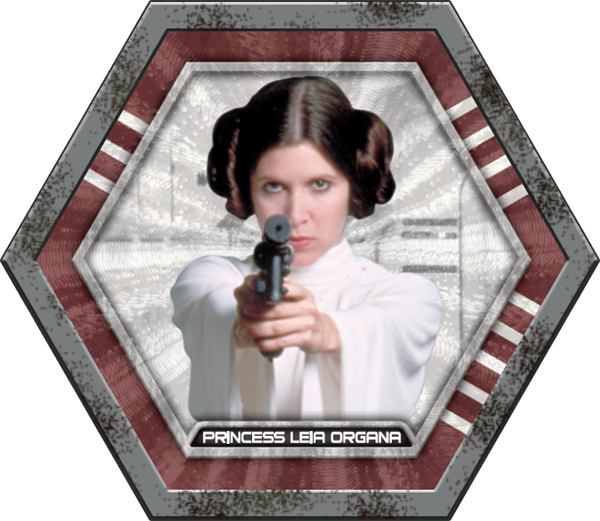 The line is exclusive to Walmart.
The basic set of 2015 Topps Star Wars Galactic Connexions features 75 different characters. However, each of those has more than a dozen different disc styles that vary based on the frame color and type of sticker.
The checklist is based entirely on characters. It combines the original trilogy, prequels and a handful of new ones from The Force Awakens.
Basic discs have a gray frame and basic character sticker. Next up are Holographic Foil stickers then Pattern Holographic Foil stickers that look a little like X-Fractors. Black-frame discs are considered uncommom and Clear frames are rare. Each of these have the same sticker configuration as well. All told, there are nine total styles of the Gray, Black and Clear discs.
All 75 discs also have four additional parallels based on the color of the frame: Jabba Slime Green, Lightsaber Red, Death Star Silver and C-3P0 Gold. These are considered to be ultra rare. Ultra rare discs have only one type of sticker.
If that wasn't enough, select characters have additional ultra-rare versions. Han Solo, Luke Skywalker, Prince Leia, Darth Vader and Obi-Wan Kenobi have Battle Damage discs that look like rusting metal on the outer frame. Han and Boba Fett come with Slave 1 discs that are red, blue and gray on the outer frame. Finally, there's an Imperial Red version of Emperor Palpatine.
Exclusives
During the launch of 2015 Topps Star Wars Galactic Connexions, a few exclusives were available but only for a limited time. Ten Blue Starfield discs were found in giveaway packs. These aren't parallels but rather entirely new discs that cannot be found in regular packs.
There's also a very rare 14K Solid Gold Slave Leia disc that's part of a contest.
A Stormtrooper disc kicked off the line as a promo giveaway at the 2015 San Diego Comic-Con.
Playing the Game
Galactic Connexions isn't intended to be an overly complicated game. At its most basic, it combines parts of Dominoes and the simple card game, War. Added layers that bring in Star Wars lore and mythology.
If you want a full rundown on how to play, here's a copy of the Star Wars Galactic Connexions rules.
Topps has also set up a website that shows points and scoring at a glance.
2015 Topps Star Wars Galactic Connexions Checklist
Base Discs
Disc Types:
Common: Gray Standard, Gray Holographic Foil, Gray Pattern Holographic Foil
Uncommon: Black Standard, Black Holographic Foil, Black Pattern Holographic Foil
Rare: Clear Standard, Clear Holographic Foil, Clear Pattern Holographic Foil
Ultra Rare: Jabba Slime Green, Lightsaber Red, Death Star Silver, C-3P0 Gold, Battle Damaged (Han, Luke, Leia, Darth Vader, Obi-Wan Kenobi only), Slave 1 (Han and Boba Fett only), Imperial Red (Emperor Palpatine only)
1 Luke Skywalker
2 Darth Vader
3 Han Solo
4 Princess Leia Organa
5 C-3PO
6 R2-D2
7 Anakin Skywalker
8 Padmé Amidala
9 Rey
10 Finn
11 Poe Dameron
12 Kylo Ren
13 Boba Fett
14 Lando Calrissian
15 Admiral Ackbar
16 Nien Nunb
17 Admiral Piett
18 Jango Fett
19 Jawa
20 Tusken Raider
21 Wedge Antilles
22 Commander Cody
23 Flametrooper
24 BB-8
25 Darth Maul
26 Greedo
27 Wampa
28 Momaw Nadon
29 Ponda Baba
30 Captain Phasma
31 Emperor Palpatine
32 Jabba The Hutt
33 Obi-Wan Kenobi
34 Stormtrooper
35 Yoda
36 Chewbacca
37 Scout Trooper
38 TIE Fighter Pilot
39 Imperial Royal Guard
40 Grand Moff Tarkin
41 2-1B
42 IG-88
43 Dengar
44 Bossk
45 Wicket W Warrick
46 Lobot
47 Ugnaught
48 Zev Senesca
49 Dak Ralter
50 Bib Fortuna
51 Garindan
52 Mace Windu
53 General Grievous
54 Qui-Gon Jinn
55 Count Dooku
56 Jar Jar Binks
57 Chancellor Palpatine
58 Ahsoka Tano
59 Clone Trooper
60 Aayla Secura
61 Tion Medon
62 Coleman Trebor
63 Aurra Sing
64 Watto
65 Kit Fisto
66 Poggle The Lesser
67 Nute Gunray
68 Sebulba
69 Barriss Offee
70 Captain Panaka
71 Shaak Ti
72 Asajj Ventress
73 Dexter Jettster
74 Taun We
75 Zam Wesell
Blue Starfield
76 General Veers
77 Mon Mothma
78 R5-D4
79 Dr. Evazan
80 Weequay Skiff Guard
81 Gamorrean Guard
82 Bail Organa
83 Plo Koon
84 Rune Haako
85 Tarfful
14K Solid Gold Disc
86 Slave Leia
2015 San Diego Comic Con Promo Disc
The disc was available with several different frames including Gray, Clear, Red, Gold and Green.
Stormtrooper