2015 Topps Inception Football Rookie Autographs gallery and short print info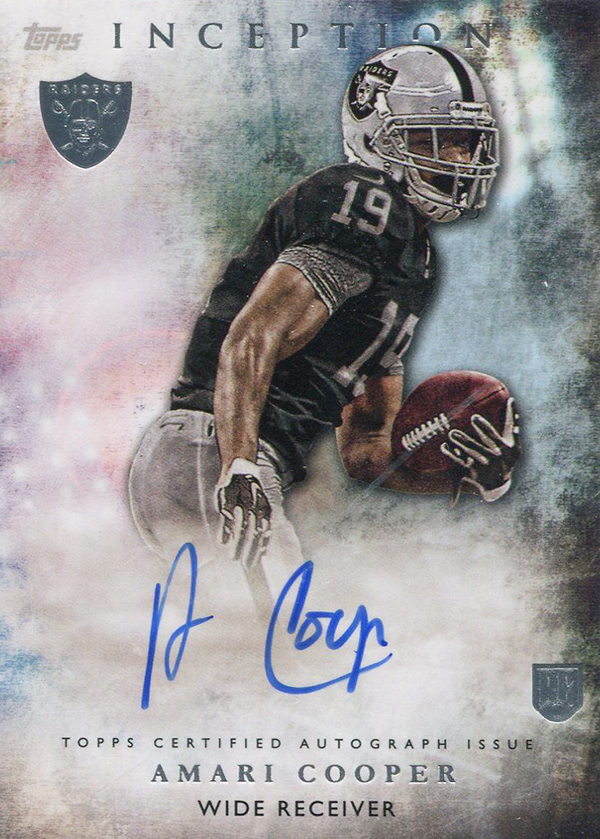 By Ryan Cracknell | Hobby Editor
For 2015 Topps Inception Football, one of the major draws is the combination of on-card autographs and NFL uniforms for rookie players. The Rookie Autographs, which make up the bulk of the product's signed content, come with a moderately deep checklist of 42 players. It's big enough to go beyond the top position players heading into the season but it's not to the point where it's loaded with scrubs who have little to no chance of starting any time soon — if ever.
But like past years of the brand it looks like several players are available in lesser supply than others.
The 2015 Topps Inception Football Rookie Autographs have a similar design and feel from past years. Player images are done with an HDR-style filter cast against a smoky abstract background.
Parallels are determined by the background color. They are Purple (/150), Magenta (/99), Red (/75), Orange (/50), Blue (/25) and Diamond (1/1). The first ten players in the set also have Rookie Autograph Variations that are numbered to 10.
Although the checklist reaches 44, RA-24 and RA-42 do not exist.
Although not confirmed by Topps, some players don't appear to appear in all levels of the set. Some don't look like they have unnumbered base Rookie Autographs at all and just have parallels. This is the case with many of the top players like Jameis Winston, Marcus Mariota and Kevin White. Not only do they not have base versions, but their most plentiful versions of the cards look to fall on the rarer end of the parallel scale.
This sticks with the way Inception has been since it debuted with key rookies appearing in less quantities.
Below is a full checklist and gallery of all the 2015 Topps Inception Football Rookie Autographs. Also noted is the most plentiful parallel spotted so far for the suspected short prints.
2015 Topps Inception Football Rookie Autographs Checklist and Short Prints
The short print info is based on market observations and not official. For players that don't have a base version confirmed, we've included the highest print run parallel that we have seen. If you have any updates, please leave them in the comments below.
RA-1 Jameis Winston, Tampa Bay Buccaneers SP /50
RA-2 Marcus Mariota, Tennessee Titans SP /50
RA-3 Kevin White, Chicago Bears SP /75
RA-4 Amari Cooper, Oakland Raiders
RA-5 Todd Gurley, St. Louis Rams SP /75
RA-6 Brett Hundley, Green Bay Packers SP /150
RA-7 DeVante Parker, Miami Dolphins SP /50
RA-8 Dorial Green-Beckham, Tennessee Titans
RA-9 Melvin Gordon, San Diego Chargers SP /50
RA-10 Jaelen Strong, Houston Texans SP /99
RA-11 Breshad Perriman, Baltimore Ravens SP /150
RA-12 Devin Funchess, Carolina Panthers SP /150
RA-13 Phillip Dorsett, Indianapolis Colts SP /150
RA-14 Devin Smith, New York Jets
RA-15 Sammie Coates, Pittsburgh Steelers
RA-16 Ameer Abdullah, Detroit Lions
RA-17 Nelson Agholor, Philadelphia Eagles SP /50
RA-18 Rashad Greene, Jacksonville Jaguars
RA-19 Tyler Lockett, Seattle Seahawks
RA-20 Bryce Petty, New York Jets
RA-21 Tevin Coleman, Atlanta Falcons
RA-22 Duke Johnson, Cleveland Browns
RA-23 Jay Ajayi, Miami Dolphins
RA-25 T.J. Yeldon, Jacksonville Jaguars
RA-26 Jeremy Langford, Chicago Bears
RA-27 David Johnson, Arizona Cardinals
RA-28 Sean Mannion, St. Louis Rams
RA-29 Justin Hardy, Atlanta Falcons
RA-30 Matt Jones, Washington Redskins
RA-31 Ty Montgomery, Green Bay Packers
RA-32 Mike Davis, San Francisco 49ers
RA-33 Stefon Diggs, Minnesota Vikings
RA-34 Jamison Crowder, Washington Redskins
RA-35 David Cobb, Tennessee Titans
RA-36 Leonard Williams, New York Jets
RA-37 Chris Conley, Kansas City Chiefs
RA-38 Maxx Williams, Baltimore Ravens
RA-39 Javorius Allen, Baltimore Ravens
RA-40 Vince Mayle, Cleveland Browns
RA-41 Karlos Williams, Buffalo Bills
RA-43 Cameron Artis-Payne, Carolina Panthers
RA-44 Clive Walford, Oakland Raiders
2015 Topps Inception Football Rookie Autographs Gallery