2015 Topps Heritage Football brings brand back to gridiron as a Target-exclusive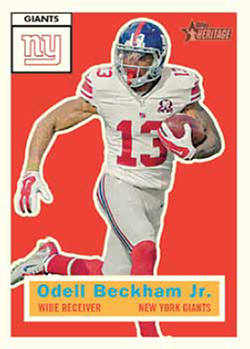 By Ryan Cracknell | Hobby Editor
2015 Topps Heritage Football resurrects the brand on the gridiron after nearly a decade's absence. But there's a bit of a twist — the product is exclusive to retail giant, Target.
Similar to 2014 Topps Turkey Red Football, each single-pack box promises one autograph.
2015 Topps Heritage Football 60th Anniversary Autograph Edition, which is the product's full name, draws its inspiration from 1956 Topps Football. The design is updated to include current teams and logos, but the trademark solid-color background remains.
With 100 cards, the base set is much smaller than most Heritage products. Players range from current stars to rookies to retired legends.
Base cards have five levels of parallels with one in every box. Foilboard are the most common. Others include Black Border (/56), Gold Border (/5), Printing Plates and Red (1/1).
In addition to regular autographs, there are Black, Gold and Red parallels. Unlike most Heritage products, 2015 Topps Heritage Football Autographs aren't hard-signed. Rather, they use stickers.
2015 Topps Heritage Football at a glance:
Packs per box: 1
Cards per pack: 11
Set size: 100 cards
Release date: September 30, 2015
What to expect in a box:
Autographs – 1
Parallels – 1
Base Cards – 9