2015 Topps Football cards info and checklist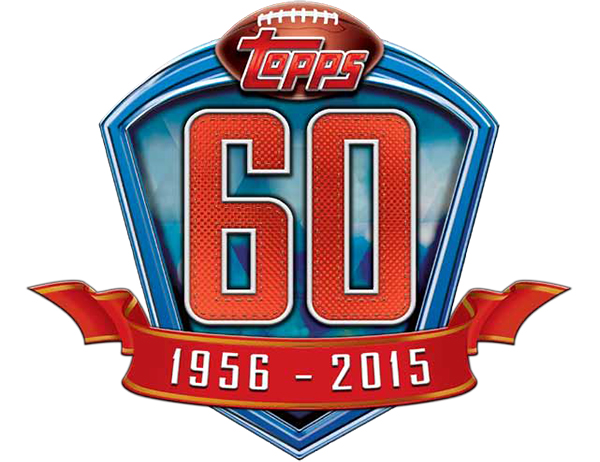 By Ryan Cracknell | Hobby Editor
2015 Topps Football marks the 60th anniversary of the company breaking into the sport with 1955 Topps All-American. You know they're not going to let a milestone like that slip by.
And it doesn't. The 60th anniversary theme weaves throughout all reaches of the product including the base set, inserts and autographs.
As with past flagship Topps releases, the set is one of the largest of the year. And that's before factoring any inserts in.
Hobby boxes come with either an autograph or a memorabilia card. Jumbo boxes have a pair of autographs as well as an exclusive Rookie Patch card.
Base Set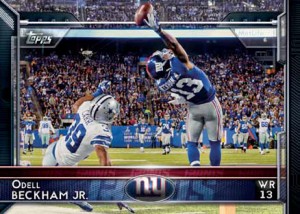 The 2015 Topps Football base set jumps to 500 cards. This is a sizable increase from the 440 cards it has been for the past few years. The main portion of the set breaks down to include 240 veterans and 99 first-year players. Rookie cards are inserted at least one per hobby pack.
Several other subsets delve into the 2014 season, key moments and top players. These include team cards, All-Pros, award winners, the Super Bowl and an NFLPA Rookie Premiere group shot. The 35-card Fantasy Studs subset looks at top-ranking players from the previous season. Topp 60 offers the card maker's picks for the best players heading into 2015.
Many veterans and 40 rookies have photo variations as well. Variations featuring retired greats also appear.
The parallel front is filled with several colors. Gold (/2015), Pink (/499), Camo (/399), Printing Plates and Platinum (1/1) are all available in hobby packs. There are also 60th Anniversary cards. Numbered to 60, these parallels are hobby- and jumbo-exclusives.
Inserts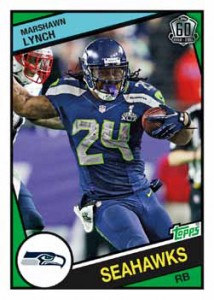 If you've collected a flagship Topps football set in the past couple of decades, you're familiar with the large number of inserts that are intended to compliment the main set. 2015 Topps Football is no different.
60th Anniversary (100 cards, 1:3 packs) delves into the past six decades of designs to create new cards. Veterans, rookies and retired players are featured.
Expanding on the fantasy theme that's touched on in the base set are Fantasy Focus and All-Time Fantasy Legends. Both have 50 cards and are inserted 1:4 packs.
Past and Present Legends (30 cards, 1:6) pair up a current player with a great who played for the same franchise.
1,000 Yard Club (30 cards, 1:6) and 4,000 Yard Club (ten cards, 1:6) are a couple of returning inserts that spotlight offensive accomplishments from running backs, receivers and quarterbacks.
Taking a page from many recent baseball releases are 60th Anniversary Buybacks. Inserted one per hobby box, these are original Topps football cards that have a special foil stamp added to them. Buybacks are only in hobby and jumbo boxes.
Autographs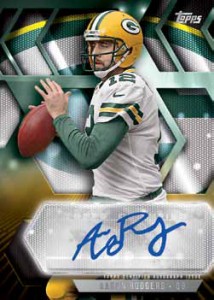 Autographs in 2015 Topps Football are a mix of other elements from the product, revamps of past designs and some things that are completely new.
The latter is the case with basic Topps Autographs. More than 40 players are featured with a new design that uses stickers for the signatures. Signers are rookies, returning players and past greats.
First-year players from the Rookie Premiere provide a lot of on-card autograph content. These begin with the appropriately named NFLPA Rookie Premiere Autographs, which are serial-numbered and have a Red parallel (/10). Dual (/25) and Quad (/10) versions provide multiple signatures.
Limited to five copies, the Ultimate Rookie Autograph is a book card that comes signed by every Rookie Premiere participant. Autographed VIP Passes (1/1) from the event are also randomly inserted.
Rookies also have autograph done with the 1976 Topps and 1987 Topps Super Rookie designs. 1963 Topps gets the mini autograph treatment. All three of these retro-style sets are hard-signed and numbered.
Existing inserts with autographed versions include 60th Anniversary and the base set variations.
Topps Autograph Relics come with both a signature and a piece of memorabilia. Rookie Autographed Jumbo Patch (/50) take a similar approach.
Memorabilia Cards
Similar to the Topps Autographs, Topps Relics include multiple generations of players, albeit with memorabilia swatches rather than signatures.
Rookie Patch cards land one per jumbo box. This is also the only place that you can find them. They're not inserted in the regular hobby version or any of the retail configurations.
Exclusive to hobby and jumbo packs are In the Name Relics (1/1). These include letters from the nameplates on the backs of veteran jerseys.
Manufactured Relics
Not all relics in 2015 Topps Football come with pieces of game-used and player-worn gear. Some cards are designed as premium inserts with manufactured patches and medallions.
Topps 60th Anniversary Commemorative Relics (60 cards) include a special piece noting the brand's birthday. These have Silver (/50) and Gold (/25) parallels.
Fantasy Club Commemorative Relics come with metal pieces. Quarterbacks (20 cards), running backs (20 cards) and receivers (25 cards) all have their own checklists. Cards in all three levels come with Bronze (/75), Silver (/50) and Gold (/25) versions.
2015 Topps Football at a glance:
Full checklist provided by Topps.
Packs per box: 36 (hobby), 10 (jumbo)
Cards per pack: 10 (hobby), 50 (jumbo)
Set size: 500 cards
Release date: August 26, 2015
What to expect in a hobby box:
Autograph or Memorabilia Cards – 1
60th Anniversary Buybacks – 1
1,000 Yard Club Inserts – 6
4,000 Yard Club Inserts – 6
Past and Present Performers Inserts – 6
Road to Victory Inserts – 6
All-Time Fantasy Legends Inserts – 9
Fantasy Focus Inserts – 9
60th Anniversary Inserts – 12
Rookie Cards – 36
What to expect in a jumbo box:
Autographs – 2
Rookie Patch Cards – 1