2015 Topps Football 50th Super Bowl added to factory set mix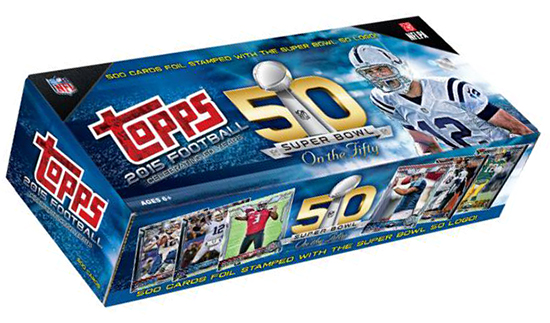 By Ryan Cracknell | Hobby Editor
Still haven't gotten a 2015 Topps Football factory set but considering? Topps has added yet another option. Joining the mix is the 2015 Topps Football 50th Super Bowl set.
Available exclusively on their website, cards come with a foil stamp not found in any other release.Each of the Super Bowl sets has all 500 cards found in the 2015 Topps Football base set. What makes it different from other versions is a Super Bowl 50 logo that has been added to each card in the form of a foil stamp.
This is the latest complete set for the product. The most common versions are the hobby and retail factory sets. Hobby sets have five exclusive Orange parallels. Retail sets come with five bonus Rookie Variations.
A Topps 60th Anniversary set was also sold on the Topps website. These are similar to the Super Bowl set except they have a Topps 60th stamp instead of the Super Bowl logo.