2015 Topps Finest football cards info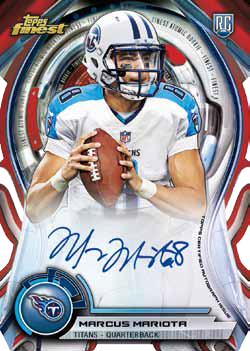 By Ryan Cracknell | Hobby Editor
When Finest made its gridiron debut in the early 1990s, it was considered among the highest of high-end sets. That's not the case anymore. Lots has changed since then, but the basic concept of chromium designs and Refractor parallels hasn't. 2015 Topps Finest Football brings both of those along with some more modern spins.
Each hobby box comes with a Rookie Autograph Patch card, an Autographed Jumbo Relic and a handful of other inserts.
The set has a mini box configuration. Each hobby box has a pair of smaller six-pack boxes. Packs have five cards.
Base Set
Typical for the brand, the 2015 Topps Finest Football base set isn't quiet. Rather, it comes with a bold look that borders on wild that will appeal to some but probably not to others. A total of 150 players — a mix of veterans and rookie — make up the checklist.
Of course there are Refractors. Lots of them.
Each base card has 11 parallels. Refractors (1:3 packs) and X-Fractors (1:6) appear in every hobby box. Numbered Refractors include Blue, Gold, Red, new Diamond, BCA Pink (/25), STS Camo (/10) and Superfractors (1/1). Printing Plates are also randomly inserted.
Rounding out the parallel lineup are Black Refractors that can only be found in special hot boxes. Averaging one per case, all of the base cards in hot boxes are replaced with the exclusive Black Refractors.
Autographs
The one-per-box Rookie Refractor Autographed Patch cards use stickers for the signatures. Swatches come from a piece of a player-worn jersey. These have lots of numbered Refractors including Blue, Gold, Diamond, Pulsar (/35), X-Fractor (/20), STS Came (/15), Pink (/10). The rarer versions numbered to 35 and under have over-sized swatches. Superfractors (1/1) come with a piece of the team's logo. Four different Red Refractors, each a one-of-one, highlight different types of swatches like NFL Shields, the NFL logo from a football, the Nike Swoosh tag and Swoosh patch logos.
Autographed Jumbo Relic Refractors, also one per master box, have a checklist that is both rookies and vets. These also rely on signed stickers. Refractors can be found in Blue, Gold, Diamond, Pulsar Patch (/35), X-Fractor Patch (/20), STS Camo Patch (/15), BCA Pink Patch (/10), Red Nike Swoosh (1/1) and Superfractor Team Patch (1/1).
Rookie Refractor Autograph Variations have the same basic design of the base set but difference photos. Signed on-card, each is serial numbered. The parallel rainbow has Blue (/25), Red (/15), Pulsar (/10) and Superfractor (1/1) versions.
1995 Topps Finest Refractor Autographs (/20) and numbered Atomic Rookie Refractor Autograph Die-Cuts both have roots in basic insert sets. The 1995-style signed cards have Pulsar Refractor (/10) and Superfractor (1/1) parallels. Atomic Refractor Autographs come with on-card signatures and have Blue (/25), Red (/15), Pulsar (/10) and Superfractor (1/1) parallels.
2015 Topps Finest Football has a few rare inserts that come with multiple autographs. Dual Autograph Dual Patch and Triple Autograph Triple Patch are both numbered to 10. Quarterback Quartet Autograph Patch cards (/5) use a book format with signatures from four different QBs. All three multi-autograph sets have Superfractor (1/1) parallels.
Inserts
Die-Cuts and nostalgia drive the basic inserts in 2015 Topps Finest Football.
Finest Atomic Refractor Rookie Die-Cuts are included at a rate of two per mini box. Highlighting key first-year players, parallels come in serial-numbered Blue, Gold, Red and Pulsar Refractors as well as one-of-one Superfractors.
Jumping back 20 years are the 1995 Topps Finest Rookie Refractors. Current rookies are featured on the design introduced two decades earlier. Basic versions are inserted one per mini box. They have the same parallel colors as the Atomic Refractor Rookie Die-Cuts.
Finest QB Cuts are case hits. The die-cut inserts focus on top veteran quarterbacks as well as notable rookies. Numbered parallels include Gold Refractors, Red Refractors, Pulsar Refractors (/25) and Superfractors (1/1).
2015 Topps Finest Football at a glance:
Packs per box: 12
Cards per pack: 5
Set size: 150 cards
Release date: September 30, 2015
What to expect in a box:
Rookie Autograph Patch – 1
Autographed Jumbo Relic – 1
1995 Finest Rookie Inserts – 2
Finest Atomic Refractor Rookie Inserts – 4
X-Fractor Parallels – 2
Refractor Parallels – 4