2015 Topps Doctor Who Trading Card Details
When you click on links to various merchants on this site, like eBay, and make a purchase, this can result in this site earning a commission.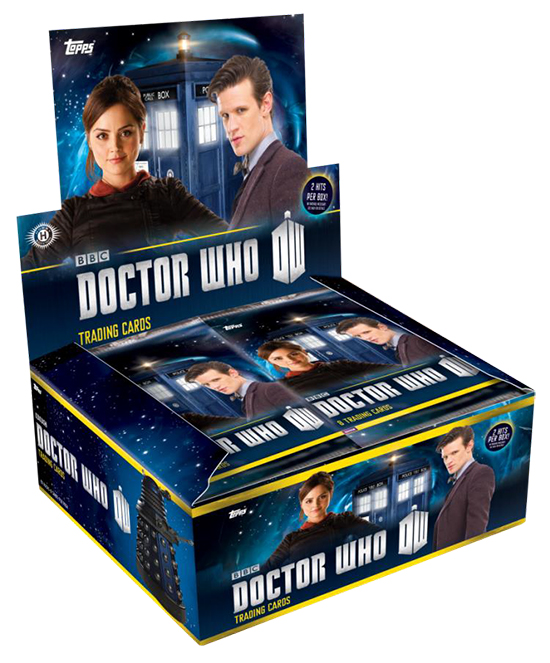 By Ryan Cracknell | Hobby Editor
Topps initially announced a comprehensive Doctor Who set more than a year ago. Following multiple delays, it's back on track. 2015 Topps Doctor Who trading cards delve deep into the show's history, both the original series and the popular reboot.
A big base set, plenty of autographs and other inserts highlight the release, which is now slated for November. Hobby boxes include a pair of autographs, relics, patch cards or Printing Plates.
The base set is a large 200 cards. That's about double the size of most entertainment releases today. However, it needs to be big given the fact that it's covering more than five decades of Doctor Who. All have five parallels: Blue (/199), Purple (/99), Red (/50), Gold (1/1) and Printing Plates.
This isn't the first set to have Doctor Who autographs and memorabilia cards, but those that already exist were originally intended for overseas audiences. And none have brought the variety that this product has. In addition to the regular versions, Autographs come with Blue (/50), Purple (/25), Red (/10), Gold (1/1) and Printing Plate parallels. Dual and Triple Autographs are also randomly inserted with signatures from multiple actors. These are limited to three copies each. Autographs use stickers for the signatures
Costume cards come with wardrobe swatches of material used in the show. There are four different costume cards.
TARDIS Patch cards are manufactured relics featuring the show's iconic phone booth. These have parallels as well. Although extremely tough to pull, collectors can find Autographed TARDIS Patch cards.
Basic inserts are plentiful in 2015 Topps Doctor Who with five themed sets that compliment the base. Gadgets (1:12 packs) highlights the Sonic Screwdriver and other contraptions that the Doctor encounters. The Doctor Is In (1:8) delves into different incarnations of the titular character and their individual personalities. Holiday specials are an important part of Doctor Who lore. Christmas Time (1:6) looks at the various episodes. Companions (1:4) is all about those who have joined the Doctor in his journey across time and space. Finally, there's Memorable Moments (1:2), which takes the best bits from 50 years of the show.
2015 Topps Doctor Who at a glance:
Packs per hobby box: 24
Cards per pack: 6
Set size: 200 cards
Release date: November 25, 2015
What to expect in a hobby box:
Autographs, Relics, Printing Plates or Manufactured Patch Cards – 2
Gadgets Inserts – 2
The Doctor Is In Inserts – 3
Christmas Time Inserts – 4
Companions Inserts – 6
Memorable Moments Inserts – 12