2015 Topps Doctor Who Autographs checklist begins to take shape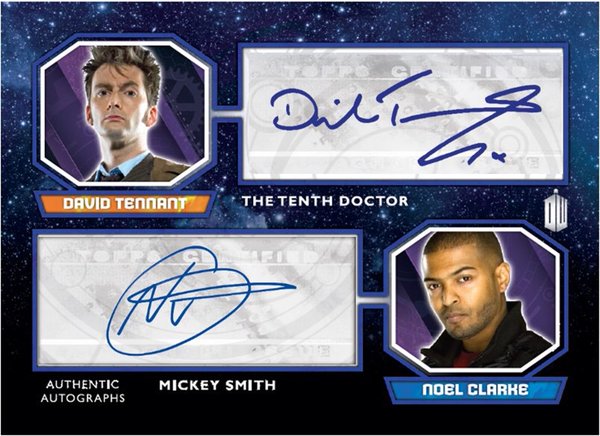 By Ryan Cracknell | Hobby Editor
It's finally happening. After planning on releasing the product last year, some unexpected delays got Topps' first Doctor Who trading cards for primarily North American collectors pushed back. And pushed back some more. But it's back on track. So much so that the 2015 Topps Doctor Who Autographs checklist is starting to get its first official names.
Among them — one of the show's most popular leads, David Tennant.
He, along with several other initial signers, were originally announced by Topps brand manager Mark Von Ohlen via Twitter.
Tennant played the Tenth Doctor, starring in the show's second, third and fourth seasons between 2006 and 2010.
He isn't the only lead signing for the product, either. Drawing on the show's lengthy history, signatures from five Doctors are slated for the set. Alongside these are autographs from many Companions including Billie Piper.
The final 2015 Topps Doctor Who Autographs checklist has 31 signers plus Blue (/50), Purple (/25), Red (/10), Printing Plate and Gold (1/1) parallels.
Besides single-signed cards, there are Dual and Triple Autographs as well.
2015 Topps Doctor Who Autographs Checklist
Sophie Aldred as Ace
Freema Agyeman as Martha Jones
Daphne Ashbrook as Grace Holloway
Colin Baker as The Sixth Doctor
Tom Baker as The Fourth Doctor
John Barrowman as Captain Jack Harkness
Noel Clarke as Mickey Smith
Bernard Cribbins as Wilfred Mott
Gareth David-Lloyd as Ianto Jones
Peter Davison as The Fifth Doctor
Simon Fisher Becker as Dorium Maldover
Carole Ann Ford as Susan Foreman
Frazer Hines as Jamie McCrimmon
Derek Jacobi as The Master
Louise Jameson as Leela
Alex Kingston as River Song
Bonnie Langford as Melanie Bush
Paul McGann as The Eighth Doctor
Neve McIntosh as Madame Vastra
Eve Myles as Gwen Cooper
Sarah Parish as Empress of Racnoss
Billie Piper as Rose Tyler
Eric Roberts as The Master
Struan Rodger as Voice Face of Boe
Alan Ruscoe as Andy Stone
Catrin Stewart as Jenny Flint
Mark Strickson as Vislor Turlough
David Tennant as The Tenth Doctor
Jimmy Vee as Moxx of Balhoon
Deborah Watling as Victoria Waterfield
Gabriel Woolf as Voice of Beast from the Pit
Dual Autographs
Colin Baker as The Sixth Doctor and Bonnie Langford as Melanie Bush
John Barrowman as Captain Jack Harkness and Gareth David-Lloyd as Ianto Jones
Peter Davison as The Fifth Doctor and Colin Baker as The Sixth Doctor
Peter Davison as The Fifth Doctor and Mark Strickson as Vislor Turlough
David Tennant as The Tenth Doctor and Freema Agyeman as Martha Jones
David Tennant as The Tenth Doctor and John Barrowman as Captain Jack Harkness
David Tennant as The Tenth Doctor and Noel Clarke as Mickey Smith
David Tennant as The Tenth Doctor and Gareth David-Lloyd as Ianto Jones
Triple Autographs
John Barowman, Eve Myles, Gareth David-Lloyd
Peter Davison, Colin Baker, Peter McGann
David Tennant, John Barrowman, Noel Clarke
Cut Signatures
William Hartnell as The First Doctor
Jon Pertwee as The Third Doctor
Patrick Troughton as The Second Doctor
Autographed Tardis Patch Cards
Freema Agyeman as Martha Jones
Sophie Aldred as Ace
Colin Baker as The Sixth Doctor
Tom Baker as The Fourth Doctor
John Barrowman as Captain Jack Harkness
Noel Clarke as Mickey Smith
Peter Davison as The Fifth Doctor
Louise Jameson as Leela
Alex Kingston as River Song
Bonnie Langford as Melanie Bush
Paul McGann as The Eighth Doctor
Billie Piper as Rose Tyler
Mark Strickson as Vislor Turlough
David Tennant as The Tenth Doctor
Deborah Watling as Victoria Waterfield