2015 Topps Definitive Collection Football Cards Details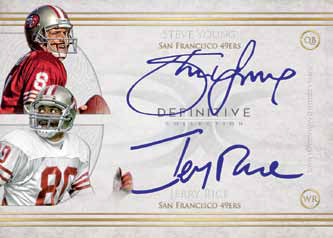 By Ryan Cracknell | Hobby Editor
2014 Topps Dynasty took the card maker to another level as far as price goes for baseball. Now 2015 Topps Definitive Collection Football is doing the same for the gridiron. Coming in higher than Five Star, it's the most expensive football product Topps has ever released.
Each box of the ultra high-end release has six autographs or autographed relics and a pair of relic cards. Lending to the product's premium nature, signatures come on-card. Topps is also using premium swatches for memorabilia cards. The checklist is a mix of star veterans, retired legends and key rookies.
Autographs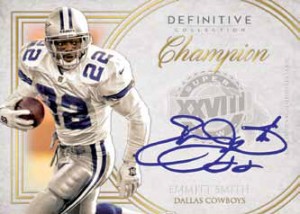 Signed cards in 2015 Topps Definitive Collection Football feature a mix of top current players, key rookies heading into the season and a selection of all-time greats.
Definitive Rookie Autographs draw from the most promising first-year players. The checklist is limited to no more than 35 players. Base versions come serial-numbered. They also have Green (/25), Blue (/10) and Red (1/1) parallels.
Framed Rookie Autograph Collection cards, which are also numbered, limits its selection to quarterbacks, running backs and receivers. The only parallels here are Blue (/10) and Red (1/1).
Reaching beyond the Marcus Mariotas and Jameis Winstons are Autograph Inscription Collection cards. While these have rookies included, veterans and legends are also part of the lineup. These have a note to go with the signature.
Legendary Autograph Collection features no more than 20 all-time greats. All of the cards in the set note achievements like Super Bowl appearances and awards. Besides the base versions that are numbered, Blue (/10) and Red (1/1) parallels also exist.
Dual Autograph Collection pairs up players to deliver two signatures. More than 30 cards are part of the set.
Autographed Relics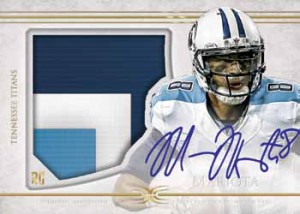 In the past, one of the challenges Five Star faced in football is the fact that the patches used on base rookie autographs have been on the small side — especially when you compare them to other high-end sets like National Treasures. Base Rookie Autograph Patch Collection changes that. In addition to the on-card signature, they have over-sized patch pieces. These cards also come with several parallels: Green (/25), Blue (/10) and five different Red (1/1) versions. Each Red parallel comes with a unique swatch like an NFL Shield, laundry tag or glove logo.
Definitive Autograph Patch cards add veterans and retired stars to the mix. These also use over-sized swatches and have the same three levels of parallels, although there is only one Red version. Dual Autograph Patch Collection takes a similar approach, only with two players.
Framed Rookie Autograph Collection cards are surrounded by a metal frame to add another high-end layer to go with the signature and jumbo patch.
Leather Bound Rookie Autograph Patch Book cards have a massive swatch that takes up nearly one side of the card and an autograph on the other. The entire package is bound with a piece of football leather from a player-used ball.
Relic Cards
Definitive Helmet Collection cards bypass the regular jersey. Limited to ten first round picks from the 2015 draft, these cards have a piece of the outer shell of a helmet embedded in them. The pieces come from the logo portion of the helmet. Blue (/4) parallels use chin strap buckles. One-of-one Red parallels have the NFL Shield.
Definitive Nameplate Collection takes letters from the backs of jerseys from rookie, veteran and retired players. Due to the nature of the cards, each one is unique.
Another set of one-of-one relics is Definitive Patch Collection. These take large and unique swatches from current and retired players.
Rounding out 2015 Topps Definitive Collection Football are serial-numbered Jumbo Patch Collection cards. Parallels include Purple (/35 or less), Green (/25 or less), Blue (/10) and Red (1/1), which have a team logo patch.
2015 Topps Definitive Collection Football at a glance:
Packs per box: 1
Cards per pack: 8
Boxes per case: 3
Release date: February 24, 2016
What to expect in a hobby box:
Autographs and Autographed Relic Cards – 6
Relic Cards – 2