2015 Topps Chrome Football Variations Gallery
The 2015 Topps Chrome Football variations are a close match to their predecessors found in the regular 2015 Topps Football.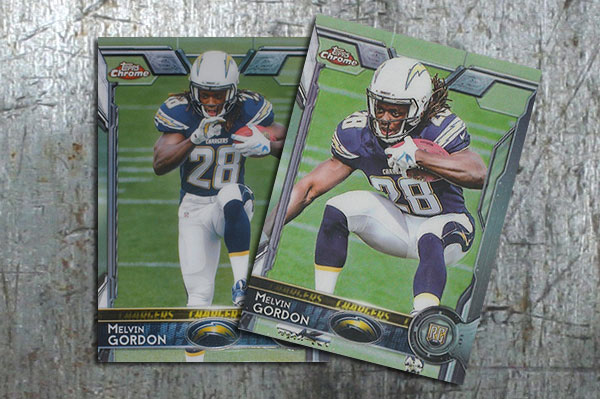 The checklist might not be quite as large, but that doesn't mean it's small.
In total, there are 60 2015 Topps Chrome Football variations. Some feature veterans and rookies in different poses. There are also retired players taking the place of a veteran on the checklist.
For variation subjects, all but one of the base cards (Marcus Mariota) are the same as flagship Topps. Early indications on the variations show a similar pattern where the variants are the same as far as the photo selection.
When all else fails, you can look at the codes in the fine print on the back. These differentiate not only base veterans from rookies but variations as well:
Base Veterans – 5938
Base Rookies – 5958
Variation Veterans/Retired Stars – 5956
Variation Rookies – 5976
Below is a full checklist of all the 2015 Topps Chrome Football variation short prints. So far, we've also got clear images all the base cards to help you sort out what's what. We'll be adding pictures of the variations as they become available. In the meantime, you can check out the 2015 Topps Football variations gallery to see the pictures. The numbers and checklist are different but the pictures are likely all the same.
2015 Topps Chrome Football Variations Gallery
2 Brett Favre/Aaron Rodgers, Green Bay Packers
4 Sammy Watkins, Buffalo Bills
5 Jerry Rice, San Francisco 49ers/Calvin Johnson, Detroit Lions
6 Roger Staubach, Dallas Cowboys/Andrew Luck, Indianapolis Colts
7 Jamaal Charles, Kansas City Chiefs
9 Richard Sherman, Seattle Seahawks
12 Drew Brees, New Orleans Saints
13 Antonio Brown, Pittsburgh Steelers
15 Russell Wilson, Seattle Seahawks
18 Odell Beckham Jr., New York Giants
19 Eddie Lacy, Green Bay Packers
21 Jordy Nelson, Green Bay Packers
23 Eric Dickerson, Los Angeles Rams/DeMarco Murray, Philadelphia Eagles
26 Mike Singletary, Chicago Bears/Luke Kuechly, Carolina Panthers
30 Terry Bradshaw/Ben Roethlisberger, Pittsburgh Steelers
32 Matt Forté, Chicago Bears
34 Randall Cobb, Green Bay Packers
38 Earl Campbell, Houston Oilers/Arian Foster, Houston Texans
40 Barry Sanders/Matthew Stafford, Detroit Lions
40 Matthew Stafford, Detroit Lions
41 Alshon Jeffery, Chicago Bears
44 Emmitt Smith/Tony Romo, Dallas Cowboys
45 Clay Matthews, Green Bay Packers
46 Mike Evans, Tampa Bay Buccaneers
48 Terrell Davis/C.J. Anderson, Denver Broncos
51 Matt Ryan, Atlanta Falcons
55 Eli Manning, New York Giants
56 Steve Young/Colin Kaepernick, San Francisco 49ers
67 Ronnie Lott/Patrick Willis, San Francisco 49ers
70 Troy Polamalu, Pittsburgh Steelers
76 Dan Marino/Ryan Tannehill, Miami Dolphins
82 Marshall Faulk, Los Angeles Rams/Tre Mason, St. Louis Rams
89 Bo Jackson, Los Angeles Raiders/Latavius Murray, Oakland Raiders
100 Peyton Manning, Denver Broncos
100 John Elway/Peyton Manning, Denver Broncos
102 Brett Hundley, Green Bay Packers
103 DeVante Parker, Miami Dolphins
105 Melvin Gordon, San Diego Chargers
106 Dorial Green-Beckham, Tennessee Titans
107 Devin Funchess, Carolina Panthers
108 Jaelen Strong, Houston Texans
110 Todd Gurley, St. Louis Rams
111 Ameer Abdullah, Detroit Lions
113 Sammie Coates, Pittsburgh Steelers
115 Amari Cooper, Oakland Raiders
120 Jay Ajayi, Miami Dolphins
121 Tevin Coleman, Atlanta Falcons
125 Kevin White, Chicago Bears
137 Bryce Petty, New York Jets
138 T.J. Yeldon, Jacksonville Jaguars
140 Duke Johnson, Cleveland Browns
146 Nelson Agholor, Philadelphia Eagles
150 Marcus Mariota, Tennessee Titans
151 Garrett Grayson, New Orleans Saints
165 Maxx Williams, Baltimore Ravens
170 Phillip Dorsett, Indianapolis Colts
178 Tyler Lockett, Seattle Seahawks
194 Devin Smith, New York Jets
197 Breshad Perriman, Baltimore Ravens
200 Jameis Winston, Tampa Bay Buccaneers