2015 Topps Chrome Football marks the likely swan song for a popular brand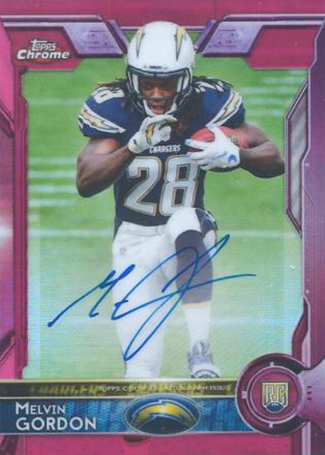 By Ryan Cracknell | Hobby Editor
With Panini poised to takeover exclusive NFL card rights starting in 2016, 2015 Topps Chrome Football marks the end of an era for one of the hobby's most popular brands. It might not have the longevity of the flagship football line, but to the modern hobby, Chrome might be more important.
Sticking with what has made it an important brand, 2015 Topps Chrome Football hasn't changed much. It still has the promise of one rookie autograph per box and the intrigue that comes with an abundance of Refractors.
Base Set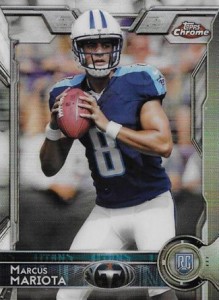 Next to flagship Topps, this may very well be the set that football fans build each year. It has 200 cards — 100 veterans and 100 rookies.
From there, you move into Refractors. Hobby boxes have a dozen different versions:
Refractors (1:3 packs)
Green (1:12)
Blue Wave (1:24)
Pulsar (1:24)
STS Camo /499
BCA Pink /399
Black /299
Blue
Sepia /99
Gold
Red
Superfractor 1/1
Pulsar Refractors, Sepia Refractors and Superfractors are only found in hobby packs.
Printing Plates are also randomly inserted. As usual, each card has four different colors (Black, Cyan, Magenta, Yellow) and all are one-of-ones.
Collectors can also find hot boxes. Each pack in these has a Diamond Refractor not available anywhere else.
Purple are exclusive to retail.
Nearly a third of the 2015 Topps Chrome Football base set has variations with different photos. The final checklist has 35 veterans/retired stars and 25 rookies. Variations have Supfractor parallels.
Autographs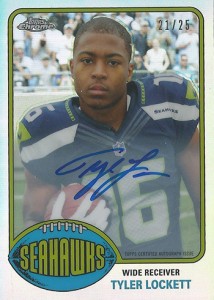 Topps Chrome Rookie Autographs have a lot of history. Similar to Contenders, they're accessible to collectors on most budgets. They don't reach the same heights as a lot of high-end products. However, because the set is widely collected, it usually translates into greater popularity.
On-card signatures are the norm, which also adds to the overall package.
The 2015 Topps Chrome Football Rookie Autographs checklist has 64 players so not all are going to be superstars. That is standard for the product, though.
Refractors are almost as numerous as the base set:
Refractors /150
STS Camo /99
BCA Pink /75
Blue /50
Hot Box (1 per case)
Black /25
Pulsar /15
Gold /10
Red /5
Superfractor 1/1
Rookie and Veteran Variation Autographs use the same alternate image theme as the base variations. Both have Superfractors (1/1).
Dual and Triple Rookie Autographs come on Refractor stock and deliver multiple signatures. Rookie Premiere participants are featured in Rookie Autograph Patches. These are also done as Refractors.
Inserts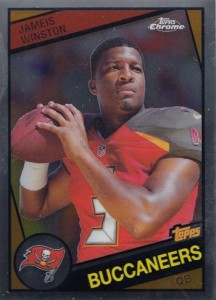 Several of the 2015 Topps Chrome Football inserts dip into the past, either with the subjects or the designs. Topps 60th Anniversary uses old designs with different players. Parallels include Refractors, Pulsar Refractors and Superfractors (1/1). Select players have autographed versions as well.
All-Time 1,000 Yard Club and All-Time 4,000 Yard Club features all-time great quarterbacks, running backs and receivers. Some of these also have signed cards.
1976 Topps Football and 1989 Topps Football use rookies from this year on the older designs. Autographed versions are numbered and come with on-card signatures.
All 35 players in the Super Bowl 50 Die-Cut set have won the big game. This means a checklist that spans multiple generations. Parallels include Refractors (/99), Pulsar Refractors (/50) and Superfractors (1/1).
2015 Topps Chrome Football at a glance:
Packs per box: 24
Cards per pack: 4
Boxes per case: 12
Set size: 200 cards
Release date: November 20, 2015
What to expect in a hobby box:
Rookie Autographs – 1
Blue Wave Refractors – 1
Pulsar Refractors – 1
Green Refractors – 2
Refractors – 8