Complete 2015 Topps Chrome Baseball Variation details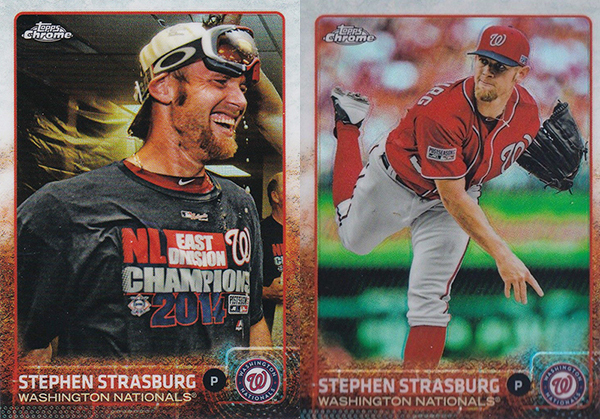 By Ryan Cracknell | Hobby Editor
The 2015 Topps Chrome Baseball variations take a familiar approach with what has been used in Chrome and flagship Topps baseball over the past few years. But you won't find any Sparkles here. Instead, it's more of the festive and celebratory take. Celebrations, teammate fun and postseason fashion are the sorts of things collectors can look for.
The Photo Variations take a Refractor spin this time around as well. You're not going to find any base cards with different images. It starts with basic Refractors and extends to Red Refractors and Superfractors as well.
Get all you need to know about the 2015 Topps Chrome Baseball variation short prints after the jump including a handy image reference.
Variations aren't as easy to find here as they are in flagship Topps. Basic variations are inserted 1:765 hobby packs. They can also be found in retail (1:766) and the more expensive jumbo (1:235) packs. Red Refractors are 1:38,070 hobby packs (1:39,522 retail, 1:12,133 jumbo) while one-of-one Superfractors land 1:215,728 hobby packs (1:158,088 retail, 1:51,564 jumbo). Topps has confirmed there are just ten variations in the set.
If you're thinking of finding variations by checking the fine print on the back, it's not going to work here. Both 2015 Topps Chrome Baseball base cards and variation short prints end in 3686. That means you've got to go with the image on the front. Thankfully, they're all distinct and easy to spot — if you know who and what you're looking for.
Here's a gallery of all of the 2015 Topps Chrome Baseball variation short prints paired up with their base cards for simple reference.
2015 Topps Chrome Baseball Variations Gallery
23 Stephen Strasburg, Washington Nationals
Variation: goggles
Base: pitching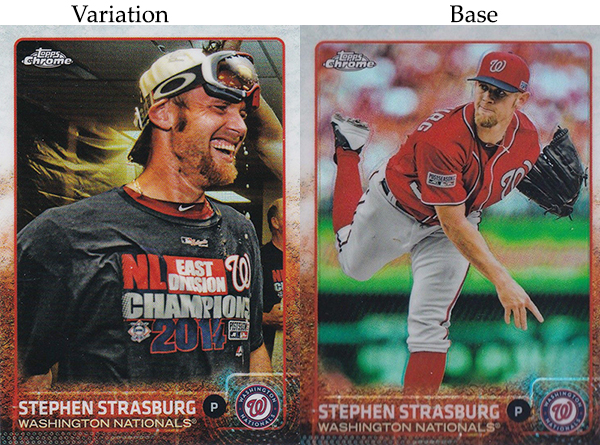 27 Joe Panik, San Francisco Giants
Variation: toque
Base: throwing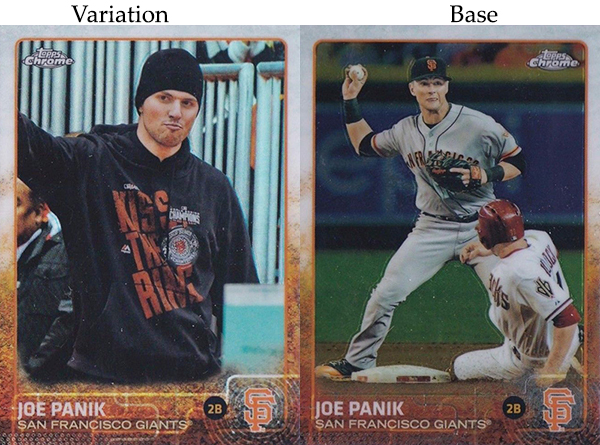 49 Jacoby Ellsbury, New York Yankees
Variation: holding helmet
Base: batting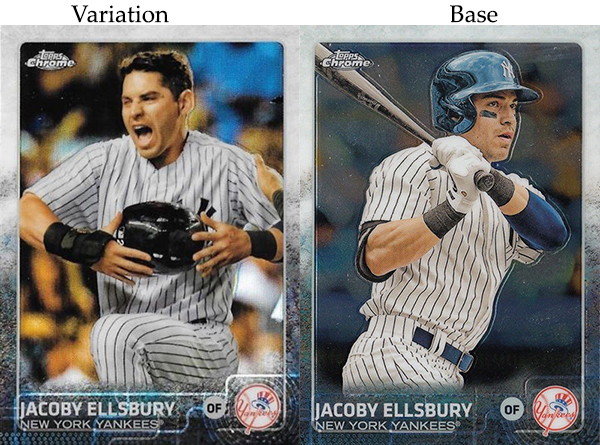 51 Mike Trout, Los Angeles Angels
Variation: smiling
Base: sliding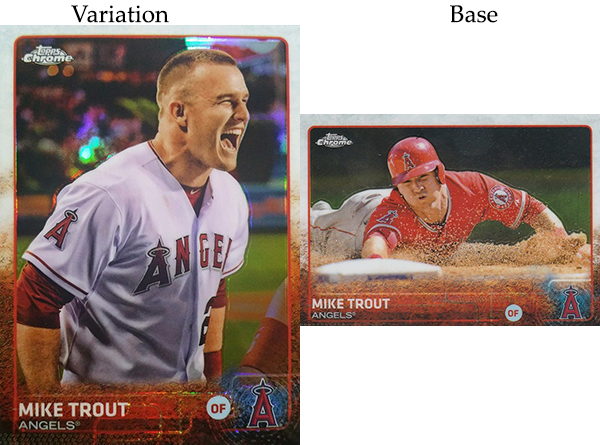 124 David Ortiz, Boston Red Sox
Variation: carrying teammate
Base: batting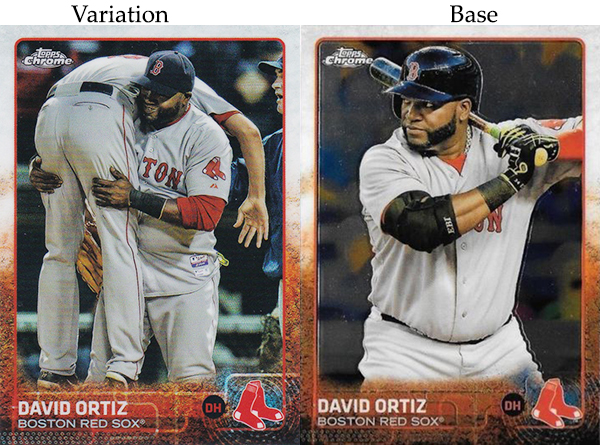 125 Troy Tulowitzki
Variation: arms up
Base: batting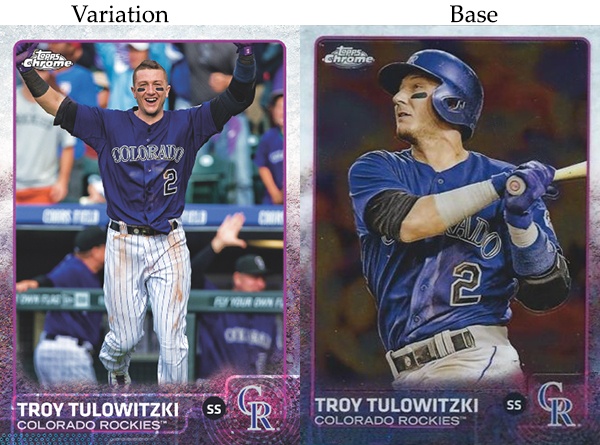 129 Joc Pederson, Los Angeles Dodgers
Variation: with teammates
Base: running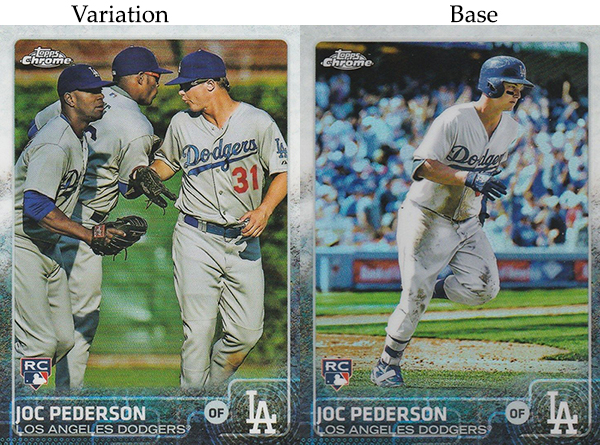 151 Jose Altuve, Houston Astros
Variation: white jersey
Base: batting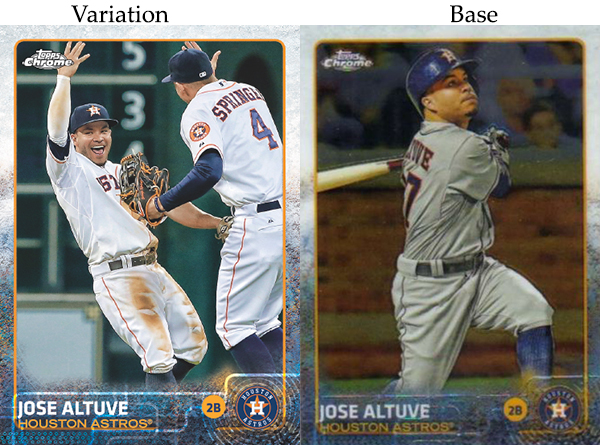 154 Jorge Soler, Chicago Cubs
Variation: with teammates
Base: batting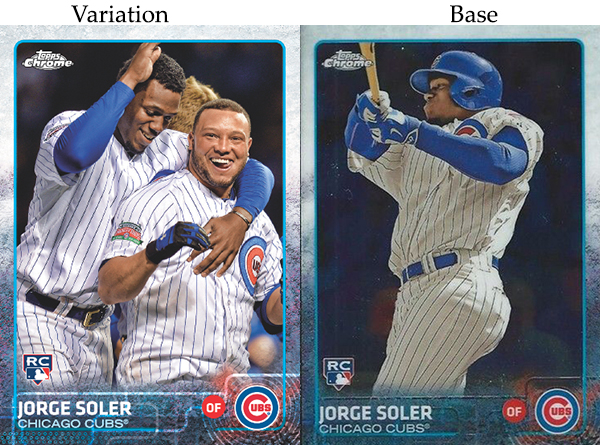 195 Brandon Finnegan, Kansas City Royals
Variation: Gatorade shower
Base: pitching