2015 Panini Select Soccer Cards Info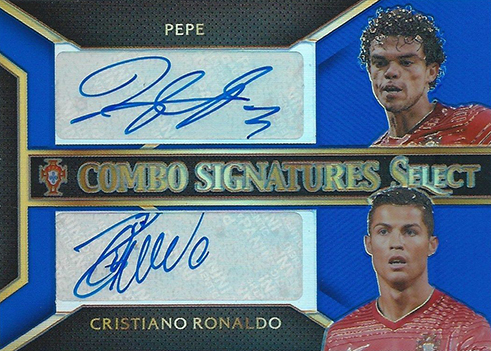 By Ryan Cracknell | Hobby Editor
It might not be called Prizm directly, but 2015 Panini Select Soccer builds on a lot of the elements that made 2014 Panini Prizm World Cup one of the biggest sets in the entire hobby that year.
Using a chromium-style design similar to Prizm and an international focus, 2015 Panini Select Soccer brings with it lots of color. Twelve-pack boxes deliver three autographs or memorabilia cards and eight Prizm parallels. Breaking it down to the pack level, each has either a hit, a serial-numbered Prizm parallel or variation.
Get a fully sortable 2015 Panini Select Soccer checklist and price guide access.
Base Set
With the product centering on the international soccer scene, the base set features top players in the national team gear. England, Brazil, Spain, Germany and Portugal are among the nations included in 2015 Panini Select Soccer. The checklist has a total of 100 players.
Sticking with other recent sets under the Select banner, there are plenty of Refractor-like Prizm parallels. They include Blue (/299 or less), Red (/199 or less), Purple (/99 or less), Tie Dye (/30 or less), Gold (/10 or less), Green (/5 or less), and Black (1/1).
All 100 base cards also have variations that come with different photos. These land one per box and have several Prizm parallels as well.
Autographs and Memorabilia Cards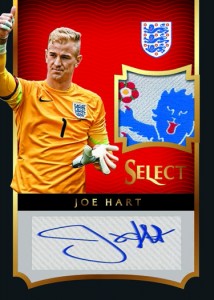 Among the players with autographs or memorabilia cards in 2015 Panini Select Soccer are Cristiano Ronaldo, James Rodriguez, Lionel Messi, Yaya Toure, Luis Suarez, Mesut Oezil, Neymar Jr., Andrea Pirlo, Gianluigi Buffon and Vincent Kompany. First-time signers for Panini include Harry Kane, Bastian Schweinsteiger, Rui Patricio, Ivan Rakitic, Juan Mata and Santi Cazorla.
Basic autographs come in the form of Select Signatures. Select Combo Signatures pair up players. Historic Signatures bring in great players from the past including Roberto Baggio, Franz Beckenbauer and Christian Vieri. Autographs do look to be done on stickers.
2015 Panini Select Soccer marks Panini's first set for the sport to include memorabilia cards. Among them are Jersey Autographs that have both a swatch and a signature. Double Team Memorabilia has swatches from a pair of teammates.
Like the base set, collectors can find several levels of parallels for autographs and memorabilia cards.
Inserts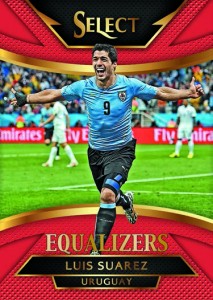 2015 Panini Select Soccer isn't just autographs, relics and Prizms. There are some basic inserts as well. National Pride, Dynamic Duos, Ultimate Team and Equalizers combine to land four per hobby box.
2015 Panini Select Soccer at a glance:
Packs per box: 12
Cards per pack: 5
Set size: 100 cards
Release date: January 8, 2016
What to expect in a box:
Autographs or Memorabilia Cards – 3
Inserts – 4
Prizm Parallels – 8
Variations – 1