2015 Rittenhouse Marvel Agents of SHIELD Season 2 has Chloe Bennet autographs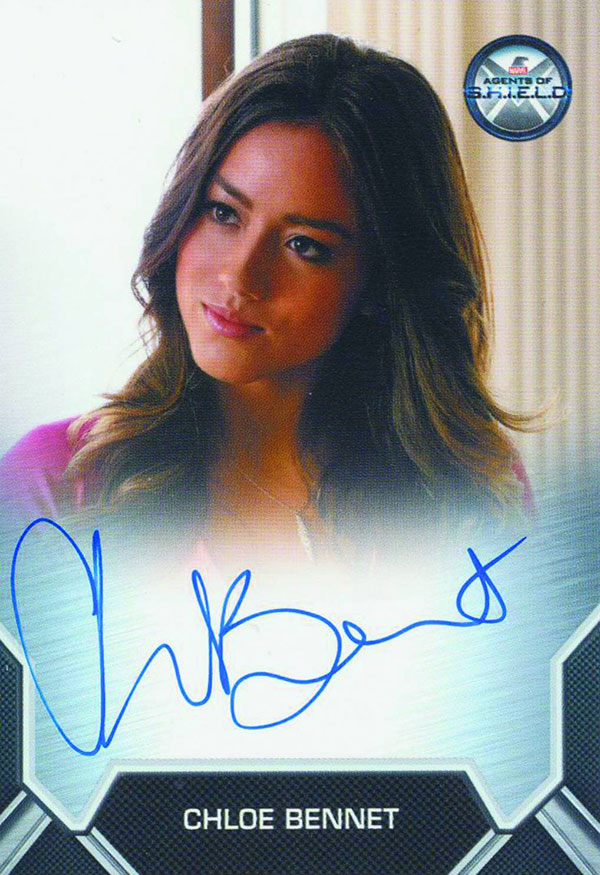 By Ryan Cracknell | Hobby Editor
After getting off to a slow start in its first season, both in the action department and in the ratings, Marvel Agents of SHIELD stepped up for its second go-around. Spinning directly out of the events of Captain America: The Winter Soldier, the television program brought a lot more intensity and more guest stars. It also laid some major groundwork for things that are likely to come from future Marvel movies. 2015 Rittenhouse Marvel Agents of SHIELD Season 2 covers this and more.
And the Chloe Bennet autographs are definitely part of the release this time. The actress, who plays Skye, was announced as a signer for the Season 1 set that released earlier in the year. However, an injury led to some last-second changes and her unable to sign at the time.
Autographs and Relic cards are both inserted one per box.
Click here for a sortable 2015 Rittenhouse Agents of SHIELD Season 2 checklist and price guide access.
Base Set
The second season is summarized with a 72-card base set. They cover key moments as SHIELD battles both HYDRA and itself following the fallout of season one and events in Marvel blockbusters.
The base set has a Gold parallel. These are inserted at a rate of one per box.
Autographs
Like the show's first set, the 2015 Rittenhouse Marvel Agents of SHIELD Season 2 Autograph lineup is stellar. Some may consider it to be even stronger.
The addition of Bennett is the big one as far as main cast members go. Iain De Caestecker, who plays Agent Fitz, is also new to the Season 2 set.
Returning regulars include Clark Gregg (Coulson), Elizabeth Henstridge (Agent Simmons) and Ming-Na (Agent May).
Similar to the earlier release, there's a lot of depth beyond the main cast, though. And we're not talking about strictly extras. Jaimie Alexander (Lady Sif) and Hayley Atwell (Agent Carter) have significant roles in the larger Marvel Cinematic Universe. For Alexander, the timing is good as her new show, Blindspot, has gotten off to a strong start.
Kyle MacLachlan has his first certified autograph card since the 1991 Star Pics Twin Peaks set.
And then there's Fred Dryer. Hunter may not be as big as it was in the 1980s, but there are bound to be some that remember the action show.
Relic Cards
Relic cards join autographs as a primary box hit. Collectors can expect to find pieces of costumes from the show embedded in the cards.
The Relic card set has 18 cards.
Inserts
2015 Rittenhouse Marvel Agents of SHIELD Season 2 has a trio of basic insert sets: Agents of SHIELD (nine cards), Art of Level 7 (12 cards), and SHIELD Index (18 cards).  All are inserted at a rate of one per box.
Agents of SHIELD has a Metal parallel that are inserted as a case hit.
Sketch cards also make their debut for the show. Rittenhouse hasn't released the odds, but they'll likely be a chase bonus much like they've been in several of the card maker's Game of Thrones releases.
A binder for the set comes with a promo card that isn't available elsewhere.
Incentives
Case incentives have revolve around signatures. Those ordering six cases from Rittenhouse receive an exclusive Silver Signature Series Autograph of MacLachlan. A similar Jaimie Alexander signed card is the nine-case incentive.
For every 18 cases (that's 216 boxes), there's a 2015 Rittenhouse Marvel Agents of Shield Season 2 Archive Box. Among its contents are Silver Signature Series Autographs for Bennet, Gregg, Atwell, Ming Na, Henstridge, De Caestecker and Dalton. These are not available anywhere else.
2015 Rittenhouse Marvel Agents of SHIELD Season 2 at a glance:
Packs per box: 24
Cards per pack: 5
Boxes per case: 12
Set size: 72 cards
Release date: December 9, 2015
What to expect in a hobby box:
Autographs – 1
Relic Cards – 1
Agents of SHIELD inserts – 1
Art of Level 7 Inserts – 1
SHIELD Index Inserts – 1
Gold Parallels – 1