2015 Panini Spectra Football Details
2015 Panini Spectra Football is like Prizm meets high-end. It comes with the rainbow of colors and chromium look that Prizm has. But it is also a product that stresses a lot of hits-based content.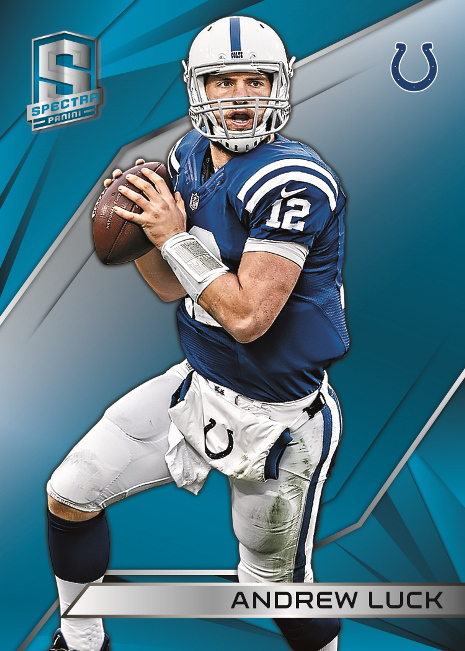 Boxes, which have just four packs, come with four autographs and seven memorabilia cards.
Every card in the product is serial numbered to 199 or less.
Access the 2015 Panini Spectra Football checklist, which can be fully sorted by player, team, card type and more.
Base Set
Panini has yet to announce the exact size of the 2015 Panini Spectra Football base set other than it being more than 100 cards. Players are a mix of current NFL players and retired stars.
With so few base cards per box and a bigger price tag, it's unlikely many will be chasing the base set anyway. Likely to generate more interest are the color-based Prizms that have a Refractor-like look. Inserted three per box, colors include Neon Blue, Neon Green, Neon Orange and Neon Pink. The parallel palette is doubled for these as each has a die-cut version as well.
On average, every other box has a parallel numbered to 15 or less.
Autographs
Of the 11 hits per box, at least one is an Rookie Jersey Autograph (/99 or less). While they have a similar set of colored parallels, the ink used on the Neon Blue, Green, Orange and Pink versions is done in the same color. Additional one-of-one parallels have tags and shields. At least one of the following players is included in each case: Jameis Winston, Marcus Mariota, Todd Gurley, Amari Cooper, Kevin White or Melvin Gordon.
Rookie Dual Autograph Jerseys double things up. These also have parallels, the rarest of which use unique swatches and tags.
Vested Veterans is another autographed memorabilia set. It is also one of the few places to find non-rookie signatures in 2015 Panini Spectra Football.
Another is Illustrious Legends. While a lot of other portions of the product use stickers, these have on-card autographs from all-time greats.
Collectors will find at least one non-rookie on-card autograph per case.
A surprise addition to the product are a handful of cards from 2014 Spectra Football. Featuring rookies from the previous season, the cards arrived late and were included here rather than as redemptions or additions to the Panini Rewards program.
Memorabilia Cards
From the information Panini has released on the product, basic memorabilia cards focus on larger swatches. These include Immense Materials and Gigantic Jerseys.
Each box of 2015 Panini Spectra Football has at least one Prime parallel numbered to 50 or less that has either a patch or a premium jersey piece.
2015 Panini Spectra Football at a glance:
Packs per hobby box: 4
Cards per pack: 4
Set size: 232 cards
Release date: September 2, 2015
What to expect in a hobby box:
Autographs – 4
Memorabilia Cards – 7
Parallels – 3