2015 Panini Rookies & Stars Football Cards Details
For years, Rookies & Stars has had a significant retail presence thanks to its Longevity spinoffs. However, 2015 Panini Rookies & Stars Football takes the entire brand to a full retail exclusive. The product is available only at Target.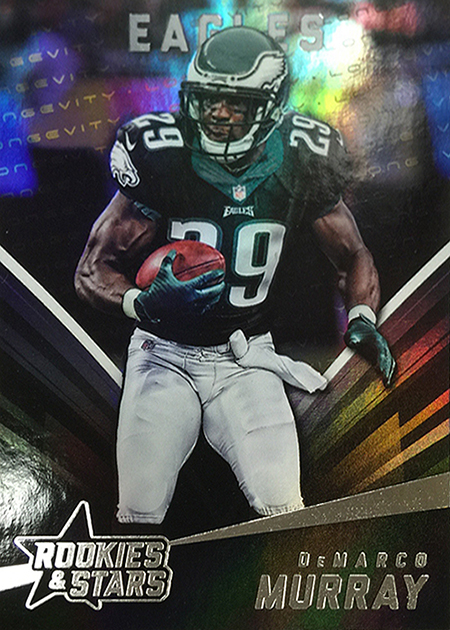 Unlike many of Panini's recent basketball releases produced for the retail giant, 2015 Rookies & Stars Football has just one configuration. Boxes have six packs, each with ten cards. Every pack has either an autograph, memorabilia or manufactured patch card. The basic inserts include the return of Crusade. There's no shortage of parallels either in any portion of the release.
2015 Panini Rookies & Stars Football Base Set Basics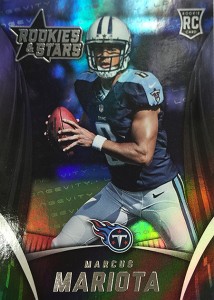 Although the configuration is different, the 2015 Panini Rookies & Stars Football base set sticks with a familiar formula. A total of 200 cards make up the set. The first half is comprised of veterans while rookies take over for the second half.
Another thing that hasn't changed is the expansive list of parallels. All 200 cards have six color-based parallels: Blue, Red (/299), Purple (/99), Gold (/25), Green (/5) and Black (1/1). On top of those there are four Longevity-themed versions: Team Logo Type (/299), Team Logo (/50), Jersey Number Logo (/25) and NFL Logo (1/1).
Autographs and Memorabilia Cards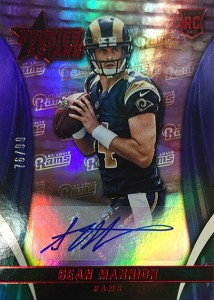 With nearly every pack of 2015 Panini Rookies  Stars Football coming with either an autograph or memorabilia, most will probably expect a lot of variety. In some ways there are as the list of options is big. However, the vast majority of them are parallels.
Autographs come in the form of Rookie Signatures and Rookie Jerseys Signatures.
Memorabilia offerings include Dress for Success, Star Materials and Rookie Jerseys.
All of these have many different versions with most mixing various levels of colors and Longevity parallels.
Embroidered Patch Cards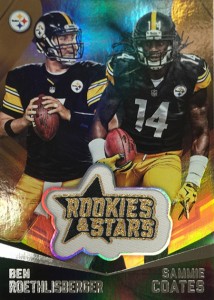 Every six-pack box of 2015 Panini Rookies & Stars Football has one Embroidered Patch card. All of the cards feature two players, most of which are teammates.
The patch comes in the form of of the brand's logo rather than a team logo or commemorative patch a lot of similar cards have.
Inserts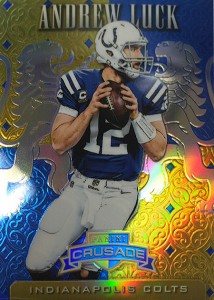 Crusade, one of the most recognizable inserts in Panini's current portfolio, head up the product's basic inserts. The full set has 100 cards that's divided into three sections. Half of the cards are veterans while another 40 are rookies. The final 10 Crusade inserts are combo cards with two players on them. Each has Red (/99), Purple (/49), Gold (/25), Green (/5) and Black (1/1) parallels.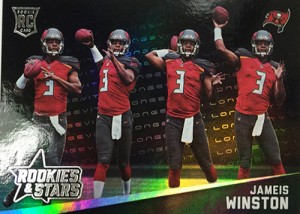 Progression is a 30-card insert set that is reminiscent of the multiple-exposure cards in many of the early releases from Upper Deck. Each Progression card has several pictures of the featured rookie as they complete a play.
2015 Panini Rookies & Stars Football has a few different inserts that revolve around die-cuts. Die-Cut Rookies and Die-Cut Stars both have a 20-card checklist. Star Studded Die-Cuts features 30 cards.
Progression and all three of the die-cut basic inserts have ten parallels that are numbered to 299 or less. Half are strictly color-based. These five colors are repeated but with Longevity versions.
2015 Panini Rookies & Stars Football at a glance:
Packs per box: 6
Cards per pack: 10
Set size: 200 cards
Release date: September, 2015
What to expect in a box:
Autographs or Memorabilia Cards – 5
Embroidered Patch Cards – 1