2015 Panini Playbook Football Cards Details
With 2015 Panini Playbook Football, the brand continues to evolve. While many of the elements are similar to years past, there are some changes. And they're not just in insert names. This set marks the first time that all of the base cards are done in a book card format.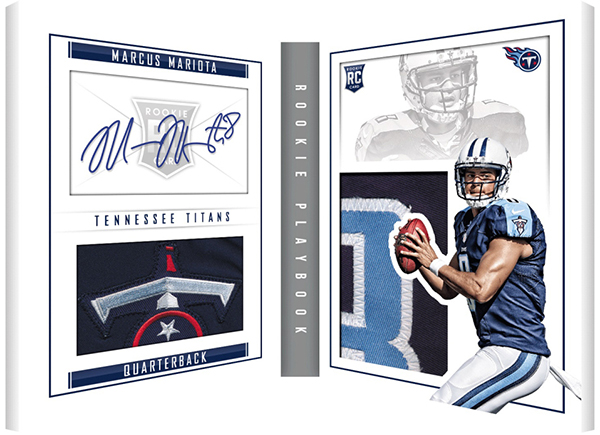 Boxes maintain a more high-end configuration carrying just three cards. The first is an autographed or memorabilia booklet. There's also an additional signed card or relic. The third card is the booklet-style base card.
2015 Panini Playbook Football Overview
Right off the bat, the most noticeable difference about 2015 Panini Playbook Football over 2014 is the number of cards per box. Last year, there were two cards and everything was a hit. While three cards per box is still on the small side, the book-style base card is new. They're numbered to 299. Parallels come in Gold (/199), Platinum (/99), Green (/25) and Red (1/1).
Rookie Booklet Signatures delve into the 2015 draft class. In the past, they've opened horizontally to make for a wide and skinny look. Things are switched up to a vertical design. There are still jersey swatches on both sides, multiple player photos and a signature. Rare parallels come with things like drawn plays, NFL Shields and signed printing plates. For every 15-box case, there should be at least two total top hits. Most of these will be Rookie Booklet Signatures from the following: Jameis Winston, Marcus Mariota, Todd Gurley, Amari Cooper, Tyler Lockett, Melvin Gordon and Ameer Abdullah.
Rookie Booklet Complete Logo cards take advantage of the added size. These chop a team logo in half and spread it across both sides of the book. The patches come from player-worn jerseys from the NFLPA Rookie Premiere.
2015 Panini Playbook Football has a few returning inserts that are more distinct in their themes than most memorabilia sets. Down and Dirty book cards (/25 or less) come with a pair of swatches that show obvious game use. Armory (/25) or less flip down to show a large player image to go with six relic swatches. Game of Inches (/25) is also back, using the double-sized format to show a sprawling action shot that goes with the memorabilia.
Split 6 Signature (/25 or less) is new to Playbook. These are about autographs, six of them. Player combinations are a mix of rookies, veterans and retired players.
The cross-brand Super Bowl Signatures set continues with randomly inserted autographs from Joe Montana, John Elway, Jermome Bettis, Fred Biletnikoff, Terrell Davis and Joe Theismann.
While rookies do make up a lot of the autograph content, like virtually every modern release, each case of 2015 Panini Playbook Football is guaranteed to have at least one autographed memorabilia booklet of a veteran.
2015 Panini Playbook Football at a glance:
Packs per hobby box: 1
Cards per pack: 3
Boxes per case: 15
Release date: October 21, 2015
What to expect in a hobby box:
Autographed or  Memorabilia Book Card – 1
Additional Autograph or Memorabilia Cards – 1
Base Book Card – 1