2015 Panini Immaculate Collection College Multi-Sport Details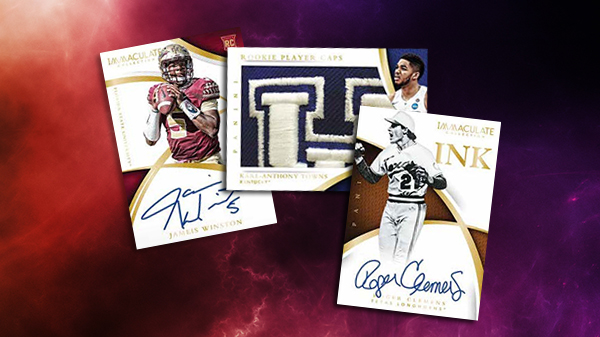 By Ryan Cracknell | Hobby Editor
2015 Panini Immaculate Collection College Multi-Sport takes NCAA cards into the high-end. Although this has been done before, particularly by Upper Deck, these sorts of releases have typically been centered on either football or basketball. Here, it branches into several sports all under the same umbrella.
Like other Immaculate sets, the focus is on autographs and memorabilia. Single-pack boxes have five total hits.
Rookie Autographs all have on-card signatures. The checklist covers athletes now playing in the NBA, NFL and MLB. Parallels include Gold (/25) and Platinum (1/1). Immaculate Ink takes the same hard-signed approach but with current and retired players. Platinum parallels are, once again, one-of-ones.
Signature Patches feature current and retired players. Autographs are combined with a premium swatch. Gold and Platinum parallels are numbered to 25 or less. The design is one that's familiar to other Immaculate releases.
Immaculate may be a newer brand, but it has made a name for itself with some of its memorabilia inserts that focus on notable pieces of gear. New to 2015 Panini Immaculate Collection College Multi-Sport is Chin Straps Autographs. These have a piece of a chin strap from a football helmet that has been signed. Each is numbered to 4 and the checklist has 40 players.
One of the brand's most recognizable memorabilia inserts, Sneak Peek, carry over to this set. However, instead of coming from game-worn sneakers, these cards use event-worn shoes. The checklist is heavy on NBA rookies.
Tony Gwynn's first college basketball uniform is featured in Immaculate Authentics (/5). The set has over-sized jersey and patch pieces from many other college legends and pro stars.
Immaculate Marks (/5) have large jersey swatches and patches.
RPS Player Caps have large pieces of event-worn hats. While all versions have large pieces of material, parallels (/10 or less) have things like team logos, brand logos and buttons.
Collegiate Helmet Team Logos take a similar approach to headgear but with the decals from a helmet.
Immaculate Quads have memorabilia from four players who attended the same school. Tag versions are numbered to 1.
All players in 2015 Panini Immaculate Collection College Multi-Sport are pictured in their NCAA gear. The checklist covers multiple generations. Current stars include Kevin Durant, Odell Beckham Jr, and Rob Gronkowski. Jameis Winston, Karl-Anthony Towns, Marcus Mariota and Dansby Swanson are among the rookies and prospects. The product also has a lot of retired greats. John Elway, Barry Bonds, Barry Sanders, Troy Aikman, Larry Bird, Dan Marino, Joe Namath and Shaquille O'Neal are just a few.
2015 Panini Immaculate Collection College Multi-Sport at a glance:
Packs per box: 1
Cards per pack: 6
Boxes per case: 5
Set size: TBA
Release date: December 23, 2015
What to expect in a hobby box:
Autographs and Memorabilia Cards – 5 Total