2015 Panini Immaculate Baseball Day-One Dandies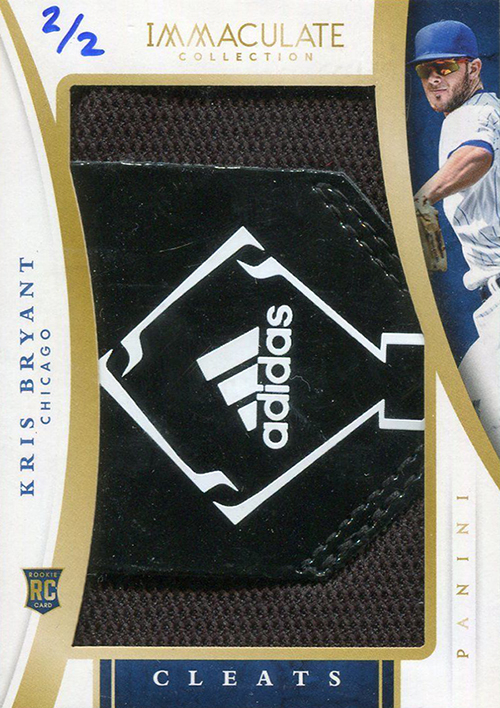 By Ryan Cracknell | Hobby Editor
2015 Panini Immaculate Baseball is one of those products that is big on memorabilia. In many instances, it's big on big memorabilia.
And while autographs are in abundance as well, it's the memorabilia that's going to get much of the attention. When swatches and patches are interesting, it takes some of the pressure off who the player is. For instance, a lot of collectors don't get too excited about a small and plain jersey swatch unless it's from a top-tier star or Hall of Famer. But show them something unique from almost any player and it'll get the proverbial thumbs up.
As a brand, Immaculate has carved out a niche for that. It started in basketball before moving over to baseball and football. The set's checklist has plenty of pieces that go beyond the basic jersey swatch. They go beyond jerseys — period. Some of the most interesting cards use other pieces of gear. Cleats, batting gloves, fielding gloves and bat barrels are among the rarer and most intriguing hits in the product.
Leading up to the release, Panini provided a glimpse at a handful of cards. And while not every box is going to have a one-of-one jumbo patch or bat barrel, it certainly adds some intrigue.
2015 Panini Immaculate Baseball also has lots of autographs, particularly from young players and rookies. It is worth noting that most autographs use stickers, even with the product's otherwise high-end feel.
So what's actually being pulled from boxes? We've compiled a gallery with some notable early pulls we've spotted online as well as some of the more basic cards.
2015 Panini Immaculate Baseball Release Day Gallery
If you've pulled something cool yourself or in a break, email us an image and we'll do our best to add it below.