2015 Panini Gridiron Kings Football Variations Gallery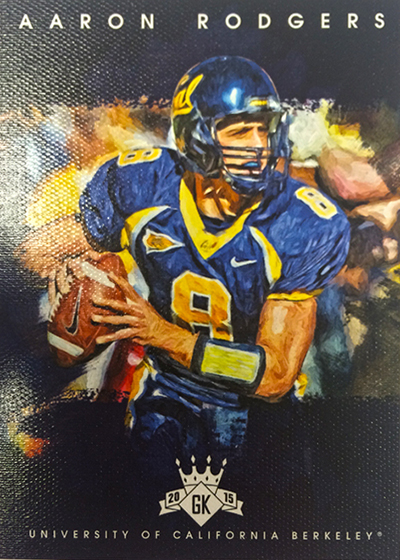 By Ryan Cracknell | Hobby Editor
It's art school confidential for the 2015 Panini Gridiron Kings Football variations.
The easy-to-spot but tough-to-find versions picture select players in their college uniforms. The trick isn't so much figuring them out but finding one in the first place.
A total of ten players have variations in 2015 Panini Gridiron Football, an art-inspired release that stems out from the Diamond Kings name. All of the players are veterans — some of the most popular in the game. Aaron Rodgers, Tom Brady, Peyton Manning and Odell Beckham Jr. are among those with a second version of their base card.
2015 Panini Gridiron Kings variations are on the tough side landing about one in every other case. That's 1:30 boxes.
It's not just the base versions of the cards that have variations. There are also four levels of parallels: Blue Frame, Red Frame, Green Frame and one-of-one Black Frame.
Check out all ten of the variations below paired up with the base cards.
2015 Panini Gridiron Kings Football Variations Gallery
3 Odell Beckham Jr.
8 Peyton Manning
11 Tom Brady
22 Dez Bryant
36 Julio Jones
41 J.J. Watt
63 Aaron Rodgers
84 Andrew Luck
95 Cam Newton
99 Charles Woodson