How to spot 2015 Panini Contenders Football Rookie Ticket Autograph Variations in seconds
Panini Contenders Football is one of those brands where variations have a foothold. But the past couple of Contenders sets have made things a little tricky without a telltale tip on the front of the card outside of the alternate photo. But with dozens of variations to juggle, those could be easily missed. But the 2015 Panini Contenders Football Rookie Ticket Autograph Variations have made things simple again.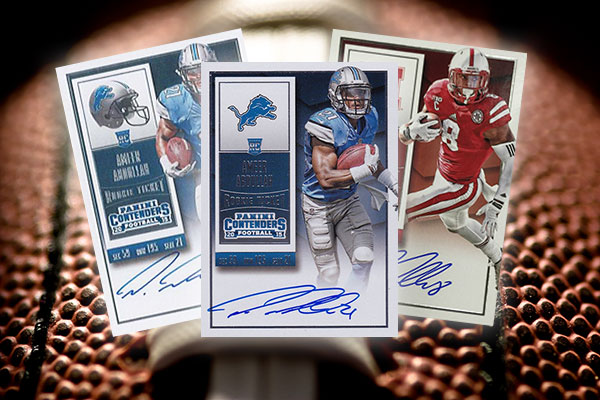 You don't need to look at the back for stars, stat arrangements or codes in the fine print for confirmation. Rather, it's right there on the front of the card and they're easy to spot like a cat with a laser pointer. You don't even need to memorize the poses.
If you want to know if you've pulled a basic 2015 Panini Contenders Football Rookie Ticket Autograph variation, direct your eyes to the helmet logo at the top of the card. If it's, indeed, a helmet, then you've got the base Rookie Ticket Autograph. If the helmet has been replaced by a traditional team logo, you've got a variation.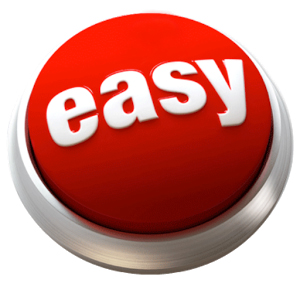 In addition to the basic autographs, there are all College Variations for select players from the Rookie Premiere. These have players in their NCAA threads and have NCAA logos clear on the front so there's no trouble spotting them either. The greatest potential confusion for these might be the college-themed 2015 Panini Contenders Football Draft Picks cards that came out earlier in the season. But even then, the two sets have noticeably different designs.
It's likely that many of the variations (and base Rookie Ticket Autographs) are short prints. Panini has not yet confirmed if this is the case or which cards are available in smaller quantities.
Parallels
Much like the base autographs, the variations in 2015 Panini Contenders Football have parallels. Here's a breakdown as they vary between Rookie, Rookie RPS and College.
Rookie Ticket Autograph Variation Parallels
Playoff Ticket – /199 or less
Championship Ticket – /99 or less
Cracked Ice – /23
Super Bowl – 1/1
Printing Plates – four different 1/1
Rookie Ticket RPS Autograph Variation Parallels
Playoff Ticket – /99 or less
Championship Ticket – /49 or less
Cracked Ice – /23
Super Bowl – 1/1
Printing Plates – four different 1/1
Rookie Ticket College Autograph Variation Parallels
Playoff Ticket – /99 or less
Championship Ticket – /49 or less
Cracked Ice – /23
Super Bowl – 1/1
Printing Plates – four different 1/1
2015 Panini Contenders Football Rookie Ticket Autograph Variations Checklist
Rookie Ticket Autograph Variations
101 Kenny Bell, Tampa Bay Buccaneers
102 Cameron Artis-Payne, Carolina Panthers
104 Vic Beasley Jr., Atlanta Falcons
110 Bud Dupree, Pittsburgh Steelers
118 Benardrick McKinney, Houston Texans
121 Denzel Perryman, San Diego Chargers
127 Clive Walford, Oakland Raiders
128 Owamagbe Odighizuwa, New York Giants
130 Eli Harold, San Francisco 49ers
131 Tyler Kroft, Cincinnati Bengals
132 Danielle Hunter, Minnesota Vikings
134 Dezmin Lewis, Buffalo Bills
137 Blake Bell, San Francisco 49ers
138 Josh Shaw, Cincinnati Bengals
142 Davis Tull, New Orleans Saints
143 J.J. Nelson, Arizona Cardinals
144 Jesse James, Pittsburgh Steelers
145 Nick O'Leary, Buffalo Bills
146 Darren Waller, Baltimore Ravens
147 Josh Robinson, Indianapolis Colts
149 Marcus Murphy, New Orleans Saints
150 Deontay Greenberry, Dallas Cowboys
153 Tre McBride, Tennessee Titans
155 Titus Davis, New York Jets
157 Mario Alford, Cincinnati Bengals
162 Tony Lippett, Miami Dolphins
170 Eric Tomlinson, Houston Texans
172 Derron Smith, Cincinnati Bengals
173 Cameron Erving, Cleveland Browns
177 Levi Norwood, Chicago Bears
180 Shane Carden, Chicago Bears
183 Nick Boyle, Baltimore Ravens
184 Terrence Magee, Baltimore Ravens
194 Kenny Hilliard, Houston Texans
198 Doran Grant, Pittsburgh Steelers
199 Kaelin Clay, Tampa Bay Buccaneers
242 Gerod Holliman, Pittsburgh Steelers
243 Charles Gaines, Cleveland Browns
244 Ramik Wilson, Kansas City Chiefs
245 Lorenzo Doss, Denver Broncos
246 C.J. Uzomah, Cincinnati Bengals
247 Casey Pierce, Detroit Lions
248 Jahwan Edwards, San Diego Chargers
249 Trey Williams, Washington Redskins
250 Wes Saxton, New York Jets
251 Lucky Whitehead, Dallas Cowboys
252 DeAndre Smelter, San Francisco 49ers
253 Trevor Siemian, Denver Broncos
254 Thomas Rawls, Seattle Seahawks
255 Damarious Randall, Green Bay Packers
256 Geremy Davis, New York Giants
257 Quandre Diggs, Detroit Lions
258 Jaxon Shipley, Arizona Cardinals
259 Jalston Fowler, Tennessee Titans
260 Chris Harper, New England Patriots
261 Keith Mumphery, Houston Texans
262 Terron Ward, Atlanta Falcons
263 Alonzo Harris, Green Bay Packers
264 Nick Marshall, Jacksonville Jaguars
265 E.J. Bibbs, Cleveland Browns
266 Cameron Meredith, Chicago Bears
267 James O'Shaughnessy, Kansas City Chiefs
268 Malcolm Johnson, Cleveland Browns
269 Anthony Harris, Minnesota Vikings
270 La'el Collins, Dallas Cowboys
271 Jarryd Hayne, San Francisco 49ers
272 T.J. Clemmings, Minnesota Vikings
273 D'Joun Smith, Indianapolis Colts
274 Frank Clark, Seattle Seahawks
275 Jordan Richards, New England Patriots
276 Austin Hill, New York Jets
277 Jake Ryan, Green Bay Packers
278 Zack Hodges, Indianapolis Colts
279 Zach Zenner, Detroit Lions
280 Zach Vigil, Miami Dolphins
281 Gus Johnson, Dallas Cowboys
282 Jake Waters, Seattle Seahawks
283 A.J. Cann, Jacksonville Jaguars
284 Tyrell Williams, San Diego Chargers
285 Tyler Murphy, Pittsburgh Steelers
286 Jordan Hicks, Philadelphia Eagles
287 Kamar Aiken, Baltimore Ravens
288 Willie Snead, New Orleans Saints
Rookie Ticket Autograph RPS Variations
201 Melvin Gordon, San Diego Chargers
202 Ameer Abdullah, Detroit Lions
203 Breshad Perriman, Baltimore Ravens
204 Brett Hundley, Green Bay Packers
205 Bryce Petty, New York Jets
206 Buck Allen, Baltimore Ravens
207 Chris Conley, Kansas City Chiefs
208 David Cobb, Tennessee Titans
209 David Johnson, Arizona Cardinals
210 DeVante Parker, Miami Dolphins
211 Devin Funchess, Carolina Panthers
212 Devin Smith, New York Jets
213 Dorial Green-Beckham, Tennessee Titans
214 Duke Johnson, Cleveland Browns
215 Garrett Grayson, New Orleans Saints
216 Jaelen Strong, Houston Texans
217 Jameis Winston, Tampa Bay Buccaneers
218 Jamison Crowder, Washington Redskins
219 Jay Ajayi, Miami Dolphins
220 Jeremy Langford, Chicago Bears
221 Justin Hardy, Atlanta Falcons
222 Karlos Williams, Buffalo Bills
223 Kevin White, Chicago Bears
224 Leonard Williams, New York Jets
225 Marcus Mariota, Tennessee Titans
226 Matt Jones, Washington Redskins
227 Maxx Williams, Baltimore Ravens
228 Amari Cooper, Oakland Raiders
229 Mike Davis, San Francisco 49ers
230 Nelson Agholor, Philadelphia Eagles
231 Phillip Dorsett, Indianapolis Colts
232 Rashad Greene, Jacksonville Jaguars
233 Sammie Coates, Pittsburgh Steelers
234 Sean Mannion, St. Louis Rams
235 Stefon Diggs, Minnesota Vikings
236 T.J. Yeldon, Jacksonville Jaguars
237 Tevin Coleman, Atlanta Falcons
238 Todd Gurley, St. Louis Rams
239 Ty Montgomery, Green Bay Packers
240 Tyler Lockett, Seattle Seahawks
241 Vince Mayle, Cleveland Browns
Rookie Ticket Autograph RPS  College Variations
201 Melvin Gordon, Wisconsin Badgers
202 Ameer Abdullah, Nebraska Cornhuskers
203 Breshad Perriman, UCF Knights
210 DeVante Parker, Louisville Cardinals
211 Devin Funchess, Michigan Wolverines
212 Devin Smith, Ohio State Buckeyes
215 Garrett Grayson, Colorado State Rams
217 Jameis Winston, Florida State Seminoles
223 Kevin White, West Virginia Mountaineers
225 Marcus Mariota, Oregon Ducks
228 Amari Cooper, Alabama Crimson Tide
230 Nelson Agholor, USC Trojans
231 Phillip Dorsett, Miami Hurricanes
233 Sammie Coates, Auburn Tigers
236 T.J. Yeldon, Alabama Crimson Tide
237 Tevin Coleman, Atlanta Falcons
238 Todd Gurley, Georgia Bulldogs
240 Tyler Lockett, Kansas State Wildcats
Comments? Questions? Contact Ryan Cracknell on Twitter @tradercracks.