2015 Panini Contenders Football Card Info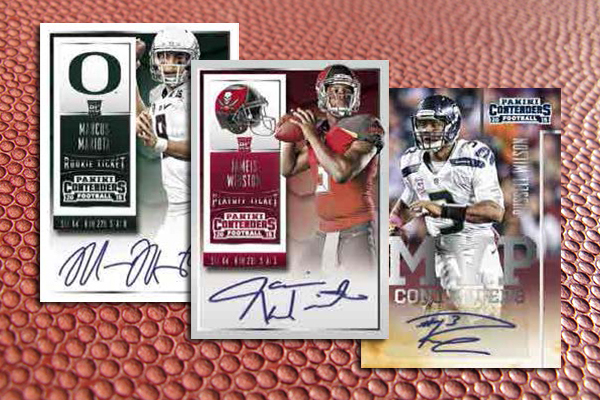 By Ryan Cracknell | Hobby Editor
Contenders has been around long enough that it has been able to evolve and fine tune its place in the hobby. It's one of those sets that doesn't need many tweaks on a year-to-year basis as it has a clear place and identity. 2015 Panini Contenders Football sticks with what has worked in the past and not straying far from it.
Autographs are the focal point. More specifically, it's the Rookie Ticket Autographs, which are consistently some of the most buzzed about rookies of the season. 2015 Panini Contenders Football hobby boxes come with a total of five signed cards, one or two of which should have on-card signatures from players who attended the 2015 NFLPA Rookie Premiere.
Get a sortable 2015 Panini Contenders Football checklist and price guide access.
Design wise, Rookie Ticket Autographs are similar to how they have been the last couple of years. Signed parallels include Playoff Ticket, Championship Ticket, Cracked Ice, Printing Plates and Super Bowl Ticket. Parallels are numbered to 199 or less.
Rookie Ticket Autographs have a couple of different styles of variations. The first feature basic player poses and a slight change to the logo on the front to make them easy to spot. College variations, which have the player in their NCAA uniform along with the school's logo, are also available for select players.
Not all autographs in 2015 Panini Contenders Football are done with a ticket theme. Rookie Ink take an insert approach and come with Gold (/25) and Holo-Gold (1/1) parallels. Round Numbers have two signatures, both from players taken in the same round of the 2015 draft.
MVP Contenders Autographs have signatures from ten of the NFL's top veterans. Numbered to 25 or less, there aren't a lot of them spread across the production run. Legendary Contenders Autographs, which are also maxed out at 25 copies each, take a similar approach but with retired players.
Besides the handful of autographs, hobby boxes also have nine inserts. These include one base MVP Contenders and one base Legendary Contenders card. Rookie of the Year Contenders land two per box. Pennants are 1:8 packs. Collectors will find two more inserts in addition to the promised ones.
2015 Panini Contenders Football at a glance:
Packs per box: 24
Cards per pack: 5
Boxes per case: 12
Set size: 293 cards (including autographs)
Release date: January 6, 2016
What to expect in a hobby box:
Autographs – 5
Legendary Contenders Inserts – 1
MVP Contenders Inserts – 1
Rookie of the Year Contenders Inserts – 2
Pennants Inserts – 3
Additional Inserts – 2