2015 Panini Black Friday promo card details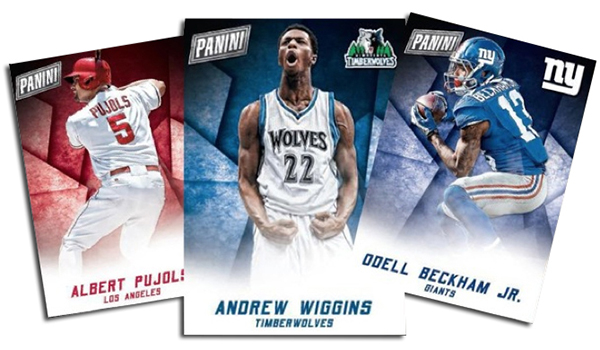 By Ryan Cracknell | Hobby Editor
They have a far different appeal than a cheap TV or a blowout price on a new pair of pants, but the 2015 Panini Black Friday promo cards bring a lot of variety, unique memorabilia and other surprises.
The promo set, which has become an annual tradition over the last few years, returns with a new look, some fresh rookies and more.
Available exclusively at hobby shops that are part of the Panini Roundtable program, each 2015 Panini Black Friday pack has two cards.
The base set features 24 players covering basketball, football and baseball. Complimenting these are 26 rookies that are numbered to 599.
Among the inserts is Panini Collection. These cards are dedicated to strong photography.
2015 Panini Black Friday also has a couple of other basic inserts. College Legends takes advantage of Panini's NCAA license that kicked in earlier this year. Rated Rookies are also randomly inserted.
One of the most notable parts of Panini's promo sets are the memorabilia cards. Usually, pieces used in these special products come from different sorts of items tied to special events and photo shoots. 2015 Panini Black Friday keeps up with this tradition. Headbands, towels and Christmas hats are among the things collectors can expect.
Themed memorabilia sets include Breast Cancer Awareness, Salute to Service, Happy Holidays and Tools of the Trade.
Autographs are also included in several spots. Rookies like Kris Bryant, Jameis Winston, Karl-Anthony Towns, D'Angelo Williams and Marcus Mariota all have signed cards in the promo set.
The promo set has a print run of 40,000 total packs. Individual shops may have different ways of distributing packs both usually it's tied to the purchase of certain boxes.
2015 Panini Black Friday at a glance:
Cards per pack: 2
Set size: 50 cards
Release date: November 27, 2015
2015 Panini Black Friday Checklist
Here's a tentative look at components that have been announced.
Base Set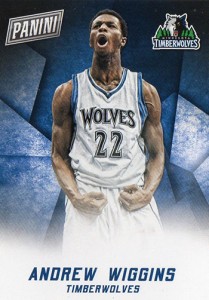 1 J.J. Watt, Houston Texans
2 Aaron Rodgers, Green Bay Packers
3 Marshawn Lynch, Seattle Seahawks
4 Rob Gronkowski, New England Patriots
5 Odell Beckham Jr, New York Giants
6 Jamaal Charles, Kansas City Chiefs
7 Dez Bryant, Dallas Cowboys
8 Andrew Luck, Indianapolis Colts
9 LeBron James, Cleveland Cavaliers
10 Derrick Rose, Chicago Bulls
11 Dirk Nowitzki, Dallas Mavericks
12 Anthony Davis, New Orlean Pelicans
13 Kobe Bryant, Los Angeles Lakers
14 Andrew Wiggins, Minnesota Timberwolves
15 Stephen Curry, Golden State Warriors
16 Kevin Durant, Oklahoma City Thunder
17 Andrew McCutchen, Pittsburgh Pirates
18 Bryce Harper, Washington Nationals
19 Paul Goldschmidt, Arizona Diamondbacks
20 Mike Trout, Los Angeles Angels
21 Nolan Arenado, Colorado Rockies
22 Aroldis Chapman, Cincinnati Reds
23 Albert Pujols, Los Angeles Angels
24 Dallas Keuchel, Houston Astros
25 Karl-Anthony Towns, Minnesota Timberwolves /599
26 D'Angelo Russell, Los Angeles Lakers /599
27 Jahlil Okafor, Philadelphia 76ers /599
28 Kristaps Porzingis, New York Knicks /599
29 Willie Cauley-Stein, Sacramento Kings /599
30 Emmanuel Mudiay, Denver Nuggets /599
31 Stanley Johnson, Detroit Pistons /599
32 Frank Kaminsky, Charlotte Hornets /599
33 Justise Winslow, Miami Heat /599
34 Jamies Winston, Tampa Bay Buccaneers /599
35 Marcus Mariota, Tennessee Titans /599
36 Amari Cooper, Oakland Raiders /599
37 Kevin White, Chicago Bears /599
38 DeVante Parker, Miami Dolphins /599
39 Melvin Gordon, San Diego Chargers /599
40 Todd Gurley, St. Louis Rams /599
41 T.J. Yeldon, Jacksonville Jaguars /599
42 Ameer Abdullah, Detroit Lions /599
43 Phillip Dorsett, Indianapolis Colts /599
44 Kris Bryant, Chicago Cubs /599
45 Carlos Correa, Houston Astros /599
46 Carlos Rodon, Chicago White Sox /599
47 Joc Pederson, Los Angeles Dodgers /599
48 Miguel Sano, Minnesota Twins /599
49 Matt Duffy, San Francisco Giants /599
50 Jung-Ho Kang, Pittsburgh Pirates /599
51 Jarryd Hayne, San Francisco 49ers /599
College Legends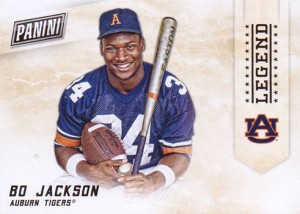 1 Tim Tebow, Florida
2 Larry Bird, Indiana State
3 Magic Johnson, Michigan State
4 Johnny Manziel, Texas A&M
5 Barry Sanders, Oklahoma State
6 Deion Sanders, Florida State
7 Bo Jackson, Auburn
8 Ricky Williams, Texas
9 Barry Bonds, Arizona State
10 Paul Molitor, Minnesota
11 Randy Johnson, USC
12 Roger Clemens, Texas
Panini Collection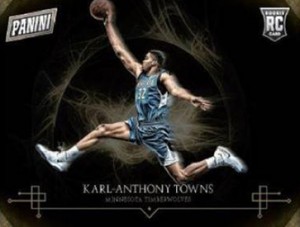 1 Bryce Harper, Washington Nationals
2 Alex Rodriguez, New York Yankees
3 George Brett, Kansas City Royals
4 Kris Bryant, Chicago Cubs
5 Pete Rose, Cincinnati Reds
6 Clayton Kershaw, Los Angeles Dodgers
7 Josh Donaldson, Toronto Blue Jays
8 Andrew Wiggins, Minnesota Timberwolves
9 Blake Griffin, Los Angeles Clippers
10 D'Angelo Russell, Los Angeles Lakers
11 John Wall, Washington Wizards
12 Klay Thompson, Golden State Warriors
13 Karl-Anthony Towns, Minnesota Timberwolves
14 Kyrie Irving, Cleveland Cavaliers
15 Tom Brady, New England Patriots
16 Tyrann Mathieu, Arizona Cardinals
17 J.J. Watt, Houston Texans
18 Eddie Lacy, Green Bay Packers
19 Odell Beckham Jr., New York Giants
20 Julian Edelman, New England Patriots
21 Russell Wilson, NC State Wolfpack
22 Jameis Winston, Florida State Seminoles
JT Justin Tucker, Baltimore Ravens