2015 NHL Fan Fair Provides Fun For Collectors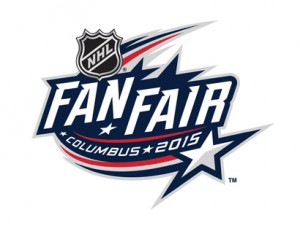 By Stephen Laroche | Beckett Hockey Editor
The 2015 NHL All-Star Game will take place in Columbus, Ohio on Sunday and thousands of fans will have the opportunity to celebrate the game at the 2015 NHL Fan Fair at the Greater Columbus Convention Center starting this Friday.
Collectors that choose to participate in the festivities will be pleased to find Upper Deck among the exhibitors in attendance and the company recently revealed their plans for three special redemption programs.
Fans purchasing qualifying Upper Deck products at the Dave & Adam's Cardworld or Cardiacs booths can bring their wrappers to a company representative and participate in the redemption programs. Find out what products you will need to buy after the jump.
The first opportunity to enjoy the promotion is the Spin Wheel Wrapper Redemption. The concept is simple as you spin a wheel to get a free Upper Deck jersey card. In order to take part, fans need to bring one sealed blaster box of 2014-15 Upper Deck Series One or five sealed packs of 2014-15 Upper Deck MVP, 2014-15 Upper Deck Series One, 2014-15 Upper Deck Black Diamond, or 2014-15 O-Pee-Chee.
Not up for spinning the wheel? How about Puck-O, which is reminiscent of the ever-popular Plinko game that has been seen on The Price Is Right for decades? Those that play will drop a special puck down the board to win a prize and it only takes a sealed pack of 2014-15 Upper Deck Series One to play. It should be noted that fans that bring more than one pack and want to play again will need to exit the line after their turn and head back to the end to await their next try. However, those that bring a sealed blaster box will not only get two drops, but will be given VIP front of the line privileges as well.
Finally, those that come with a sealed pack of 2014-15 Upper Deck MVP, 2014-15 Upper Deck Series One, 2014-15 Upper Deck Black Diamond, or 2014-15 O-Pee-Chee can choose to redeem their packs for a personalized Upper Deck card. The company has a professional photographer onsite and will print the card for you right away.
Upper Deck will be offering show specials on Upper Deck Authenticated pieces and will be on the hunt for the Ultimate NHL Fan. Those taking a creative photo displaying their appreciation for Upper Deck and posting them on Twitter or Instagram with the #ultimatefan hashtag could win one of 10 different prizes or a grand prize of a poster signed by Wayne Gretzky.
The most popular event at their booth, however, could be the free signing with Florida Panthers rookie defenseman Aaron Ekblad on the main stage. Upper Deck will announce the time of this session in the near future.
In addition to the activities at the Upper Deck booth, fans and collectors in attendance can participate in a strong selection of hockey-related activities that includes an opportunity to take their picture with the Stanley Cup and see some of the league's trophies as well. Many NHL players from the past and present will be signing at the Autograph Stage and Cryptozoic will also be in attendance with an opportunity to play the NHL Power Play Team-Building Card Game.
For those that appreciate the history of the game, the Hockey Hall of Fame will be in attendance with a special "Hockey in the State of Ohio" exhibit and there will also be a NHL All-Star Game: Through the Decades presentation.
Tickets for the 2015 NHL Fan Fair are available at Nationwide Arena or via Ticketmaster. Advance tickets are $10 for children under 12 and seniors or $12 for adults. At the door, prices will rise to $12 and $16. However, kids under the age of 3 will be admitted for free. The event runs from 3:00 p.m. to 10:00 p.m. on Friday, 10:00 a.m. to 7:00 p.m. on Saturday, and 10:00 a.m. to 4:00 p.m. on Sunday.
Stephen Laroche is the editor of Beckett Hockey and Beckett Basketball magazines. Have a comment, question or idea? Send an e-mail to him at SLaroche@beckett.com. Follow him on Twitter @Stephen_Laroche.